Experience entertainment, creativity, and productivity like never before with Samsung's Galaxy Tab S9 series that redefines the tablet landscape while setting new standards of immersive viewing and creative freedom. The Galaxy Tab S9 Ultra, Galaxy Tab S9+ or Galaxy Tab S9 have undergone consistent innovation to encompass all users love in one complete, premium design.
Here are four ways these tablets can inspire you to take on everyday life, everywhere you go:
1. For the working professionals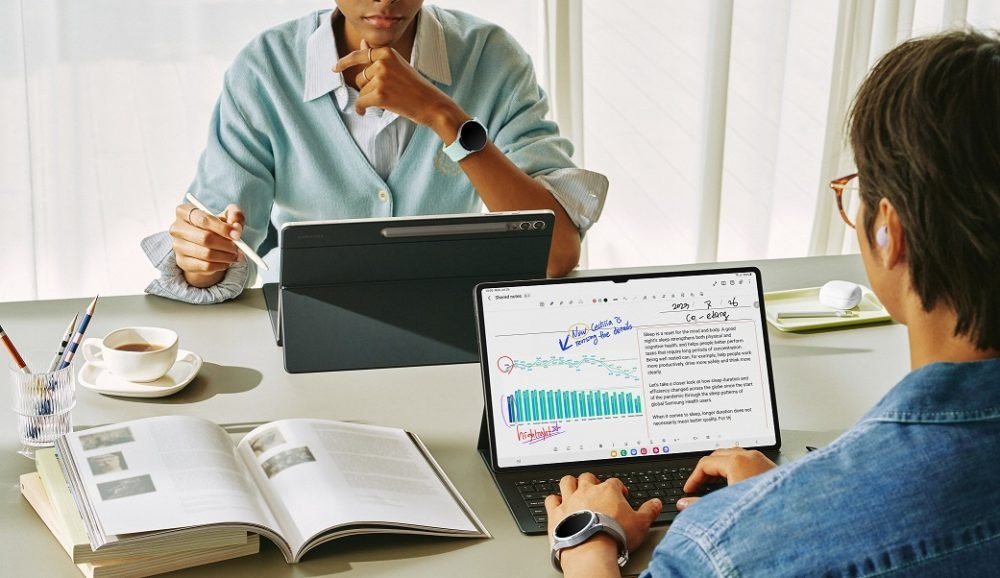 Always tuned into your work, even while on the go? The Galaxy Tab S9 series is your choice companion to help you turbocharge your workday.
Get tasks done faster with powerful multitasking on the Tab S9 series. Features like Multi Window[1] allow you to arrange your desired three apps in a full-screen grid, while Pop-Up view keeps your apps open as floating windows on top of your home screen, to help you streamline your workflow as you navigate between emails, documents and more.
For those who enjoy working away from their desks or are constantly travelling, enjoy PC-like functionality with convenience when you pair the Galaxy Tab S9 series with the Book Cover Keyboard[2]. You can also switch on DeX mode[3] to extend the tablet for a desktop experience with maximum tablet portability.
Work calls can also be made simple with the Galaxy Tab S9 series. When taking a Google Meet[4] call, you can collaborate more easily by sharing your screen while simultaneously co-editing a live Samsung Notes document.
If you already own a Galaxy smartphone, the Tab S9 series is a great addition to your productivity arsenal. Take advantage of Multi Control[5] for copying, pasting, or dragging text and images for work directly between tablet and smartphone, or Quick Share[6] to share images, videos and even large files between your devices, powered by the sophisticated Galaxy ecosystem.
2. For the casual gamer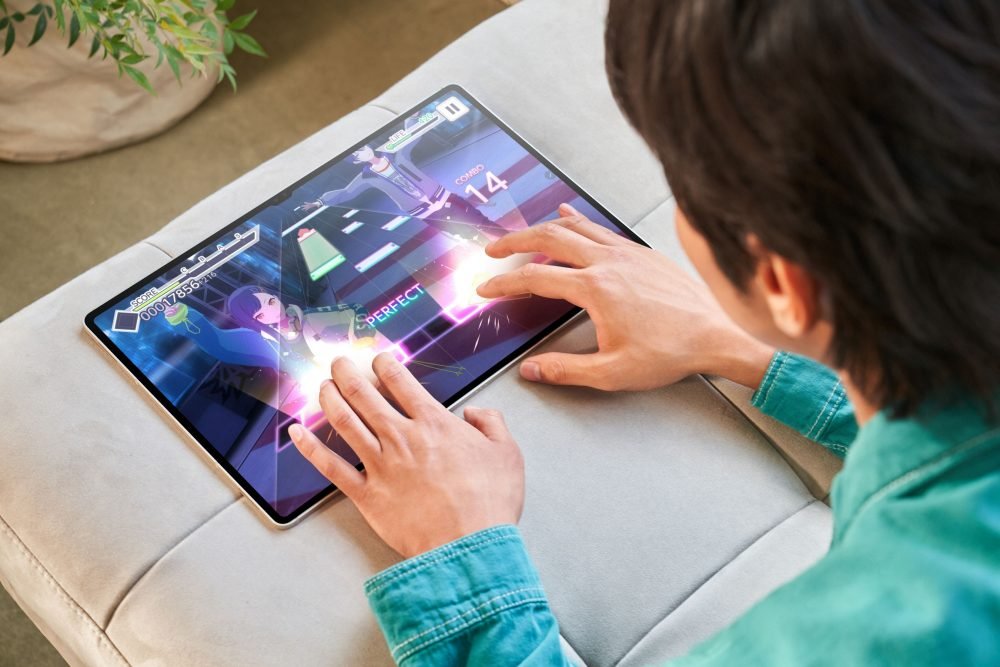 Did you know that 74% of online consumers who are interested in gaming, play games, or watch esports and gaming content on their tablets[7]? Take your favorite games to the next level with the Galaxy Tab S9 series.
At just 5.5mm thickness, the Galaxy Tab S9 Ultra is one of the thinnest premium tablets on the market. Experience incredibly realistic graphics of every virtual world on its expansive 14.6-inch screen[8], powered by the Snapdragon 9 Gen 2 for Galaxy[9] processor, the same lightning-fast mobile processor in Samsung's latest smartphones.
Battle out in a Multiplayer Online Battle Arena, mastering puzzles or trivia, or role-play your favourite avatar with Samsung's most heat-efficient Galaxy Tab lineup. As the first Galaxy Tablet to be equipped with an internal vapor chamber, the Galaxy Tab S9 series is custom engineered for high-intensity tasks like heavy-duty gaming, as well longer gaming marathons with its all-new two-way heat dissipation for sustained and better performance.
3. For the note-taking student and designers
Looking for a trusty companion in your school life? Bring your ideas to life with the Galaxy Tab S9 series, the one tablet that you'll love and use throughout lectures, assignments and more.
The Galaxy Tab S9 series comes with an S Pen, which offers a pen-on-paper-like experience, as well as the freedom to write seamlessly in search bars, browsers, and app stores with the AI feature – S Pen to text – that automatically turns handwriting to text.

A Professional's Guide to creating with the Galaxy Tab S9
For the avid notetaker, the fan-favorite GoodNotes[10] app is available exclusively for Galaxy tablet users on the Galaxy Tab S9 series, enabling a new notetaking and journaling experience on Android. Make project work that much easier by sharing or collaborating on notes created in GoodNotes simultaneously during discussions with your peers.
Whatever your course of study, these tablets are made for you. Packed with apps like LumaFusion[11] for precise video editing; Clip Studio Paint[12] for a streamlined drawing, painting, and creative interface; as well as ArcSite[13] for designers and professionals to develop meticulously crafted assets such as 2D CAD blueprints, comprehensive site plans, and accurate estimates, the Galaxy Tab S9 series empowers your studies with spontaneous productivity and enhanced creativity.
4. For the multi-tasking mom
Looking to escape into new worlds of entertainment after a long day? The Galaxy Tab S9 series' Dynamic AMOLED 2X display delivers an entertainment experience that is both immersive and portable, should you need to take it outdoors for a breather.
Watch your favourite shows as they are meant to be viewed in the 16:10 aspect ratio preserved on the Galaxy Tab S9 series. For those who only have time to watch or read at night, these tablets also come equipped with Eye Comfort which reduces eye strain with low blue light, reduced by more than 70 percent[14].
As a young parent, you can use the Tab S9 series around your children with a peace of mind or even occupy them with its on-screen games or shows. Take heart that the Galaxy Tab S9 series and S Pen are now both IP68 rated for water and dust resistance[15] to weather every spill and built to handle bumps and scrapes with a body reinforced with Armor Aluminum.
Time to Take These Tablets Everywhere You Go!
Samsung's tablets deliver the highest satisfaction in terms of user friendliness, battery performance, durability, and value for money, according to Canstar Blue, Australia's most trusted consumer comparison website, which recently awarded Samsung Electronics Australia the Canstar Blue Most Satisfied Customers award in the Tablets category.
Whether working, studying, gaming, or watching entertainment, the new Galaxy Tablet S9 series is here to empower you to take your big ideas and bring them to life effortlessly, as you follow your inspirations both indoors and on every outdoor adventure.
Grab the Galaxy Tab S9 Series from now until 30 September 2023 to enjoy these promos: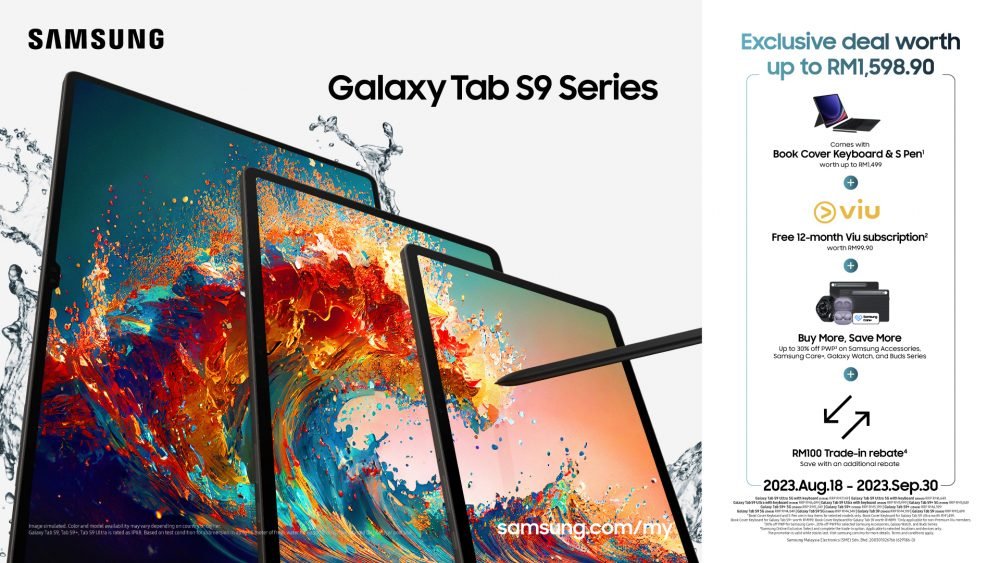 Galaxy Tab S9 Series
Models
RRP
Colours
Promos
Galaxy Tab S9 Ultra 5G

512GB

RM7,149
Graphite
·       Comes with Book Cover Keyboard & S Pen (in-box) worth up to RM1,499

[16]

.

·       Free 12-month Viu subscription[17] worth RM99.90.

·       Buy More, Save More: Up to 30% off PWP ​on Samsung Accessories, Samsung Care+, Galaxy Watch and Buds Series[18].

·       ​RM100 Trade-in Rebate[19].

Galaxy Tab S9 Ultra 5G

256GB

RM6,649
Galaxy Tab S9 Ultra

512 GB

RM6,499
Galaxy Tab S9 Ultra

256GB

RM5,999
Galaxy Tab S9+ 5G

512GB

RM5,849
Graphite, Beige
Galaxy Tab S9+

512GB

RM5,199
Galaxy Tab S9 5G

256GB

RM4,849
Galaxy Tab S9

256GB

RM4,199
To buy the latest Galaxy Tab S9 Series, go to: https://www.samsung.com/my/tablets/galaxy-tab-s9/buy/
To learn more about Galaxy Tab S9 series, please visit:
https://www.samsung.com/my/tablets/galaxy-tab-s/galaxy-tab-s9-ultra-wi-fi-graphite-512gb-sm-x910nzahxme/
[1] Certain applications may not support multi-tasking.
[2] Book Cover Keyboard sold separately. The product is available for Galaxy Tab S9 Ultra, Galaxy Tab S9+ and Galaxy Tab S9. Product design may vary by model. Features and keyboard layout may vary by model or type of language.
[3] Availability may vary by device. Samsung DeX supported on selected Galaxy smartphones and tablets.
[4] Google Meet available for download at Google Play. Google Meet is a trademark of Google LLC.
[5]   Multi Control is available only on select Galaxy smartphones with One UI 5.1 or above and Galaxy Tab devices with One UI 5.1.1 or later. Availability may vary depending on apps.
[6]  Quick Share between Galaxy devices available with the following OS: smartphones and tablets with Android OS version 10.0 (Q) and One UI 2.1 or later, PCs running Windows 10 or later. Requires Samsung Account and Wi-Fi and Bluetooth connection.
[7] Respondents were asked if they used the tablet for gaming purposes in additional to general purposes. According to the Samsung Southeast Asia and Oceania Gaming Insights Survey 2022 which was conducted from September to November 2022 by ONE Esports. It surveyed 6,840 respondents on Facebook and Instagram, aged 18 to 49, from the following 7 markets: Australia (1,000 respondents), Indonesia (1,033 respondents), Malaysia (1,024 respondents), Philippines (1,167 respondents), Singapore (604 respondents), Thailand (872 respondents) and Vietnam (1,140 respondents). https://news.samsung.com/my/samsung-gaming-insight-study-7-in-10-online-consumers-in-southeast-asia-and-oceania-are-gamers
[8]   Measured diagonally, the Galaxy Tab S9 Ultra's screen size is 14.6-inch in the full rectangle and 14.5-inch with accounting for the rounded corners; actual viewable area is less due to the rounded corners and camera hole.
[9] Snapdragon is a trademark or registered trademark of Qualcomm incorporated. Snapdragon is a product of Qualcomm Technologies Inc. and/or its subsidiaries.
[10] GoodNotes app requires separate download and comes with a 1-year free full version. Once the free full version period ends, an additional purchase is required for continuous use. The terms of service may vary by country and region.
[11]  LumaFusion app requires separate purchase and download. Terms of service may vary by country and region.
[12] Clip Studio Paint app comes pre-installed in select markets. Clip Studio Paint app can be downloaded from the Galaxy Store and comes with a free 6-month trial for first-time users. Once the free trial period ends, paid subscription to a monthly usage plan is required for continuous use. Terms of service may vary by country and region.
[13] ArcSite app requires separate purchase and download from Galaxy Store. Terms of service may vary by country and region.
[14] Compared to Normal LCD display. SGS awarded Galaxy Tab S9 Series display the Eye Care Certification based on its ability to drastically reduce the harmful effects of blue light.
[15] Galaxy Tab S9, S9+ and S9 Ultra are rated as IP68. The inbox S Pen is also water and dust-resistant with an IP68 rating. Consistent with IP68 rating, water resistant in up to 5 feet of fresh water for up to 30 minutes. Rinse residue / dry after wet. Not advised for beach or pool use.
[16] Free Book Cover Keyboard is an in-box item for selected model only; Book Cover Keyboard for Galaxy Tab S9 Ultra worth RM1,499; Book Cover Keyboard for Galaxy Tab S9+ worth RM999; Book Cover Keyboard for Galaxy Tab S9 worth RM899.
[17] Only applicable for non-Premium Viu members.
[18] 30% off PWP for Samsung Care+, 20% off PWP for selected Samsung Accessories, Galaxy Watch and Buds Series.
[19] Samsung Online Exclusive. Select and complete the trade-in option. Applicable to selected locations and devices only.