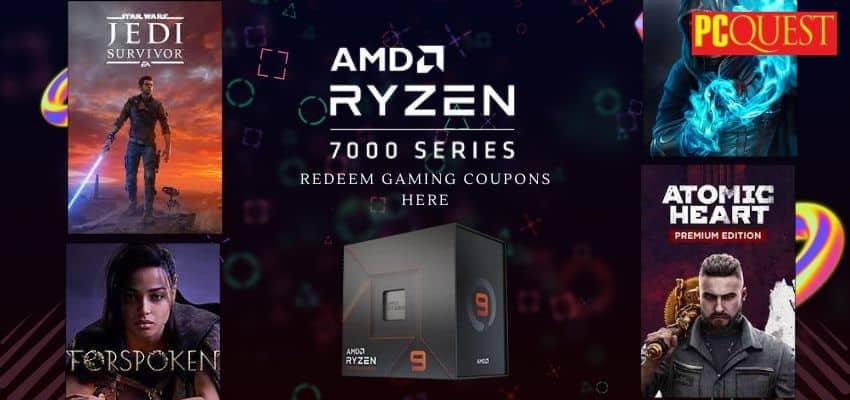 Following the release of the AMD Ryzen Game Bundle for select Ryzen 7000 Series processors, AMD is introducing a new Ryzen Game Bundle that will provide gamers who purchase select Ryzen 7000 Series processors with access to the highly anticipated sequel to Star Wars Jedi: Fallen OrderTM, Star Wars Jedi: Survivor, from today until 1 April 2023.
The Ryzen 7000 Series Desktop Processors
The Ryzen 7000 Series Desktop Processors offer fantastic performance for gamers thanks to the new "Zen 4" architecture. In addition to providing a double-digit IPC improvement over "Zen 3," the processors enable up to 15% quicker gaming performance than the previous generation to deliver unrivalled performance in Respawn Entertainment's next galactic adventure.
How to redeem gaming coupons?
Gamers will receive a redemption code upon purchase and have until 6 May 2023 to redeem their Star Wars Jedi: Survivor TM copy. Gamers may find out more at www.amd.com/JediSurvivor. Please visit www.amdrewards.com for complete terms and conditions and to redeem gaming coupons.
AMD Ryzen 7000 Series specifications and features
Many of the Ryzen 7000 Series' core features were unveiled alongside the initial desktop CPUs in August 2022.
The new CPUs migrate to a 5nm technology and use the Zen 4 architecture that launched with them, which AMD claims pushes "gaming and content production performance leadership to new levels."
You may see four new CPUs with the suffix '3D,' which have greater L2 and L3 cache than the conventional ones.
This seeks to increase responsiveness and framerates without significantly affecting clock speeds or overclocking possibilities.
All the new desktop CPUs are based on AMD's most unique Zen 4 architecture and are backward compatible with older AM5 motherboards if a BIOS update is performed.
Other significant characteristics shared by all of the new CPUs include PCIe Gen 5 capability and DDR5 memory (DDR4 has been dropped).
Each Ryzen 7000 desktop CPU contains three chiplets: two 5nm Zen 4 CPU modules and a new 6nm I/O die with integrated RDNA 2 graphics, DDR5 and PCIe 5.0 controllers, and integrated power management.
This implies that every processor has some graphical capacity, with a separate graphics card required solely for gaming or other demanding tasks.
According to AMD, the Zen 4 architecture on which the chips are based will give a "more than 15%" gain in single-threaded performance over Zen 3, albeit the new chips may require more power to achieve that level of performance.