Since we released our AMD FidelityFX™ Super Resolution (FSR) 2 (1) technology in May 2021, the adoption of our next-generation temporal upscaling has rapidly accelerated, and we've already hit several major milestones for FSR this year. In June we celebrated the first anniversary of FSR, and then in September, only 4 months after our initial 2.0 release, we updated to FSR 2.1, which delivered enhanced upscaling image quality to supported games.
FSR 2.1 has been very successful, with more than half of the games available with FSR 2 are already using v2.1 (or higher). But here at AMD our pace of development never slows down, and we recently announced FSR 2.2 at our AMD Radeon™ RX 7900 Series graphics launch on November 3. This new version provides additional quality enhancements over FSR 2.1, especially in high-speed games such as the first game to get it, Forza Horizon 5, updated with FSR 2.2 on November 8, 2022.
Now today we're excited to announce that two more high-speed games have and will be getting FSR 2.2. The first game is Need for Speed™ Unbound, which was released on December 2, 2022. The second is F1® 22, which will be updated with FSR 2.2 in January 2023. Along with these new FSR 2.2 games, we're also thrilled to announce that an upcoming update to 3DMark will add an FSR Feature Test that will use FSR 2.2.
Read on in this blog to learn more about FSR 2.2 and the games that support it, along with the latest updates on how many games support FSR 2 — 97 available and upcoming as of when this blog was posted. You can also learn about some of the latest games with support/getting support for FSR 2 like Cyberpunk 2077, The Callisto Protocol, and The Witcher 3: Wild Hunt Next-gen Update.
High-Speed Enhancements with FSR 2.2
AMD FidelityFX™ Super Resolution 2.2 is the latest update to our open-source and cross-platform temporal upscaling technology that has been built to deliver incredible image quality and help boost framerates in supported games. FSR 2.2 upgrades the already improved upscaling image quality of FSR 2.1 (learn more in this blog) with further quality enhancements to alleviate ghosting on fast-moving objects, such as the cars found in the three games that currently support FSR 2.2.
Forza Horizon 5 by Playground Games and Xbox Game Studios was the first game to get FSR 2.2 in an update released on November 8, 2022. You can now race through the vibrant and ever-evolving open-world landscapes of Mexico with FSR 2 helping deliver stunning visual quality at incredible framerates even with the newly added in-game ray tracing effects enabled. You can see in the comparison video below how FSR 2.2 boosts performance to over 100 FPS in 4K on the AMD Radeon™ RX 6950 XT using the "Extreme" graphics preset with the "Extreme" ray tracing setting (2).
The next game to get FSR 2.2 was Need for Speed™ Unbound from Electronic Arts and Criterion Games, the latest game in this long-running and hugely popular street racing franchise. Using FSR 2.2, you can experience the game's new signature art style that blends street art with the most realistic-looking cars in Need for Speed history at higher framerates with incredible image quality, immersing you deeper than ever before into your very own street race fantasy.
Need for Speed™ Unbound launched with FSR 2.2 on December 2, 2022. Additionally, EA Play members have access to a 10-hour trial version and EA Play Pro members can dive into the full Palace Edition of the game. You can check out some 4K screenshots of the game with FSR 2.2 enabled below.
The third game that is getting FSR 2.2 is F1® 22 from Electronic Arts and Codemasters. With FSR 2.2, you'll be able to take your virtual F1® racing experience to the next level with amazing framerates at high resolutions with ray tracing on and even in VR! There is already support for FSR 1 in the game today and the update with FSR 2.2 will be available in January 2023.
Evaluate FSR 2 with 3DMark
3DMark by UL Solutions is "the world's most popular benchmark" and we're delighted to announce that an upcoming update will be adding an FSR Feature Test. This test will use FSR 2.2 and will help you compare the performance and image quality of FSR 2 at the different quality mode setting on your graphics card.
The test will also include a built-in frame inspector tool to compare FSR 2.2 image quality with an interactive side-by-side comparison. As FSR is a cross-platform solution, this new feature test can be used with any supported GPU from AMD, Intel, and Nvidia. Stay tuned to AMD's and UL Solutions' channels for more information as to when the feature test will be available.

FSR 2 in Even More Games, 54 Available Now
Not only is the continued development of our FSR technology not slowing down, but the adoption rate of FSR in games has also skyrocketed in 2022. It was only in June of this year, the first anniversary of FSR, that we announced that over 110 available and upcoming games support FSR. Then at our AMD Radeon™ RX 7900 Series graphics launch on November 3, we told you that FSR is supported in 216 games, and now, just over a month later, that number has grown to 226!
Significantly, even though it only launched earlier this year, of that 226 games a large portion of them now support or will support FSR 2 – there are 97 available or upcoming games with support for FSR 2, and 54 of those games are available now for you to play, with the majority of them supporting FSR 2.1 or higher. See the table below for a complete list of games that support FSR 2 today.
54 Available FSR 2 Games*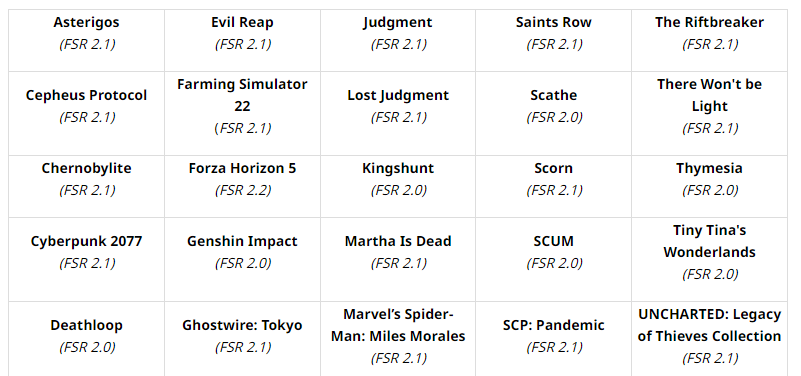 Some of the latest games in the list above to get FSR 2 include Marvel's Spider-Man: Miles Morales, Everspace 2, Saints Row, Warhammer 40,000: Darktide, and The Callisto Protocol.
Another big game that recently got FSR 2 was Cyberpunk 2077® by CD PROJEKT RED®, updated with FSR 2.1 in the 1.61 patch released in early November for both PC and next-gen consoles. With FSR 2 enabled you can enjoy Night City with incredible image quality at higher framerates in higher resolutions. Using the "Ultra" graphics preset at 4K, FSR 2.1 in "performance" mode can boost FPS by up to 1.7x at 4K on the AMD Radeon RX 6950 XT (3), and when using the "Ray Tracing: Ultra" preset at 1440p by up to 2.5x (4). You can check out FSR 2 and the additional performance it delivers in Cyberpunk 2077 in the video below.
As for upcoming FSR 2 games, there are 43, and some of the key games that will be getting our temporal upscaling technology in 2023 include Forspoken, Like a Dragon: Ishin!, Skull and Bones, and Dead Island 2. But before then, the next big game to get FSR 2 will be The Witcher® 3: Wild Hunt Next-gen Update by CD PROJEKT RED®, which is launching next week on December 14. You can check out some 1080p screenshots from the update below.
For a complete list of available and upcoming FSR 2 games that is updated on a frequent basis, you can check out our AMD Red Team Community post.