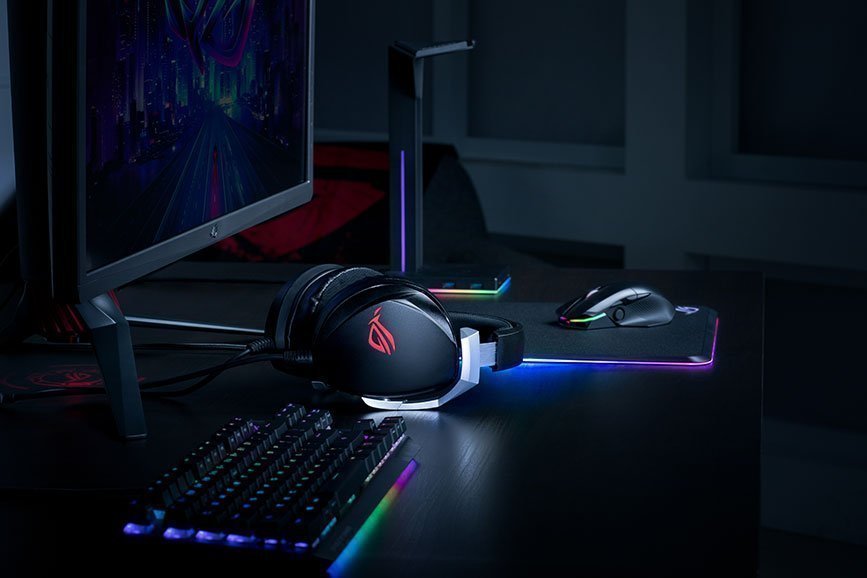 USB-C gaming headset with true 7.1 surround sound, world's first AI noise-cancelling mic, custom ROG 7.1 DAC, ESS quad amp and multi-platform support
TAIPEI, Taiwan, January 21, 2020 ASUS Republic of Gamers (ROG) today announced ROG Theta 7.1, a premium surround-sound gaming headset featuring eight discrete ASUS Essence drivers and powerful virtual bass for sensational audio with precise spatial positioning, plus the industry's first AI-powered noise-cancelling microphone for unmatched in-game-communication clarity.
ROG Theta 7.1, which has won a prestigious 2019 iF Design award, features a customized ROG home-theater-grade 7.1 DAC and four high-resolution ESS 9601 headphone amps to deliver lossless audio with incredible dynamics, while a USB-C™ connector enables 7.1-surround audio from compatible devices. In recognition of the AI-powered microphone, TeamSpeak awarded ROG Theta 7.1 a five-star gold certificate for gaming communication, with a spokesperson commenting: "Theta 7.1's sound quality is amazing. Some of the best we at TeamSpeak have ever heard."
ROG Theta 7.1 includes a USB-C connector with multi-platform support, freeing listeners to enjoy premium audio experiences anywhere with ease, with a compatibility list that includes PC, Mac, PS4, smart devices and Nintendo Switch.
True 7.1 surround sound with eight discrete ASUS Essence drivers and virtual subwoofers
Traditional 7.1 gaming headsets have physical subwoofers in the ear cups, but the very presence of these larger drivers can interfere with both high- and mid-range sounds. ROG Theta 7.1 avoids this setup with an innovative design that features four larger discrete ASUS Essence drivers in each ear cup to deliver full-spectrum, 7.1-channel surround sound with incredible fidelity and powerful virtual bass. With in-game sounds accurately positioned in 3D space, gamers are able to both hear and locate the origin of every gunshot and footstep, bringing the battlefield to life for unparalleled, immersive experiences.
AI-powered, noise-cancelling mic for crystal-clear in-game voice communication
ROG Theta 7.1 benefits from the world's first AI-powered noise-cancelling microphone, which features a dedicated processor loaded with smart profiles trained by machine learning to eliminate over 50-million types of background noise while preserving vocal harmonics for crystal-clear in-game voice communication. This AI-backed smart mic reduces distracting chatter, keyboard clatter and mouse clicks by up to 95%, allowing gamers to communicate clearly in any environment. Additionally, the detachable, unidirectional microphone is certified by both Discord and TeamSpeak, and an indicator light on the tip of the boom flashes red when the microphone is muted – so it's easy to see its status at a glance.
ESS 9601 quad amp and custom home-theater-grade ROG 7.1 DAC for lossless audio
Many competing true 7.1 headsets rely on only one amplifier to power multiple drivers, resulting in sound that lacks or even loses detail. ROG Theta 7.1 takes an entirely different approach. It features a customized ROG home-theater-grade 7.1 DAC with the SupremeFX S1220A audio codec to feed four discrete ESS 9601 headphone amps, delivering incredibly pure, detailed audio and pinpoint placement of effects within a vast aural sphere. The DAC also offers an impressive 118dB SNR – higher than any true 7.1 gaming headset currently on the market.
ROG Hybrid Ear Cushions with fast-cooling fabric and eyewear-friendly design
The unique ROG Hybrid Ear Cushions on Theta 7.1 reduce pressure on spectacles and similar eyewear for better comfort. Featuring a smooth, soft finish, these cushions combine specialized, fast-cooling fabric and 100% protein leather for exceptional comfort and sound isolation. The fast-cooling design reduces heat by 25%, keeping the wearer feeling fresh during long gaming sessions. The Hybrid Ear Cushions exhibit an ergonomic reverse D-shape with optimized clamping force for a firm, comfortable fit. The reversed chamber also affords more room for the front drivers, enabling realistic sound delivery.
Aluminum-alloy ear cup and yoke for fast cooling, plus intuitive controls
ROG Theta 7.1 features an aluminum-alloy ear cup and yoke design that provides better heat dissipation and durability to stand up to the rigors of gaming and long-term use. A one-touch button also makes it easy to toggle instantly between true surround and stereo sound, while a durable rocker switch adjusts output volume, microphone input and even RGB lighting – putting essential controls at the wearer's fingertips.
Multi-platform USB-C connectivity for premium audio experiences anywhere
ROG Theta 7.1's integrated USB-C™ connector enables wide compatibility with PC, Mac, mobile devices, PlayStation 4 and Nintendo Switch, enabling gamers and audio-lovers alike to enjoy quality output anywhere, with ease.