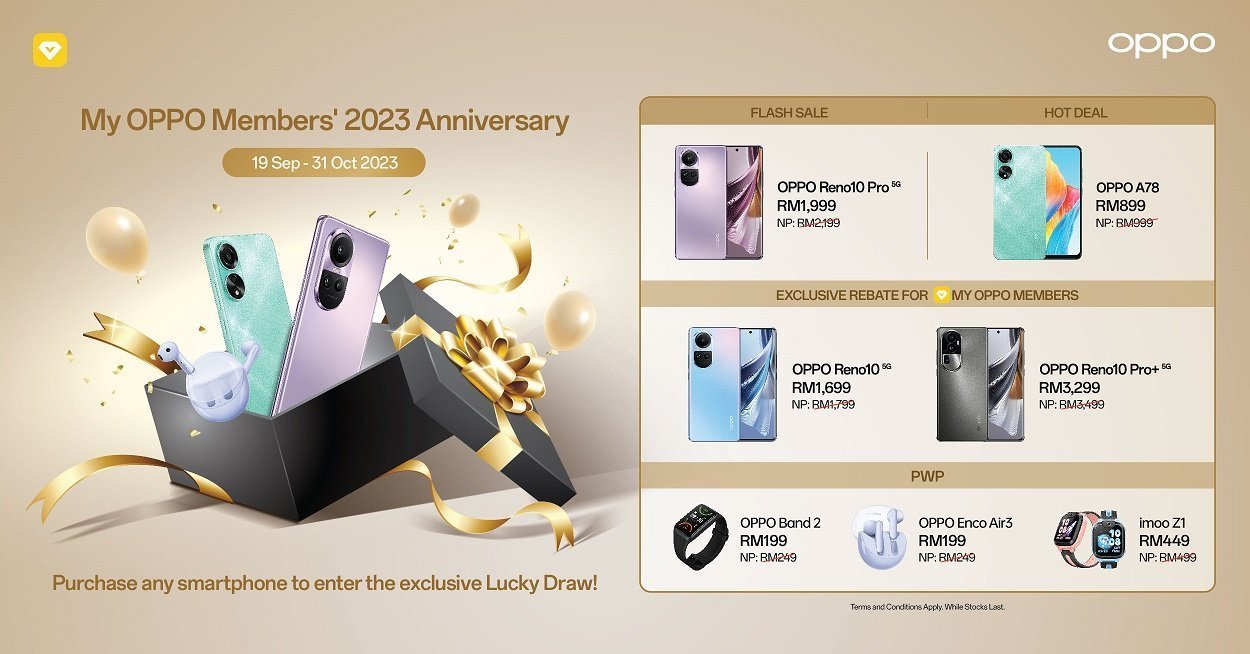 KUALA LUMPUR, 10th October 2023 — The clock is ticking, and time is running out on the My OPPO Members'2023 Anniversary celebration. With just three weeks remaining, OPPO enthusiasts are in for a treat with exclusive rebates, thrilling lucky draw prizes, and members' privileges that are too good to pass up, whether you're an OPPO member or not.
OPPO has an exciting lineup of products to cater to various needs during this special anniversary celebration, offering something for everyone. But with so many options, how do you choose the perfect product for you? Don't worry; we've got you covered. Read on for some valuable guides to make your decision easier.
Discover your ideal portrait photography smartphone camera – the OPPO Reno10 5G Series
For those with a passion for photography and a desire for professional-grade camera capabilities, the OPPO Reno10 Series 5G is the ultimate choice. Whether you opt for the OPPO Reno10 Pro+ 5G, OPPO Reno10 Pro 5G or OPPO Reno10 5G, all models in the series are equipped with an enhanced Ultra-Clear Portrait Camera system and formidable Telephoto Portrait Cameras. These features allow you to capture subjects with exceptional detail and depth, even from a considerable distance. Whether you're an aspiring photographer or simply enjoy taking high-quality photos, the Reno10 Series 5G is the perfect companion for your daily life.
Budget-friendly smartphones with impressive features under RM1000 – OPPO A78
For those who appreciate exceptional value without breaking the bank, the OPPO A78 is your answer. This budget-friendly smartphone offers a range of impressive features, including a long-lasting 5000mAh battery, 67W SUPERVOOCTM fast charging, and a stunning 6.4" 90Hz FHD+ AMOLED display. With the recent price reduction, the OPPO A78 is now even more affordable at just RM899, making it an excellent choice for budget-conscious consumers.
Unlock a world of health and convenience with the OPPO Band 2
The OPPO Band 2, a sleek and versatile smart wearable, is designed to enhance your fitness journey and streamline your daily activities. With advanced health tracking, real-time notifications and a large 1.57-inch AMOLED display, it's more than just a fitness tracker; it's your all-in-one companion for a healthier and smarter lifestyle. Whether you're monitoring workouts, staying connected on the go, or striving to reach fitness goals, the OPPO Band 2 offers a perfect blend of style and functionality.
Experience music like never before with the OPPO Enco Air3
If you are seeking true wireless earbuds that offer an immersive audio experience, delivering crisp highs and deep bass for an unparalleled listening journey, the OPPO Enco Air3 is a fantastic choice. With features like noise cancellation and touch controls, you can enjoy your music without distractions and easily manage your calls and music playback. The Enco Air3's ergonomic design ensures a secure and comfortable fit, making them perfect for workouts, commutes, or simply unwinding with your favorite tunes. With extended battery life and quick charging, these earbuds will keep up with your active lifestyle. Elevate your audio experience and indulge in premium sound quality with the OPPO Enco Air3 wireless earbuds.
Act now to seize the perfect OPPO products tailored to your lifestyle and preferences before the My OPPO Members' 2023 Anniversary celebration concludes. Here's a snapshot of the exciting promotions awaiting you:
1. Stand a chance to win incredible lucky draw prizes valued at up to RM300 with every OPPO smartphone purchase.
2. Delight in remarkable savings of up to RM200 when you acquire an OPPO Reno10 5G Series smartphone.
3. Explore amazing discounts of up to 20% OFF on handpicked purchase-with-purchase (PWP) products, including smartwatches and true wireless earbuds
For more information about My OPPO Members' 2023 Anniversary and its terms and conditions, visit www.oppo.com/my/store/contents/event/MyOPPOMembers2023Anniversary/ and https://www.oppo.com/content/dam/oppo/my/store/event/MyOPPOMembers2023Anniversary_tnc.pdf.