Samsung Electronics recently rolled out its #YouMake campaign, a campaign centered around customizing the color, design and even the combination of your Samsung products according to your lifestyle.
From refrigerators and TVs to smartphones and smartwatches, you can now make your Samsung experience your own across the full range of the company's products. Going beyond simply expanding the product options available, this campaign lets you enjoy customized and connected product experiences through the Internet-of-Things (IoT)-powered SmartThings platform.
The #YouMake campaign empowers consumers to take the lead in customizing their own product experiences however they want. Samsung Newsroom has explored how the #YouMake campaign can transform different spaces in your home through combinations of different devices to help you embrace your individuality, so read on to discover how this campaign can inspire you to discover seamless product experiences that are truly tailored to your lifestyle.
#Scene 1, Transform Wherever You Work Into A Home Office
Due to the pandemic, the traditional ideas of how and where we work have fundamentally changed. Today, many people work from home or operate on a hybrid schedule, which combines working from home and commuting to the workplace. Now, #YouMake offers another opportunity to revolutionize how we approach the way we work at home. By connecting your smart devices through SmartThings, workers can create a new home office culture by breaking the stereotype that "work equals computer."
Through #YouMake, you can start the day by working in your study with your Smart Monitor M8, but then step into the living room for a conference call using your Neo QLED TV. With its large screen, you can get a vivid sense of being in a meeting with your colleagues, as you easily read the meeting agenda and clearly see your coworkers' faces. For materials that need to be shared during the meeting, you can quickly share them through your Galaxy S22.
With the SmartThings' screen compatibility and connectivity features, including file sharing, you can choose the best products to use for different tasks in a simple, unified way.
#Scene 2, Customize Your Home With Design That Speaks to You
Your home is the one space that truly reflects your personality and style. Just like how you would select the wallpaper and furniture to decorate your home, you can now customize the colors and finishes of home appliances and electronics, such as your refrigerator, TV and smartwatch.
You can easily sync your style and your devices across your home with the #YouMake campaign.
For instance, if you've already chosen Bespoke Refrigerator panels to match your kitchen's bright, pink-hued wallpaper, you can add a further splash of color to your home by installing The Frame and choosing bezel colors that coordinate with the Bespoke Refrigerator.
When having guests over, you can then select the perfect painting for any special occasion and display it with The Frame. You can also opt for a Galaxy Watch strap and watch face in matching colors for a stylish look that meets any dress code.
#Scene 3, Make Any Get-Together a Night To Remember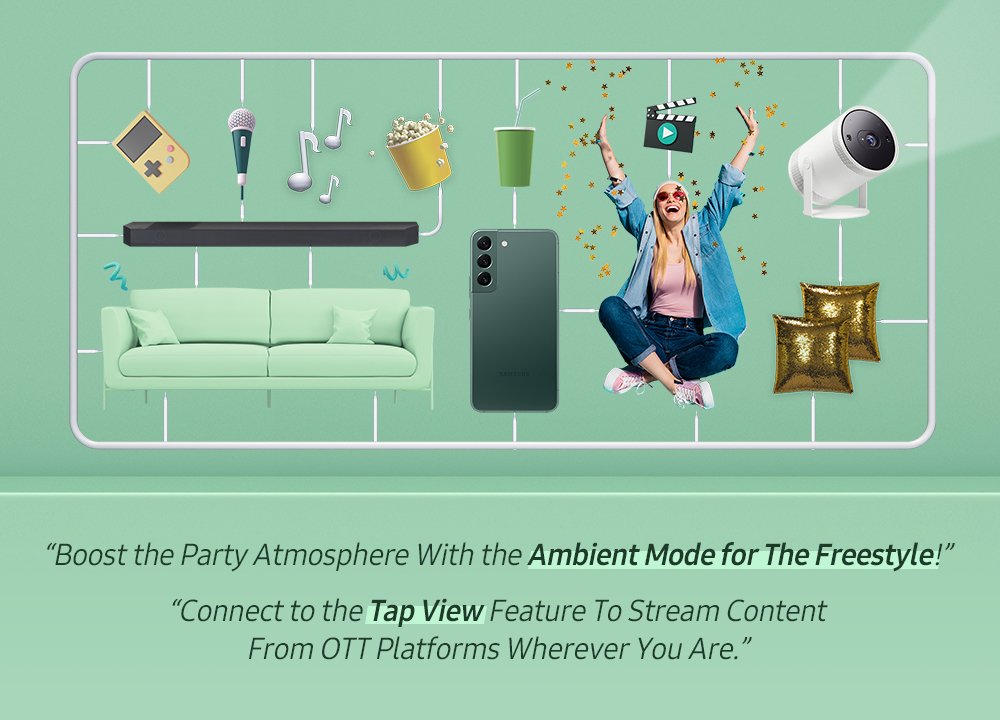 With the #YouMake campaign, you can transform wherever you are into a movie theater or a pumping party scene. The Freestyle, a lightweight and easy-to-carry portable screen, can display a large movie screen or provide mood lighting for parties. Simply turn on Ambient Mode on The Freestyle to display images that elevate the atmosphere and transform the vibe of the party.
If you're in the mood to stream a video from your favorite OTT platform, you can also connect The Freestyle to your Galaxy S22 using the Tap View feature to utilize the UI of a Samsung Smart TV. With 360-degree surround sound that fills up the entire space, you can enjoy truly high-quality sound from anywhere.
Samsung is offering consumers the opportunity to take the lead in tailoring their product experiences to fit their lifestyles. Learn more about these compelling connected device experiences by following Samsung's #YouMake campaign.