Connecting with consumers is critical to gaining their attention in a cluttered environment. To drive home the superiority of LG OLED TVs with consumers, LG in the USA has launched Only on OLED, a campaign and content strategy that positions LG as the necessary and exclusive partner to the biggest moments in entertainment. Focusing on key consumer passions that are drivers for TV purchases, the campaign will feature unparalleled access to unique events and moments best enjoyed on LG OLED TVs.
The key components of Only on OLED include a live celebrity gaming showdown series, docu-style short films featuring professional star athletes and exclusive sneak peeks at never-before-seen content from some of this year's most anticipated movie releases available only on LG TV's FOMO Channel app on the webOS smart TV platform.
"The Only on OLED program embraces the entertainment passion points of our consumers taking them beyond the actual movie, sporting event or gaming play with never-before-seen events and behind-the scenes content best experienced on OLED TVs," said Peggy Ang, LG US's senior vice president of marketing.
The campaign kicked off last week with the first LG OLED Ultimate Gaming Showdown featuring multi-platinum-selling music mogul DJ Khaled and world-renowned actor Megan Fox. The two stars competed in a head-to-head Fortnite battle, live streamed on professional esports team Evil Geniuses' Twitch Channel.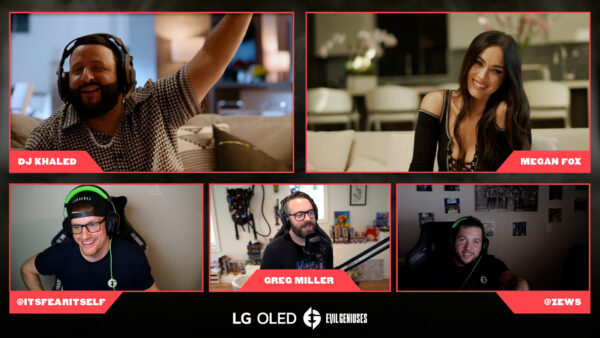 The event, which generated more than one million live views, focused on LG OLED's unrivaled superiority as the best TV for gaming. PR coverage in lifestyle and gaming publications including People Magazine and Hypebeast, and a series of witty social media videos featuring Fox and Khaled were the key drivers generating consumer attendance.
Khaled and Fox were both coached by Evil Geniuses talents Justin "FearItSelf" Kats and Wilton "Zews" Prado. Fox's celebrity boyfriend Machine Gun Kelly also made an unexpected cameo appearance.
Following the live event, LG TV owners will have exclusive access to behind-the-scenes content plus the ability to watch the event on-demand on LG's exclusive FOMO Channel app. Future Gaming Showdown participants and battles will be announced throughout the year.
Only on OLED will also deliver exclusive sports and movie experiences featuring star athletes and some of the most anticipated movie releases of 2021. Launching this spring, Only on OLED will debut two bespoke short films featuring professional football and basketball superstars taking fans behind-the-scenes for a glimpse into the story behind the player. And this summer, LG TV owners will have access to exclusive content from a few of this year's highly anticipated Warner Bros. Pictures film releases. More details on these programs will be announced at a later date.
Contributed by LG USA