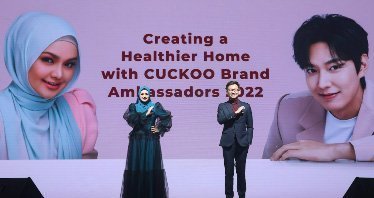 New product line-ups offer a smarter, holistic and convenient way to integrate health into Malaysian households
Multi-talented Lee MinHo joins Dato' Sri Siti Nurhaliza as CUCKOO Brand Ambassador
Kuala Lumpur, 31 March 2022 — The last two years have left people spending more time at home and adjusting to different daily routines. Amidst the changes, home has become more than just a space to live, work and rest, but also the foundation for better health and wellbeing.
Continuing its passion as the Healthy Home Creator for Malaysians, CUCKOO International (MAL) Sdn Bhd (CUCKOO International) has introduced a series of innovative solutions, including a flagship water purifier and its first-ever air-conditioning range. Simultaneously, CUCKOO International has appointed world-renowned South Korean artist, Lee MinHo, as its new Brand Ambassador. Lee MinHo will join the reigning Malaysian ambassador, Dato' Sri Siti Nurhaliza, in representing CUCKOO to #SAMASAMA to inspire people to live healthier and happier life.
"It all started with a cup of clean drinking water. Today, CUCKOO International has evolved into a household brand that touches customers in many facets of healthy living. As our daily habits and surroundings shift, the expectation for improved health and quality of life is only going to escalate."
"Today's announcements demonstrate our spirit to rise Beyond Standards in meeting the heightened expectations and delivering exceptional offerings for Malaysians. Through our continued innovations and partnerships with legendary personalities of all time, we are paving our path to elevate CUCKOO International as the No. 1 Healthy Home Creator in Asia," said CUCKOO International Founder and CEO, Mr KC Hoe (Hoe Kian Choon).  
Innovating Beyond Standards to Enable Healthier Homes
CUCKOO International drives its emphasis on healthy homes through four pillars of holistic offerings. The latest advancements spanning these Healthy Home pillars enable a smarter and more convenient way for customers to integrate health into their homes.
The 'Healthy Appliances' pillar with CUCKOO – Over the years, CUCKOO International has expanded its family of technologically advanced inventions from the iconic water purifiers and outdoor water filters to air purifiers, multi-cookers, and kitchen appliances through the CUCKOO brand. Expanding its offerings of Beyond Standards healthy appliances, the company launched an all-new flagship model, CUCKOO TITAN Tankless Mild Alkaline Water Purifier, which features CUCKOO's revolutionary and patented technology that allows the water purifier to dispense instant 100°C hot water instantly. The innovative water purifier could also dispense sterilisation water that could eliminate 99.9%* germs and even pesticides when used to wash vegetables and fruits, and its IN & OUT Auto Sterilisation System to ensure both the water and purifier are always clean.
Adding to its new generation range is the CUCKOO WARRIOR Mild Alkaline Water Purifier. It is the first mechanical water purifier with a faucet sterilisation function that effectively removes germs and prevents secondary contamination as the water flows through the outlet.
The 'Healthy Living' pillar with CUCKOO Co-Creations – Through strategic partnerships, CUCKOO International is actively growing its co-creation series aimed at improving living at home. In the latest development, the company has formed a strategic partnership with homegrown air-conditioning manufacturer Fujiaire to launch the CUCKOO Vita-S Inverter Smart Air Conditioner. Available starting April 2022, this state-of-the-art invention comes with a filtration system that effectively destroys bacteria, while infusing the air with Vitamin C to protect the skin and overall immunity.
In promoting and ensuring quality sleep for good health for all, the CUCKOO A-Series Mattress is now available in a super single size to provide individuals with a bit more room for comfort without sacrificing more space or budget. This high-quality range is a result of a crossover between CUCKOO International and Malaysia's largest natural latex bedding producer, LSK Napure®.
The 'Healthy Lifestyle' pillar with WonderLab Group – In December 2021, CUCKOO International established the WonderLab Group, a strategic corporate arm to drive a more holistic approach to unify beauty and wellness. The group which houses the WonderLab, WonderDewi and BeauSiti x WonderLab brands, offers a wide range of skincare products, cosmetics, and nutritional beverages.
WonderLab spotlights the Bel-aek Ageless Series, proven to help achieve youthful and healthy skin. The products are formulated with the latest Korean technology dubbed the Trio Black Complex™, which unlocks the goodness of black rice, black sesame and black bean. During the event, WonderLab has introduced two new products to the series that was launched in December 2021 i.e. Bel-aek Ageless Eye Cream and Bel-aek Ageless Sleeping Mask, boosted with black ginseng as the star ingredient for timeless ageing.
In addition, fans of WonderDewi will be delighted with the introduction of WonderDewi-C Date & Pineapple Mixed Fruit Juice, a new flavour that adds to its delicious range of nourishing juices.
The 'Healthy Home Care' pillar with WonderKlean – At the height of the pandemic, CUCKOO International decided to activate disinfection to protect its service personnel. The idea grew into an unprecedented service offering for its loyal customers, leading to the birth of WonderKlean. Launched in May 2020, WonderKlean provides comprehensive home care and cleaning services, including indoor disinfection, as well as cleaning services for washing machines, kitchen appliances, air-conditioner, and mattress. Backed by over 2,000 trained specialists, CUCKOO International will continue to expand the array of WonderKlean services and expertise.
Helping Malaysians to live healthier and happier
Complementing the new line-ups, CUCKOO International takes the excitement a notch higher by unveiling Lee MinHo as the brand's new face for CUCKOO, while retaining the beloved TokTi as its ambassador. The pair share a common thread of accomplishments, ever-growing talents, and the consistent quest for excellence in everything they do – as an entertainer, performer, entrepreneur, role model, and philanthropist.
"Lee MinHo and Dato' Sri Siti Nurhaliza perfectly embodies CUCKOO's philosophy of going Beyond Standards. Their image, energy and passion fit well with our healthy brand appeal. We are thrilled to draw on their positive influence to bring the brand closer to our customers and broaden our reach to more Malaysians," added KC Hoe (Hoe Kian Choon).
The series of announcements came at the back of a solid financial performance in 2021 despite the challenging environment. Since its inception in 2014, CUCKOO International has maintained seventh consecutive year of growth with a record earning of over RM1.13 billion last year. Apart from its dedication to innovation and service excellence, much of its success has been largely attributed to its flexible subscription-based business model.
The GOOODPlan™ is central to ensuring CUCKOO International's products and services remain accessible and affordable for people from all walks of life. The unique payment plan, which includes free routine servicing and warranty, creates a lower barrier to entry for appliances that are usually costly for many families.
The secrets to a strategic and successful implementation of such a model are captured in the book, "Rent-Subscription Business Model" authored by KC Hoe (Hoe Kian Choon). Available in Mandarin, the book references CUCKOO International as a case study to inspire business owners and small-to-medium enterprises who wish to transform their business through sustained, recurring revenue.
KC Hoe (Hoe Kian Choon) said, "All good things are meant to be shared. Since our humble beginning, we've gathered practices, disciplines and learnings that made CUCKOO a trusted brand by over 4.7 million Malaysian household users today. We wish to impart this knowledge to enrich others, as I am passionate to see fellow Malaysian businesses succeed, especially at the time when the economy is gradually recovering."
CUCKOO International's Media Night – Photo Captions