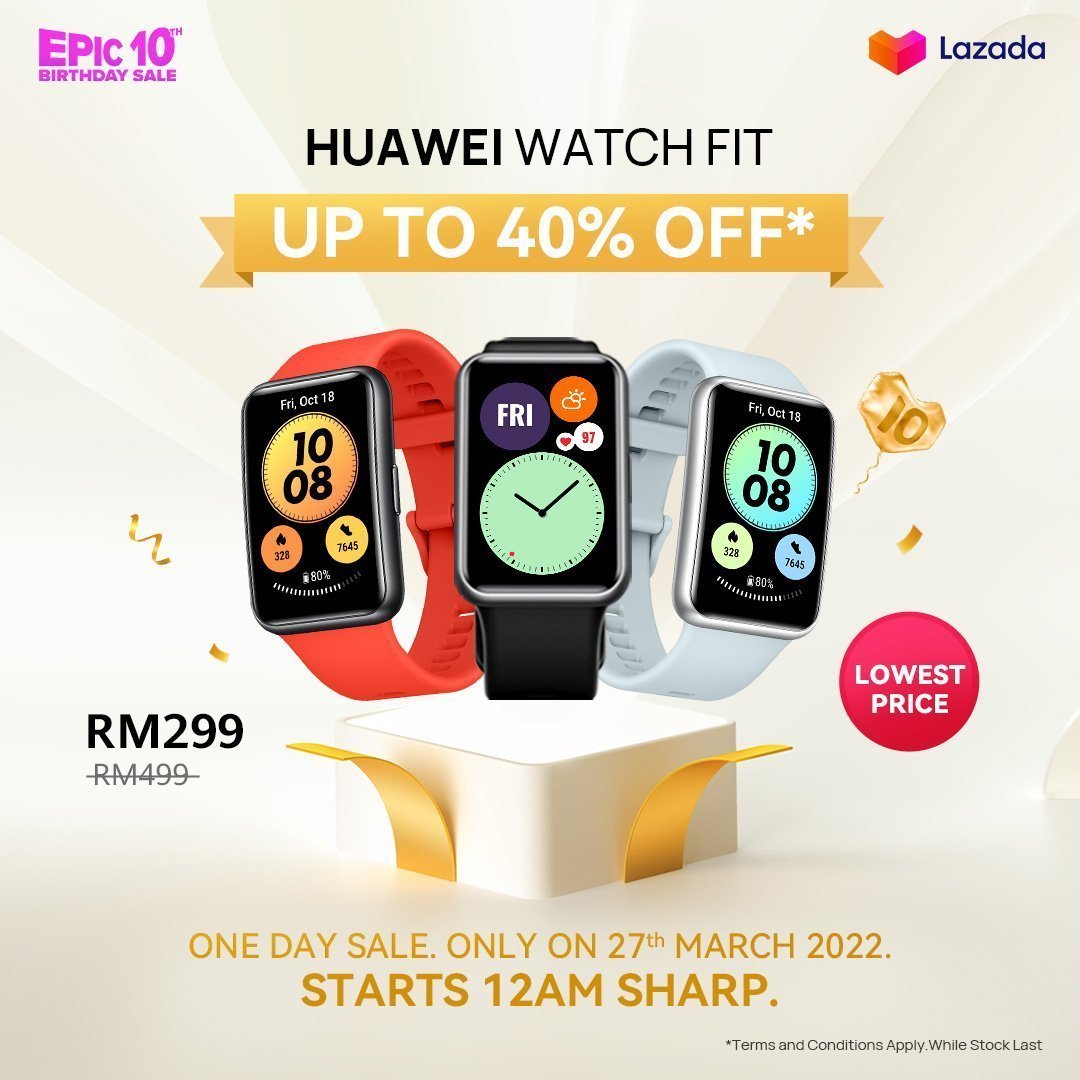 Check out the HUAWEI Official Store on Lazada on 27 March 2022 for exclusive deals* on selected HUAWEI products
KUALA LUMPUR, 24 March 2022 – Whether you are a workout enthusiast or music lover, you won't want to miss the upcoming 3.27 Lazada Birthday Sale! HUAWEI is kicking off its audio and wearables promotions with discounts up to 50%*, freebies* and more, only available on HUAWEI Official Store on Lazada this 27 March 2022!
Hurry and start adding your favourite HUAWEI audio devices and wearables into your shopping cart and gift yourself this 3.27 Lazada Birthday Sale.
Boundless Sound with HUAWEI Audio Gadgets
If all you want to do is tune out from the world after a tiring day at work or school, the recommended buy is the HUAWEI earbuds for you to indulge in an immersive music experience.
HUAWEI Freebuds 4 & Freebuds 4i
HUAWEI Freebuds 4 comes with the Open-fit active noise cancellation 2.0 designed to allow air pressure to stay equalised at the same time. This ensures that crucial environmental noises can still be heard, serving a secure and an exceptional quality audio. If you are concerned that your earphones may fall off while in use, you don't have to worry because the HUAWEI Freebuds 4 is fashioned to fit every ear. It uses an adaptive ear-matching technology to determine your in-ear shape and how you wear the earbud. To add, the HUAWEI Freebuds 4 provides advanced features such as longer battery life, fitted with Swipe Control where you can listen to your music and accept calls via simple, intuitive gesture controls on the earbud all-day long.
HUAWEI Freebuds 4i with its remarkable battery endurance, can play music for 10 hours continuously on a full charge keeping you at ease throughout the day. It also senses your touch accurately as it has a built-in capacitive sensor for instinctual touch controls. Paired with your HUAWEI smartphone, you can now conveniently launch music and take calls with just one touch.
Both the HUAWEI Freebuds 4 and Freebuds 4i are built in with Active Noise Cancellation (ANC) that would blow you away with its crystal-clear sound bringing you off to an entirely different dimension. With the Lazada Birthday sale this 27 March 2022, the HUAWEI Freebuds 4 and Freebuds 4i are priced at only RM429* and RM199*, respectively.
HUAWEI FreeLace
Wrapped in nickel-titanium alloy and liquid silicon, the HUAWEI FreeLace is a worthy buy, priced at only RM99*. The earphones fit like a glove around your neck and can conveniently remain tangle-free while coiled up. Equipped with HUAWEI HiPair Technology and USB-C plug, users enjoy instantaneous plug-and-pair, as well as plug-and-charge to their smartphones or tablets. The HUAWEI FreeLace will impress you with its capability of lasting 4 hours from just a 5-minute charge. Furthermore, the HUAWEI FreeLace has 3 noise cancellation modes. You can choose the right noise cancellation mode to match different scenarios and enjoy an enhanced audio experience during workout or when you are on-the-go.
HUAWEI Wearables Giving You More Than Just Time
HUAWEI understands that keeping up with a healthy lifestyle is a constant challenge. For this reason, HUAWEI wearables are built to help monitor all aspects of your fitness routine. Ranging from HUAWEI Band 6, HUAWEI WATCH Fit to HUAWEI WATCH GT 2, GT 2e and GT 2 Pro, the smartwatches come with technology to track and monitor your health and fitness stats, for a healthier and better quality of life.
HUAWEI Band 6
HUAWEI Band 6 is a great choice for fitness freaks as it comes with a total of 96 different workout modes to always keep you motivated to reach your fitness goals. This smartwatch has a 1.47-inch AMOLED FullView display, with a 148% larger viewable area, and a low-bezel 64% screen-to-body ratio. Combine that with the high-resolution 194 x 368 display with 282 PPI and you've got something really impressive to look at on your wrist. The HUAWEI Band 6 is priced at RM149* only at the 3.27 Lazada Birthday sale. You can choose from 4 different HUAWEI Band 6 strap colours and the best part is that it is super-light and dirt-resistant.
WATCH Fit
HUAWEI WATCH Fit offers a larger screen, a lighter design and longer battery life. This incredibly thin and light wearable packs upgraded battery performance into just 21 grams, making it perfect for an all-day long use. With the quick charge technology, the smartwatch can support you an entire day with a 5-minute charge. The HUAWEI WATCH Fit is on promotion at only RM299*. Even when you are not in the midst of a workout session or in a sports game, HUAWEI wearables keep track of your heart rate, calories burnt and monitors your blood oxygen saturation level with its built in SpO2 detection system.
HUAWEI WATCH GT 2 (46mm) and HUAWEI WATCH GT 2e
For users looking for something more adventurous and ultra-modern on the wrist, the HUAWEI WATCH GT 2 (46mm) and the HUAWEI WATCH GT 2e are both on sale! The HUAWEI WATCH GT 2 (46mm) is on promotion at RM449* and gives off that cool yet professional look. It is perfect for users looking to have Bluetooth Calling when paired with a smartphone and more health monitoring features.
As for the HUAWEI WATCH GT 2e that is priced at only RM339*, it supports daily essential use when connected to your smartphone, from precise positioning system to real-time notifications for incoming calls, emails and calendar events. The HUAWEI WATCH GT 2e comes with a durable stainless-steel frame that matches flawlessly with the colourful fitness straps, giving off a sleek and stylish look. You can also explore new and exciting adventures with the HUAWEI WATCH GT 2e as it has 85 newly added custom workout modes.
HUAWEI WATCH GT 2 Pro
For a higher budget, the sophisticated craftsmanship of the HUAWEI WATCH GT 2 Pro, is within your reach at only RM999*. The lightweight smartwatch serves a solid, refined look with a wear-resistant sapphire dial and titanium frame. Users can select from over 200+ dynamic watch face designs to fit the mood or occasion.
It also offers more than 100 workout modes available along with its HUAWEI TruSeen™ 4.0+. The HUAWEI Watch GT 2 Pro helps monitor your heart rate and average speed. Not only that, you can also receive voice alerts if any data exceeds the acceptable rate. The HUAWEI Watch GT 2 Pro has a built-in altitude barometer that detects change in real time air pressure thus reminding you of the weather changes so you would be prepared when you are about to start your outdoor adventure.
Music On-the-go with HUAWEI Mini Speaker
If you enjoy music when you are out partying with friends or if you are just at home doing routine cleaning, the HUAWEI Mini Speaker is a treat for you! It has a light and compact body for easy portability wherever you go. It provides a loud volume and a deep bass that lets you enjoy music like never before. The best part about the HUAWEI Mini Speaker is that only has one button and one indicator making it effortless to use. It is now priced at only RM9.90* during the 3.27 Lazada Birthday Sale!
Paired for Enhanced User Experience
Existing HUAWEI smartphone users who decide to take advantage of this 3.27 promotion to get additional audio and wearables, will enjoy significant benefits when these devices are used together in everyday activities. When paired with HUAWEI smartphones, HUAWEI Freelace, Freebuds 4 and 4i, function perfectly to take handsfree calls while you take meeting notes. They are also made-to-fit vigorous movements as you clean the house or workout at the gym, while you listen to your favourite podcasts or songs. Also, by activating the eSIM service on their smartphones, phone numbers, voice and data plans between their smartphone and smartwatch can be conveniently shared. Life is indeed better with the HUAWEI ecosystem.
Don't wait any longer! Time to add a list of HUAWEI audio and wearables to your shopping cart during this one-day exclusive sale on the HUAWEI Official Store on Lazada! Make full use of the discounts and offers presented to you and get more for less now.
Discount Promotion
Product
RRP (RM)
Promotional & Discounted Price* (RM)
HUAWEI Band 4e Active
119
69
50 OFF
HUAWEI Band 6
219
149
70 OFF
HUAWEI FreeBuds 4
599
399
200 OFF
HUAWEI FreeBuds 4i
379
199
180 OFF
HUAWEI Scale 3
149
89
60 OFF
HUAWEI WATCH Fit
499
299
200 OFF
HUAWEI WATCH GT 2 46mm (Fluoroelastomer Matte Black)
799
449
350 OFF
HUAWEI WATCH GT 2 46mm (Leather)
899
549
350 OFF
HUAWEI WATCH GT 2e 46mm (Graphite Black)
599
339
260 OFF
HUAWEI WATCH GT 3 42mm (Black)
999
799
200 OFF
HUAWEI WATCH GT 3 42mm (White)
1099
849
250 OFF
HUAWEI WATCH GT 2 Pro
1199
899
300 OFF
HUAWEI FreeLace
369
99
270 OFF
HUAWEI CM510 Mini Speaker
99
9.9
89.1 OFF
Purchase With Free Gifts
| | | | |
| --- | --- | --- | --- |
| Product | RRP (RM) | Promotion Price (RM) | Discounted Price (RM) & Free Gifts* |
| HUAWEI WATCH 3 46mm (Fluoroelastomer) | 1699 | 1499 | 200 OFF FREE Vital Fitness 45mm Grey Green Watch Strap (Worth RM99) |
| HUAWEI WATCH 3 Pro 46mm Leather | 2199 | 1999 | 200 OFFFREE 46mm Matte Black Watch Strap (Worth RM99) |
Bundle Deals
Product
RRP (RM)
Promotional & Discounted Price* (RM)
HUAWEI Band 6 + HUAWEI FreeBuds 4
818
499
319 OFF
HUAWEI WATCH Fit (Red)*2 pcs Combo Deal
998
399
599 OFF
HUAWEI P40 Pro (Deep Sea Blue) + HUAWEI MateBook D14 i3
6598
3999
2,599 OFF
HUAWEI nova 8i + FreeBuds 4i
1678
1299
379 OFF
HUAWEI MateView + FreeBuds Pro
3687
3187
500 OFF
HUAWEI P50 Pocket White + FreeBuds Lipstick
6998
6499
499 OFF
HUAWEI P50 Pocket Gold + FreeBuds Lipstick
8298
7599
699 OFF
HUAWEI WATCH Fit + FreeBuds 4i + HUAWEI Scale 3
1027
549
478 OFF
HUAWEI D14 i3 + FreeBuds 4i
3078
2198
880 OFF
HUAWEI FreeBuds Lipstick + HUAWEI P50 Pro
5198
4699
499 OFF
Be sure to check out all your purchases on 27 March 2022. For more information, stay tuned to HUAWEI Malaysia Facebook Page.