Samsung's newly debuted Galaxy S23 Ultra, Galaxy S23+ and Galaxy S23 creates epic, immersive experiences that push the limits of what's possible in a premium smartphone. For more people to get a closer interaction with the latest flagship devices, Samsung rolled out interactive launches and events across Southeast Asia.
Singapore – Galaxy Experience Space
At the first-ever Galaxy Experience Space at Singapore's Gardens by the Bay, over 500 regional media, influencers, channel and retail partners, as well as Samsung Member Stars witnessed the unveiling of the new Galaxy S23 series. From a sharing by Sangho Jo, President & CEO of Samsung Electronics, Southeast Asia and Oceania on how the Galaxy S23 is setting the standard for the ultimate premium smartphone experiences, to capturing a slice of Korea at the 'Night of Seoul' photo booth using the Galaxy S23's Nightography capabilities, everyone walked away with an epic experience!
In addition, influencers, journalists, and Samsung Members Stars were invited to try out the ultimate camera capabilities of the Galaxy S23 series through exclusive tours at scenic night locations, and a first-hand experience of the sensational and interactive art installations within 29Rooms, located beside the Galaxy Experience Space.
Thailand – The Moon Project
In Thailand, Samsung brought the "Super Full Moon" up close to the masses, touring a full moon art exhibit around landmarks in Bangkok. This gigantic moon spotlights the 100X Space Zoom on the Galaxy S23 Ultra, which includes 10x Optical Zoom and 10x digital zoom with AI Super Resolution technology[1], while encouraging all to tune into the global Unpacked livestream on 2 January!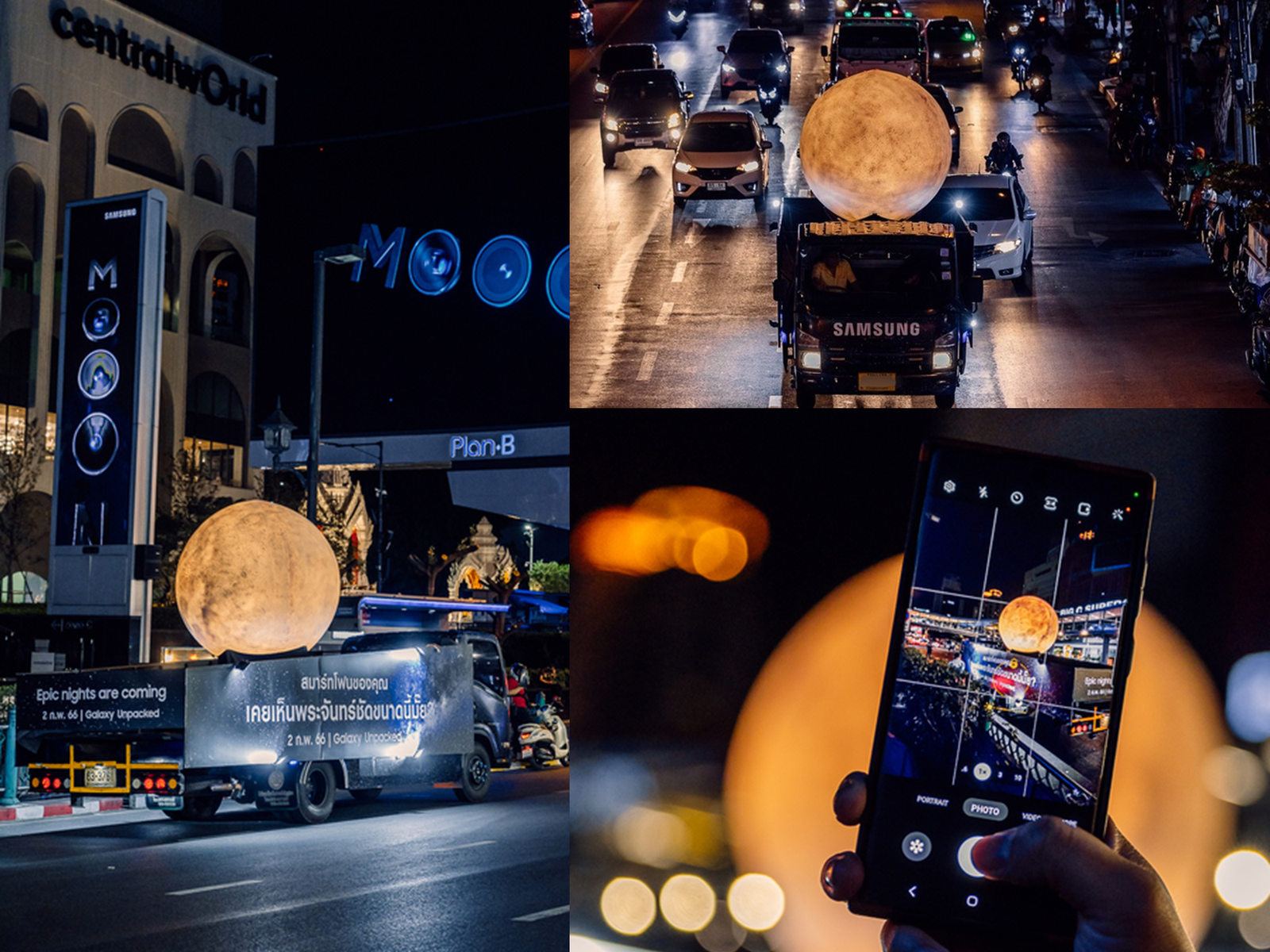 Vietnam – Nightography Zones
Throughout the month of February, Samsung organized a series of activations at shopping malls across Vietnam. Influencers and members of the public were invited to try the Nightography capabilities of the new Galaxy S23 series smartphones in photo booths featuring immersive and eye-catching backdrops and given photo printouts as souvenirs after.
The Philippines – Epic House
Over in the Philippines, Samsung hosted 320 attendees at its launch event "Epic House", held at The Fifth at Rockwell in Makati, to experience the Galaxy S23 series up close with themed zones on Nightography, Productivity, Gaming, Self-expression, and Sustainability. Top-tier influencers and media, such as Liza Soberano, were invited to take night selfies, videos, and portraits with the Galaxy S23 series and to check out the "Flotilla", an artwork installation made from recycled materials by local renowned artist, Leeroy New.
Myanmar – You Only Live Epic
At the "You Only Live Epic" event at Lotte Hotel in Yangon, over 500 attendees got in on the action around the new Galaxy S23 series. Putting up a song and dance performance to music inspired from the classic Over the Horizon ringtone, Team Galaxy members showcased the features of the latest flagship devices in an entertaining musical show. Some of them also gave exclusive deep dives into their content creation and gaming journeys with the Galaxy S23 Ultra, building up the excitement for an epic time of hands-on experiences with Samsung's newest smartphones!
Indonesia – Epic Nightography, Epic Victory, Epic Inspirations
On February 23, over 180 journalists, tech reviewers, Samsung Members and Team Galaxy were treated to an experiential journey of content creation at the Ritz Carlton Pacific Place in Jakarta. From taking pictures in a sea-themed Nightography room to enjoying gaming victories on the Galaxy S23 Ultra, attendees were able to interact with the latest devices in new ways.
Select journalists were also invited to a concert by #TeamGalaxy member, Raisa, to experience the Galaxy S23 Ultra 5G's Nightography capabilities live. Local photographer, Anton Suseno, was also invited to demonstrate to media how features on the S23 Ultra, such as improved Nightography and 100X Space Zoom, can help one capture epic and detailed photographs in low-light concert conditions.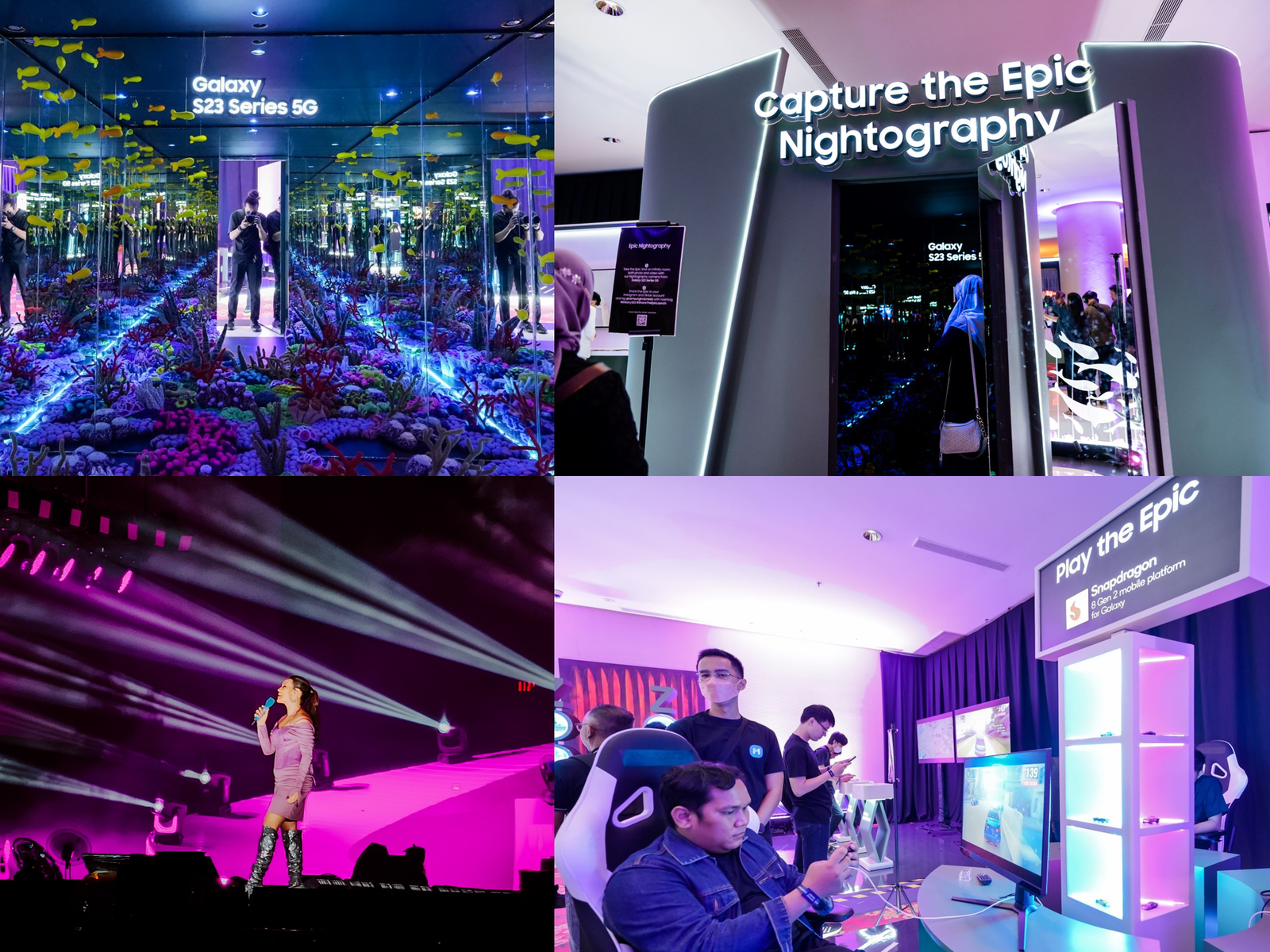 Malaysia – Samsung Galaxy Space
Samsung fans in Malaysia joined in the fun through an experiential adventure at the Samsung Galaxy Space. Participants had the opportunity to try out the Galaxy S23 Ultra to capture trendy low-light shots against an LED-lit Alley and street night scene, as well as an interactive ball pit and splash art space. Fans were also treated to creative workshops held at the Galaxy Space, such as daifuku-making and coaster tufting, and a few lucky ones even had the chance to meet local cosplay sensation, Hakken, on March 4.
Cambodia – Trade Show
The excitement continued in Cambodia, where over 400 people gathered at Naga World Hotel, Phnom Penh, to celebrate the launch of the Galaxy S23 series on February 11. Participants were treated to an opening K-pop dance performance and had the opportunity to learn more about the latest flagship smartphones through a product sharing, and hands-on experiences with the devices. Samsung fans were also able to try out the new Galaxy S23 series at the special activation at Aeon Mall 3, Phnom Penh.
For more information on Galaxy S23 series, please visit: https://www.samsung.com/my/smartphones/galaxy-s23-ultra/
[1] Zooming in past 10x may cause some image deterioration.