Samsung Malaysia Electronics is proud to announce the winners of the Solve for Tomorrow 2022 competition over the weekend. Co-organised with Universiti Malaya's STEM Centre, the 3-hour Grand Finale took place at Universiti Malaya's Faculty of Engineering where Team Dzalis Smart Ino from SMK Dato' Razali Ismail clinched the first prize, RM 30,000 worth of Samsung products, for their ideas and creative solutions in addressing one of Malaysia's key issues on Health & Well-being. Team Tropbotz from SMK Tropicana took second place with RM 25,000 worth of products for their idea and Team NewGen Leaders from SMK Seri Bintang Utara took third place with RM 20,000 worth of products for their solution. Consolation prize winners, Team Fishballz from SMK Taman Desa and The Green Scientists from SMK (L) Methodist Sentul received RM6,600 worth of products each.
"STEM capabilities are becoming increasingly relevant for the future and Solve for Tomorrow demonstrates our goal to help Malaysian students to expand their skills in STEM and eventually pursue a career in it. The concepts and solutions from our students get more innovative each year and we want to congratulate the winning teams. These students are the future and have the right mindset in making the change we want to see in our society today," said Dato' Roh Jae Yeol, Director of Corporate Affairs, Samsung Malaysia Electronics.
"It has been a privilege to be part of the students' journey in innovating prototypes that help in addressing issues faced by the community. They were driven to make real changes to the society, and this desire has tapped the young minds to create an even more inspiring solution. This year, the judges were having tough time in selecting the finalist." said fellow judge, Ir. Dr Mas Sahidayana Mohktar, Director of Universiti Malaya STEM Centre.
Following multiple discussions, hard work and perseverance towards developing solutions to better our society, the five finalists delivered their concepts in a presentation to an esteemed panel of judges. Each team presented their prototype followed by a brief Q&A session on the thought process behind their ideas. The students also exchanged insights and knowledge with the judges on their drive for chosen issues and the reasons why they elected to design and develop their respective ideas with STEM applications.
The panel of judges included Ir. Dr. Mas Sahidayana Mohktar, Director of Universiti Malaya STEM Centre; Professor Dr. Noran Naqiah Mohd Hairi, Dean of Health and Well-being Research Cluster, Universiti Malaya and Professor Dr. Sithi Vinayakam a/l Muniandy, Department of Physics, Faculty of Science, Universiti Malaya.
Winning Ideas: Samsung Solve For Tomorrow 2022 Competition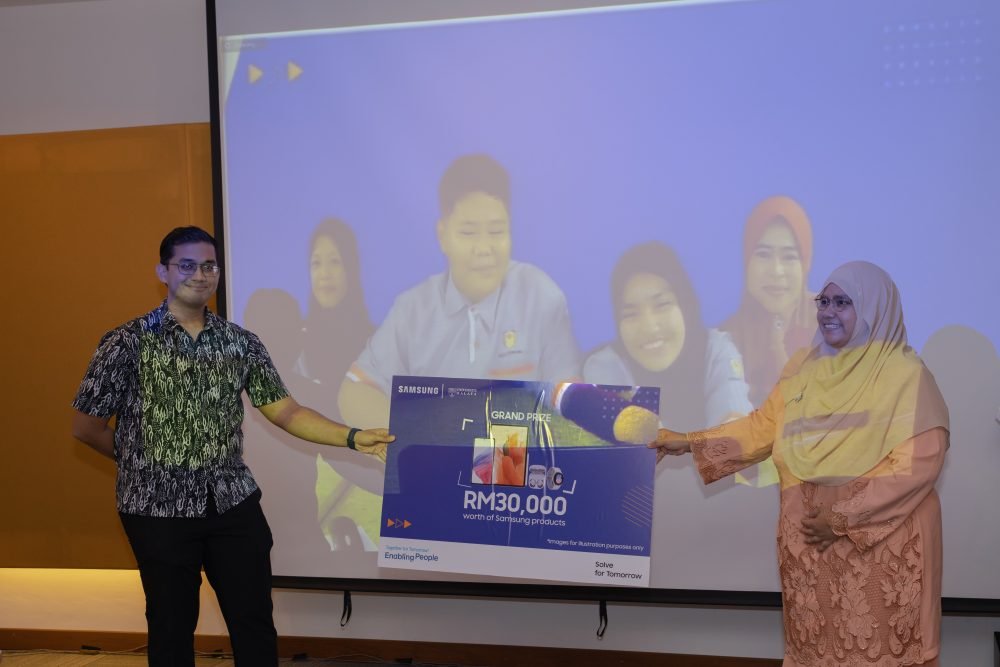 The grand prize-winning team, Team Dzalis Smart Ino from SMK Dato' Razali Ismail developed a sustainable, solar-powered thermos called FOODDECK to store food in a suitable environment through an application in the efforts of keeping food bacteria-free and to prevent further wastage. The idea came about from watching food stall vendors not being able to store their food in a hygienic manner and many troubled individuals who enjoy cooking meals but not having sufficient space to store the leftovers. The thermos is designed not only to have the ability to retain heat but to also store food in cold conditions. The team comprises of Jasqmin, Nur Aim Umairah and Putera Ahmad Danish Zaquan under the guidance of the teacher, Che Norhamira bt. Che Mohd.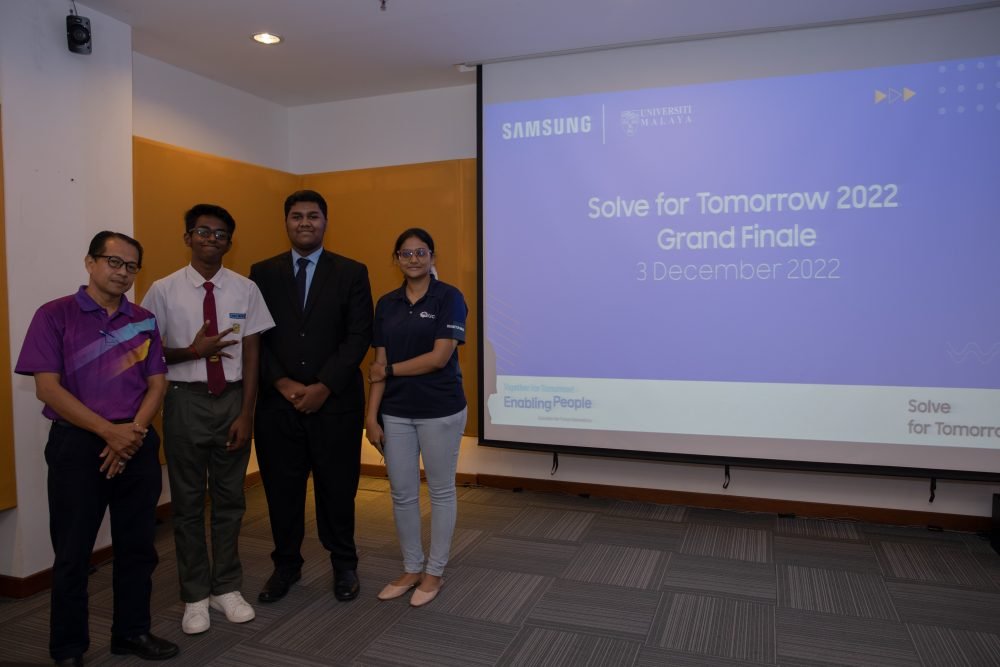 The 1st runner-up Team Tropbotz from SMK Tropicana the consolation prize winners created a smart pet cage called the IoT Pet Guardian designed to monitor, feed and care for the well-being of your pets. It provides smart solutions for a pet owners' peace of mind. Integrated with IoT to monitor and receive data on the temperature in the pet house, the cage will be programmed to behave as if the owners never left the house by opening the toilet trapdoor at a programmed timing, dispensing food in the bowl and pumping water into its water tray. The team comprises of Chua Wei Ming, Tee Yi Zhe and Muhammad Aqil guided by their teacher, Khor Puay Puay.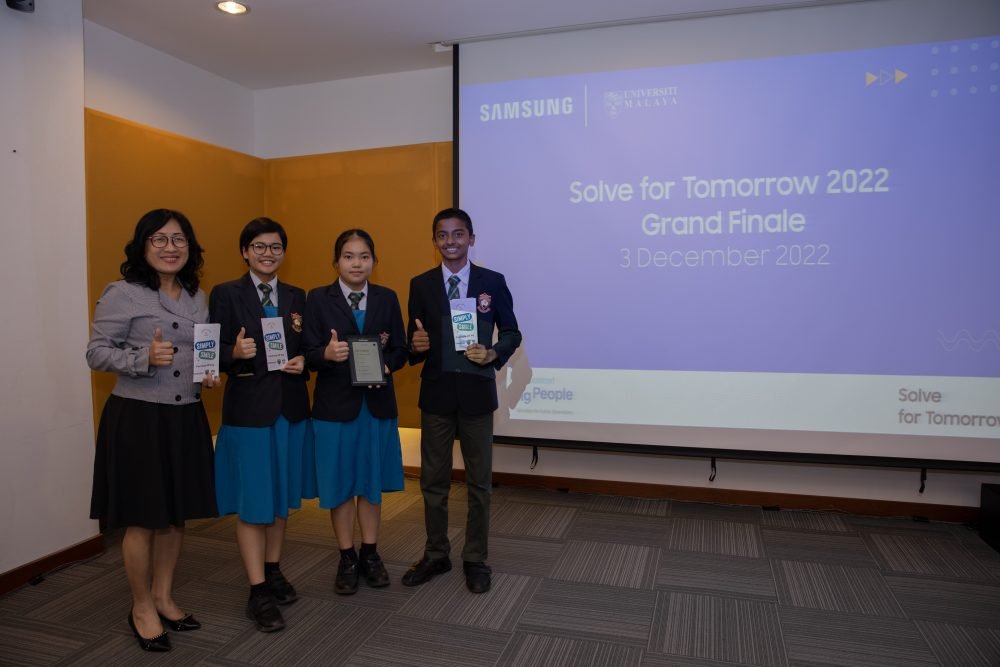 Mental health has become one of the most talked about topics these past couple of years. The 2nd runner-up Team NewGen Leaders from SMK Seri Bintang Utara have created a mental-health focused mobile application called SimplySmile with an AI chatbot that analyses emotions and biometrics; monitored through Samsung Health. SimplySmile plays the role of having that constant friend with you no matter where you are. Involving the concept of subconsciously pushing positive notes and encouraging quotes is a start to change the user's mood and behaviour from negative to positive in no time! The team is made up of Chuah Yee Jia, Chuah Yee En and Ahmad Jazeel under the assistance from their teacher, Lee Saw Im.
Team Fishballz from SMK Taman Desa developed a mobile application led by an AI assistant to help guide students with their studies. There are a majority of students facing issues of not being able to keep up with the lessons in their classes and when the pandemic hit in 2020, it just got worst. Students were then forced to attend classes online which made it even more difficult for them to concentrate with all the surrounding distractions. The application includes a chat function where students from different locations and backgrounds can chat and send each other gifts earned by completing virtual homework. The team includes Chu Ting Ern, Chloe Yew Xiao Shuen and Priscilla Chong Ai Ling under the direction of the teacher, Nurul Huda bt. Che Hamzah.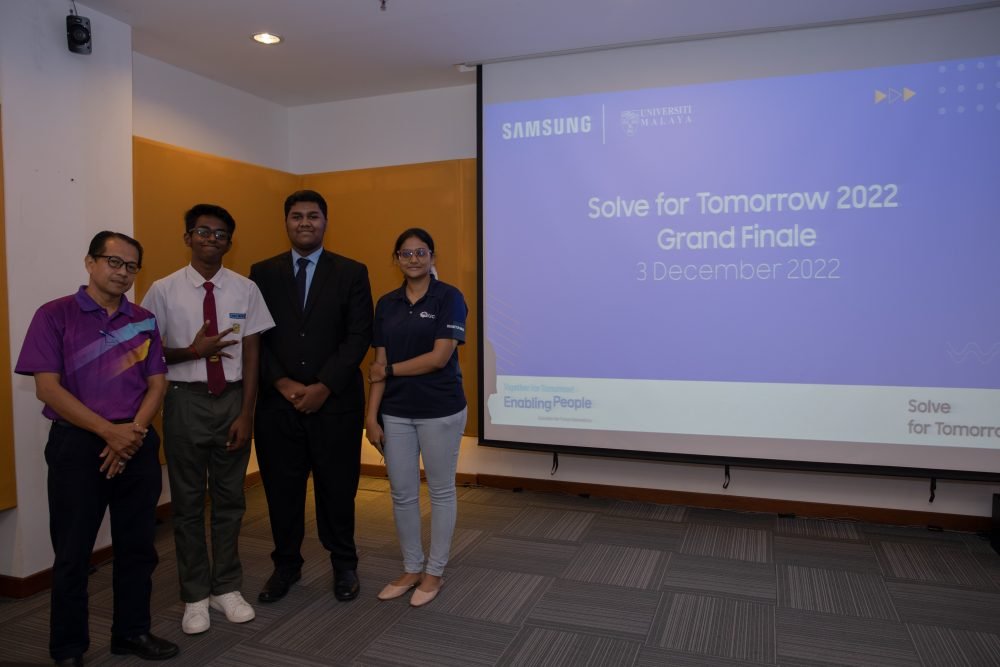 The usage of non-renewable energy resources has been the main contributor to global warming and climate change. This issue raised numerous concerns such as the rising of sea level, increased frequency of extreme weather events, and detrimental pollution to the environment due to carbon emission. Consolation prize winners, Team The Green Scientists from SMK (L) Methodist Sentul, came up with a structure of solar panels called Solar Flower, designed to follow the sun. Its light sensors detect the highest ambient light intensity, allowing for the most efficient conversion of energy into power. The team includes Vassenthen, Viswa Visagan and Alan Qing Zhen led by their teacher, Juraidi b. Mat.
For more information about Samsung's Solve for Tomorrow, please visit: https://www.samsung.com/my/solvefortomorrow/