We've seen how the latest Samsung Galaxy flagships were flexed on the 2022 Kuala Lumpur Fashion Week (KLFW) runway along with a slew of fresh overarching fashion themes. One tech accessory that attracted our eyes are the adorable, cotton-candy-like buds in the models' ears – the Galaxy Buds2 Pro.
So, here's why we believe that the wireless earbuds trend should make a comeback!
Galaxy Buds2 Pro Adds Colour and Personality to Your Everyday Style
The Galaxy Buds2 Pro arrives in a premium chromatic range, from the neutrality of Graphite and White to the colour of the year, Bora Purple! Polished to a high gloss with a matte interior, the Galaxy Buds2 Pro feels soft against the skin and blends seamlessly into any outfits. These colours transcend on an aesthetic level, beyond the earbuds' innovation and power as a gadget.
Whichever colour option of the earbuds you put on will certainly uplift different kinds of fashion statements. For instance, the vogue Graphite and White colour will project a bold, elegant, and refined image. The trendy, vibrant Bora Purple colour, on the other hand, exudes a joyful, creative, and upbeat spirit.
On the KLFW runway models, we can see brilliant designers offering their takes on styling the different colorways of Galaxy Buds2 Pro, from a neutral monochrome look to bright hues of blue, purple, and pink. Whether you're planning to get yourself the Bora Purple unit, or the classic colours – Graphite or White –, they will harmonize beautifully with a variety of colours, settings and moods. So, fret not and simply pick the one that makes you heart swoon! P.S., remember to take note these designers' fashion styling to stay on-trend!
Comfortable Fit is Everything
The Galaxy Buds2 Pro is the premium wireless earbuds that'll offer a level of convenience and comfortability that no corded earbuds or bulky ear cushions can match. Thanks to its redesigned ergonomic fit, which is now 15% smaller[1] (5.5g each bud) and a True-Fit sizing for various ear shapes, users can enjoy having the earbuds stay snugly in the ears all day, no matter how dynamic the daily activities are. The improved design in the wind flow technology also helps the air to move more effectively, minimizing noises for utmost comfort and clarity in sound. At the end of the day, you'll know a product is a keeper when comfort and fashion go together, just like the Galaxy Buds2 Pro.
Unparalleled Ultimate Sound Experience
What makes the Galaxy Buds2 Pro stand out from the rest is the premium audio experience that it offers, thanks to its top-of-the-line features – Hi-Fi 24bit[2] Audio, powerful Active Noise Cancellations (ANC), and intelligent 360 Audio[3].
Music lovers will definitely love listening to their favourite epic soundtracks in its close-to-original, rich, and crystal-clear sound quality, coming from the proactive collaboration of the 24-bit Hi-Fi processing and coaxial 2-Way speakers. The satisfying audio listening experience doubles up when the powerful ANC is turned on. The Galaxy Buds2 Pro will welcome absolute quietness by filtering out 40% more noise, including soft wind sounds, allowing users to fully immerse into their favourite epic tunes.
If 24-bit Hi-Fi sound can bring the music and entertainment to life, the intelligent 360 Audio will add new realistic dimension to your listening with cinematic sound that feels large and intimate at the same time. If you're streaming a virtual concert with Galaxy Buds2 Pro, the 360 Audio feature will fully surround you with sound that syncs to your head movements, giving the impression that you're physically in the crowd. Feel free to binge on entertainments for up to 5 hours straight with ANC on! The Galaxy Buds2 Pro will keep going throughout your fun downtime.
In short, Galaxy Buds2 Pro is a great hearable investment, not only because it is the latest fashion-tech trend, but it also has awesome sound quality and is incredibly comfortable to wear all day. So, pre-order them today to flaunt your style and favourite playlists while strutting down the streets!
Galaxy Buds2 Pro's Pre-Order Gift for Snatch! [4]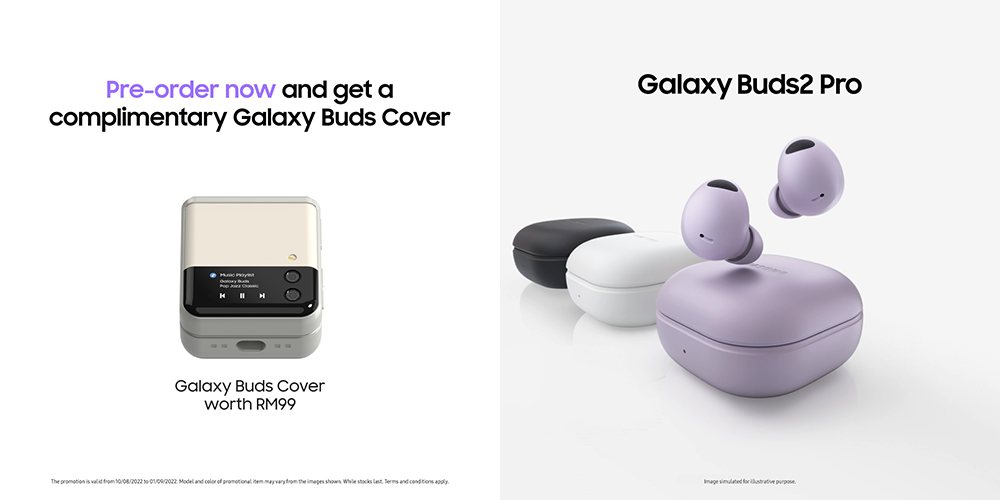 Every pre-order of the Galaxy Buds2 Pro made from today onwards until 1st September 2022 will come with an adorable Galaxy Buds Cover designed like a Galaxy Z Flip as a complimentary gift. Customers can have fun staying on trend by matching the Galaxy Buds2 Pro in the foldable inspired cover with the latest Galaxy Z Flip4. Hurry and place your order now before the gifts run out!
Product
RRP
Colour Availability
Rewards
Galaxy Buds2 Pro
RM899
·  Bora Purple

·  Graphite

·  White

·  One complimentary Galaxy Buds Z Flip Cover (worth RM99)
For more information on the Pre-Order promotions, kindly visit https://www.samsung.com/my/offer/mobile/galaxy-preorder-2022/?cid=my_ow_affiliate_pr_f2h22-b4q4_pre-order_po_article_nte_mass
[1] 15% size reduction is compared to the Galaxy Buds Pro based on size volume. Ear tips size can be adjusted to increase comfort.
[2] 24-bit audio support may vary depending on the application.
[3] Available only on Samsung Galaxy smartphones and tablets with Android One UI version 3.1 or later. 360 Audio and head tracking support may vary depending on the application and content. Enhanced head tracking and Direct Multi-channel is supported with Android One UI version 4.1.1 or later.
[4] Pre-order gifts are on a first-come, first-served basis, while stocks last. Other terms and conditions may apply.