The promo starts on 11 to 13 November 2022; with flash deals on selected products from 12am to 2am and 8pm to 11.59pm on 11 November 2022
Kuala Lumpur, Malaysia, 10 November 2022 — In conjunction with the annually anticipated 11.11 sales, Garmin Malaysia joins the hype by introducing exclusive promotions for their latest smartwatches, with savings up to RM500. The promotion begins tomorrow and ends on the 13th of November 2022. These are the selected Garmin products you should not miss:
The Garmin Venu 2 Series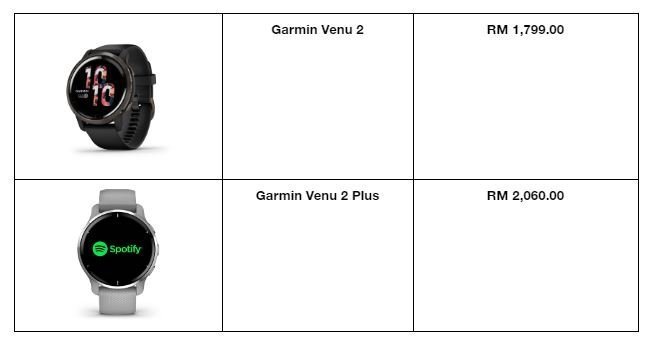 Featuring a narrow, streamlined design, the Garmin Venu 2 series is equipped with multiple training programs, over 25 sports modes, animated workouts and Garmin's popular health snapshot function.
The Garmin Venu 2 Plus is the first of Garmin's smartwatches to introduce phone calls from the wrist and added intelligent voice control. It also boasts a larger AMOLED screen with both smartwatches lasting up to 9 days of battery life in smartwatch mode.
The Garmin Fenix 7 Series
Meet any outdoor challenges with the rugged Fenix 7 and Fenix 7X Sapphire multisport GPS watch. Its scratch-resistant Power Sapphire solar charging lens uses the sun's energy to extend battery life — powering advanced training features, mapping, sports apps, health and wellness monitoring sensors and more.
The Garmin Instinct 2 Series
Train your way with a collection of built-in sports apps, advanced fitness features and more at the wrist. Enjoy smart connectivity as you push boundaries in both the outdoor and urban terrain with Garmin's latest GPS and outdoor Instinct series. The Garmin Instinct 2 Surf and Camo edition is made unique to fit your style and exact physical needs for surfing and more. Furthermore, to keep your experiences going with unlimited battery life, with solar charging, the all-new Garmin Instinct 2 Solar introduces a range of rugged and long lasting tool watches with unprecedented battery power where you can confidently navigate the wilderness with GLONASS and Gaelileo.
Last but not least, the Garmin Instinct 2 Tactical Edition smartwatch is built to military grade with special functions like night vision compatibility, stealth mode, a kill switch, etc. Do more, charge less and get up to 54 days in smartwatch mode.
Hurry before the promotion ends on 13 November 2022!
Purchase the smartwatches during the promotion period to enjoy savings of up to RM231. Available at all Garmin Brand Stores, Shopee, Lazada, AECO e-store and selected authorised retailers.
Other Garmin fitness brands include Tacx and Firstbeat Analytics. For more information, visit Garmin's virtual pressroom at garmin.com.my/news/pressroom/, or follow us at facebook.com/GarminMalaysia, instagram.com/GarminMalaysia, youtube.com/GarminMalaysiaAsia or follow our adventures at garmin.com/en-MY/blog/.
Promotional Images: The Garmin 11.11 Promotion