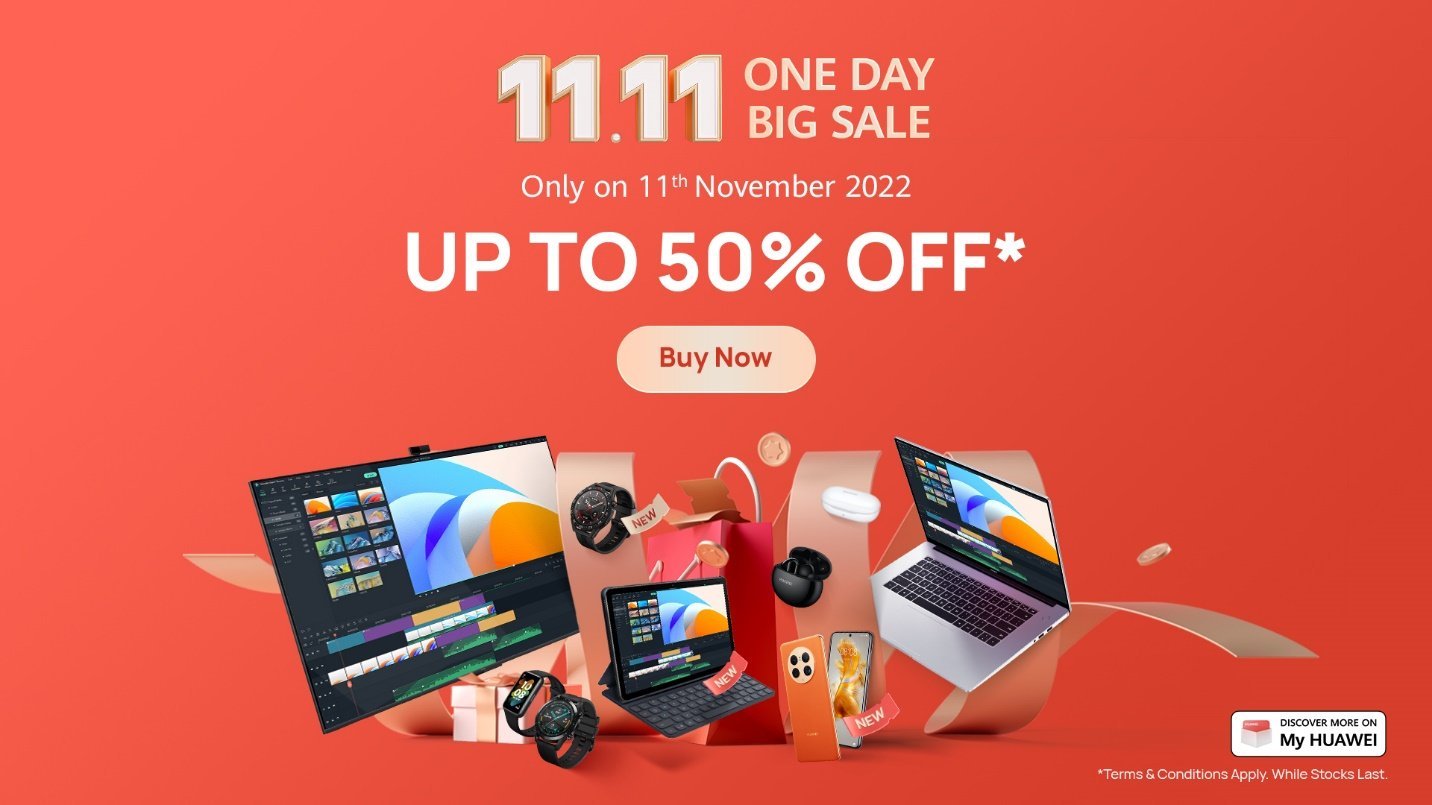 Get your favourite HUAWEI gadgets with up to 50% OFF* and receive free gifts* with purchase of selected products
KUALA LUMPUR, 9 NOVEMBER 2022 – There's no better time than the present to get started on your gadget shopping, when HUAWEI kicks off its 11.11 One Day Big Sales this November! If you are eyeing IT gadgets, your wallet will thank you for this season as HUAWEI offers exciting promotions with up to 50% OFF* and tons of exclusive gifts* when consumer purchase selected products. Available only on 11 November 2022, get ready to treat yourself and start shopping on HUAWEI Official Website, HUAWEI Flagship Store on Lazada and the HUAWEI Official Store on Shopee.
From smartphones, wearables to tablets and laptops, HUAWEI 11.11 One Day Big Sale will help you get the most bang for your buck. Check out the below!
The Perfect Pairing
A good smartphone and a good pair of earbuds are sometimes all you need to feel like the main character. With the HUAWEI Mate 50 Series, HUAWEI FreeBuds 4i, and the HUAWEI FreeBuds SE, you will never have a dull moment in your life.
Built with an IP68-rated splash, water, and dust resistance, the HUAWEI Mate 50 series is built to withstand what life has to throw at you. So go on those trips and adventures without worrying about the durability of your phone.
Want to listen to music without disturbing your surroundings? Try out the HUAWEI FreeBuds 4i for size. With sensors to detect and reduce ambient noise, The HUAWEI FreeBuds 4i is perfect if you want to indulge in earbuds that offer noise cancelling. If the longevity of your earbuds is more of a concern, the HUAWEI FreeBuds SE offers up to 24 hours of battery life with its charging case. Enjoy 6 hours of music playback on fully charged earbuds!
Fashion and Function
Smartwatches have become a staple for many people. Not only do they help the time, but some smartwatches also even help you track your health progress and be a daily assistant. Although they may have many useful functions, you should never have to choose between a functional and a stylish watch. Fear not, as HUAWEI has saved the day with the HUAWEI WATCH GT 3 SE, HUAWEI WATCH GT 2, and the HUAWEI Band 7.
Don't worry about your smartwatch's battery life. With the HUAWEI WATCH GT 3 SE, a single full charge of the watch will last you 14 days! It is the perfect smartwatch to have when going camping or on other nature adventures, as the watch doesn't require frequent charging. Monitoring heart rate may be significant for some as a way to monitor their health. The HUAWEI WATCH GT 2 may provide a way to do so. With version 3.5 of HUAWEI TruSeen™, a more accurate and efficient real-time personal measurement of your heart rate. It can even monitor your heart rate during sleep with its intelligent AI heart rate algorithm.
Customisation is a big part of people's lives as it makes us stand out, especially when it comes to fashion. The HUAWEI Band 7 offers more than 4,000 beautiful watch faces to choose from , and the Always On Display (AOD) that displays all essential info even if the display is turned off.
Binge Your Favourite Shows
With all the different streaming sites, it seems like there are endless shows and movies for you to watch. Everyone deserves an excellent device to stream and watch their favourite programs on. Enhance your viewing experience with the HUAWEI MatePad 10.4, MatePad T10, and the HUAWEI Vision S.
Supporting Wi-Fi 6, the HUAWEI MatePad 10.4 ensures a smooth and stable connection with up to 2400 Mbps transfer speeds that make it easy for you to download and watch videos online in HD. Everyone deserves good audio when watching their favourite content. The HUAWEI MatePad T 10 offers a dual-speaker system that delivers balanced audio from both sides. Avoid laggy video with the HUAWEI Vision S, which offers a 120 Hz high fresh rate and provides a stunning fluid video. The Smart MEMC algorithm also transforms low frame-rate videos into 120 fps.
Business as Usual
The grind never stops, and sometimes that means taking your work around with you. It could also mean you need an extra screen to help you complete your work tasks. Investing in a tab or monitor could help with your productivity. If a tab or monitor is what you need, consider the HUAWEI MatePad Pro 12.6, HUAWEI MatePad T 10, The HUAWEI MatePad 11, and the HUAWEI MateView.
The HUAWEI MatePad Pro 12.6 offers Super Device , allowing devices to connect and become one cohesive unit with sharable resources and capabilities. This enables the HUAWEI to MatePad Pro 12.6 to go into Mirror Mode, Extend Mode, and Collaborate Mode.
Looking at a screen for extended periods is unsuitable for the eye as it can strain them. The HUAWEI MatePad 11 has been certified by TÜV Rheinland dual certification, which reduces blue light without the need to switch display modes and colour casting. If colour accuracy is vital for your projects, you may consider getting your hands on a HUAWEI MateView. With a 98% DCI-P3 cinema-level colour gamut, edit projects on your screen with full-colour accuracy.
For a lighter yet more affordable choice, you may opt for the HUAWEI MatePad T 10. This tablet offers a 9.7-inch HD display, delicately packed in its elegant and compact design. With its light and portable body, you can take your favourite apps, games and videos in your hands to start an immersive visual journey wherever you like. Fitted with a dual-speaker system, the HUAWEI MatePad T 19 delivers symmetrical audio from both sides, allowing you to enjoy a stronger and more even sound field.
Promotions
Product
RRP (RM)
Promotion Price* (RM)
Discount (RM) and/or Free Gifts*
HUAWEI Band 6
219
129
90 OFF
HUAWEI Band 6+ Freebuds SE Bundle
418
269
149 OFF
HUAWEI Band 7
219
159
60 OFF
HUAWEI WATCH FIT
499
249
250 OFF
HUAWEI WATCH GT 2 46mm Fluoroelastomer Matte Black
799
399
400 OFF
HUAWEI WATCH GT 2 46mm Leather
899
499
400 OFF
HUAWEI WATCH GT 3 42mm Fluoroelastomer Night Black
999
699
300 OFF
HUAWEI WATCH GT 3 42mm Leather
1099
799
300 OFF
HUAWEI WATCH GT 3 SE
899
699
200 OFF
HUAWEI FreeBuds 4
599
369
230 OFF
HUAWEI FreeBuds 4i
379
189
190 OFF
HUAWEI FreeBuds SE
199
159
70 OFF
HUAWEI Freebuds Pro
699
399
300 OFF
HUAWEI MatePad 10.4 2022 WiFi 6GB+64GB
1399
1199
200 OFF+ Keyboard
999
400 OFF
HUAWEI MatePad 10.4 2020 LTE 4GB+64GB
1399
999
400 OFF+ Keyboard
849
550 OFF
HUAWEI MatePad 11 WIFI 6GB+128GB
1999
1799
200 OFF With Keyboard & M-Pen
HUAWEI MatePad 11 WIFI 6GB+256GB
2399
2199
200 OFF With Keyboard & M-Pen
HUAWEI MatePad T 10 2020K WIFI 4GB+64GB
799
499
300 OFF
HUAWEI MatePad Pro 12.6 2021 WIFI 8GB+256GB
3799
2599
1200 OFF With Keyboard
HUAWEI MateBook 14 2021 Q1 Intel i5 11th 8+512GB
3999
2999
1000 OFF With Backpack
HUAWEI MateBook D 14 2021 Intel i3 11th 8+256GB
2799
2299
500 OFF
HUAWEI Matebook 14S i5
4999
3999
1000 OFF With Backpack & Mouse
HUAWEI MateBook D 15 R5 8+512
3099
2499
600 OFF With Mouse
HUAWEI nova 8i
1299
799
500 OFF
HUAWEI MateView
2988
1699
1289 OFF
HUAWEI Vision S 55
2999
1999
1000 OFF
HUAWEI Scale 3
149
89
60 OFF
HUAWEI EasyFit 2 Strap (Gray Blue,Nylon Strap)
129
11.11
117.89 OFF
HUAWEI EasyFit 2 46mm Leather Matte Black Strap
169
11.11
157.89 OFF
Mark your calendar and be sure to grab your favourite gadgets this 11 November on HUAWEI Official Website, HUAWEI Flagship Store on Lazada and the HUAWEI Official Store on Shopee.