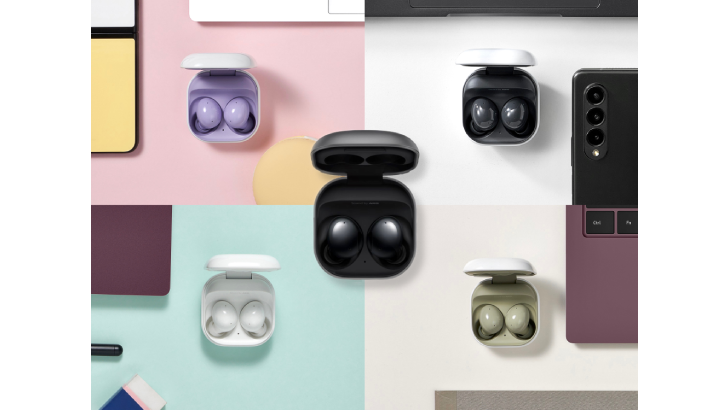 At some point in the day, we encounter a feeling that's all too familiar: worry, caused by the inability to complete a cute outfit look, which often ends up leaving us stumped. If we put on accessories, it might feel overly fancy, but if we don't, it will feel empty.
A practical styling solution to solve your daily fashion dilemma in a flash, is to put on the fashionable Galaxy Buds2 and you're ready to go! With Galaxy Buds2 and their four attractive colours – Onyx, Lavender, Olive, Graphite and White, anyone can be in style all the time!
From fashion to home decor, Lavender hues are taking spotlights everywhere, popping up in the wardrobes of Gen MZs, and the houses of our go-to interior experts. They're always a fun colour for summer and spring! Perfect to go with our all-time summer vibes here in Malaysia. Whether you're going for a chic monochromatic look or bold colour-blocked style, the Galaxy Buds2 in Lavender will absolutely harmonize in beautifully!
For muted aesthetic lovers, consider adding hues of green, like the Galaxy Buds2 in Olive to your mix, and pair it with flattering colours such as warm brown, mossy green and grey. If bright hues are not your thing, you can always go for the classics – Onyx, Graphite or White! These elegant, timeless colours are always in vogue and will blend flawlessly with a variety of colours and settings.
In addition to boosting your #OOTDs (Outfit of the Day), starting your everyday with music from the Galaxy Buds2 on your commute may greatly boost your morning spirit and make you feel inspired! Thanks to the awesome Active Noise Cancelling[1], it will help to filter out a majority of external noises (98%[2]), allowing you to indulge in your peace and crystal-clear music. With each stylish buds weighing only 5g, you can comfortably snug them in your ears all day long without feeling any extra weight.
From casual to glam, light or dark, these beautiful colours: Onyx, Lavender and Olive, Graphite and White, continue to rule in every fashion trend, and they are expected to stay for years to come. So, what are you waiting for?
Grab the colour that best suits your aesthetic today, here:
https://www.samsung.com/my/audio-sound/galaxy-buds/galaxy-buds2-lavender-sm-r177nlvaxme/
[1] Features including Active noise canceling and Ambient sound require a Bluetooth® connection. Advanced settings and features including Ambient sound volume are enabled through the Galaxy Wearable app on Android and Galaxy Buds PC app on Windows. Galaxy Wearable app on Android requires Android 7.0 or above and 1.5GB RAM or above, available through the Galaxy Store or Google Play Store. Galaxy Buds PC app requires Windows 10 or above, available through Microsoft Store.
[2] Active noise canceling on Galaxy Buds2 received UL Verification for cutting external background noise by up to 98 percent.