Since its launch in 2017, Samsung Art Store has been at the forefront of driving significant changes in the way we experience and appreciate art. With vast collections of artwork, The Frame and the Art Store offer different ways for consumers to enjoy diverse forms of artwork from the comfort of their homes.
Street art — which often incorporates elements of its surroundings and nature — has been finding its place in digital media as display technology and picture quality have rapidly evolved in recent years. Through partnerships with artists like Logan Hicks, Samsung Art Store has been bridging the gap between public art and everyday consumers, bringing intricate details, expressions and impressions closer to users than ever.
Samsung Newsroom had the privilege of connecting with Logan to discuss his creative process and inspiration and how his partnership with Samsung Art Store helped push the boundaries of his craft.
Logan Hicks is a highly acclaimed artist based in New York, renowned for his intricate photorealistic urban landscapes. By using multiple layers of stencils, he seamlessly blends urban aesthetics with extreme precision and detail.

Inspiration and Influences: From Baltimore to California and Beyond
Q: Could you tell us a bit about yourself and your career as an artist? How did you come to work with stencils?
After running a successful commercial screen printing business, I decided to focus on my art and moved from Baltimore to California. I tried hand-cut stenciling and fell in love. The process is similar, but stencils are painstaking and not exact. I embraced this challenge and learned to create deep detail with multiple layers.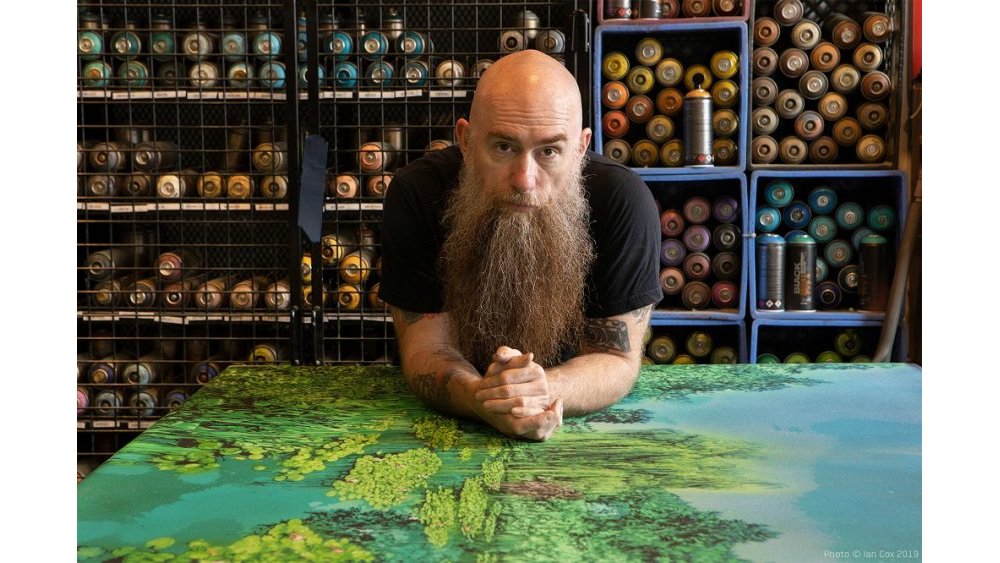 Q: What is your passion that inspires your art?
Travel is both my inspiration and antidepressant. Seeing new countries, people, places and cultures has always helped keep my eyes open to how utterly fantastic the world is. After I travel, I am always excited to get back into the studio.
I also find a lot of inspiration in New York City. The way the city changes throughout the day and year — it has a life of its own. During the pandemic, it was especially interesting to see a vibrant city empty. It was eerily beautiful.
Q: Could you walk us through your artistic process from the photographs you start with to the final product?
I don't usually go into detail about my process just because it's easy to confuse the process for the product. About 75% of my time making art is the laborious process of image preparation, stencil cutting, bridging the stencils, etc. To explain briefly, I take photos, break them down into various levels of contrast, cut them out, spray them on top of each other and then carefully paint the lights. My stencils aren't the kind that you can just roll over a solid coat of paint — I slowly bring out the image with small sprays of paint that I build up.
Q: What is your favorite step in your artistic process?
My favorite step is creating and choosing a mood for my artwork. Will my scene be exacting or painterly? Will it depict the solitude of the evening or the vibrancy of a bright day? One set of stencils can be painted in many ways, and I like figuring out which one is best.
Q: What partnerships have you worked on over the years that stand out to you?
I find that the most successful partnerships are the ones that have the least direction, at least for me. Finding a company that grants freedom to do what I want is paramount for a successful collaboration. A few that come to mind are the Bowery Wall I painted for the Goldman family in New York and a partnership with Porsche for their electric car at Scope Art Fair.
Logan Hicks X Samsung Art Store
Q: Why did you choose to partner with the Art Store?
An artist only has two reasons to continue: to make art and to present the art to an audience. For me, Samsung Art Store was an outlet to showcase my art — it was a new approach to displaying my art, and for that reason, I found it interesting. Living spaces these days continue to get smaller and smaller, so I saw this as a way of sharing multiple artworks instead of hanging them on limited walls.
Q: How does displaying your work on The Frame compare to other media you've worked with (e.g., canvas, brick/concrete walls, billboards)?
Good art should be able to translate to various mediums: canvas, walls or digital. The Frame was an interesting platform just because you don't have control over where it will be hung or what household will download what artwork — it was fun to find out which of my pieces had the most universal appeal. When you make work for a specific location (like with a mural), you have to consider the neighborhood, lighting, surface of the wall, etc. The success of a mural is based on your ability to adapt to the environment. With The Frame, though, it was a case of plucking those works off the wall and putting them into a digital space — the attention was 100% on the artwork that was created instead of the environment that it lives in.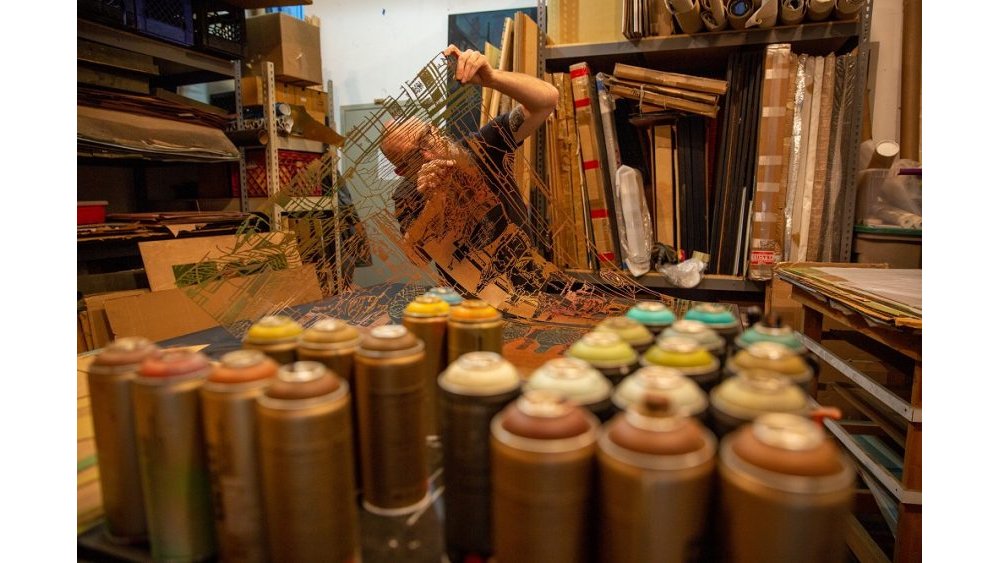 Q: How does your signature technique of blending colors through aerosol contribute to the visual appeal of your work when displayed digitally?
I hope the audience can appreciate my work on multiple levels. For example, you only observe the subject matter at a distance before you start noticing the details as you get closer. Once you're inches from it, the execution becomes clear — from the way the colors blend to the tiny dots of aerosol paint that make up the surface of the image.
My work has nuances that are difficult to see on traditional digital displays. I've been happy with how the matte display of The Frame picks up details of the spray paint and the subtle color changes. The display offers the opportunity to experience the work from various distances as if it exists on a wall or canvas.
Q: You already have experience in creating large-scale murals worldwide in places like Istanbul, Miami, Baltimore, New York, Tunisia, Paris, etc. How does the Art Store partnership expand the global reach and accessibility of your work to audiences beyond that?
I easily forget that 99.9% of the world won't have the opportunity to see my work in person. When I paint a mural, it's usually in larger metropolitan areas and in cities where I already have some sort of connection. So, I like to extend my reach to people who may not live in the places I paint. With this approach, someone in the rural outback of Australia has access to my pieces just as someone in the heart of Manhattan does.
Q: What are your top three picks you would recommend to consumers to display on The Frame? Please give us a very brief explanation of each.
This painting is the front of Monet's house. I visited Monet's Garden for the first time and instantly felt like I was in a different land — flowers surrounded me like a green fog, and the smell of flowers filled the air. Standing in front of Monet's house, I imagined what it would have been like to live there. I think about how this was what Monet saw every morning as he walked the garden and returned to his house.
This piece is also from Monet's Garden. What I loved the most about the garden is that it's very rare that you can stand in the same place where a masterpiece was created. I've grown up seeing Monet's paintings in my art history books, on TV and in movies. But when I visited the garden, I realized that I was in the painting. I was standing where Monet once stood as he painted, and suddenly his artwork made more sense to me. Of course, he painted his garden! How can you visit heaven and not memorialize it in a painting?
I have a soft spot for Paris: the culture, food, art and architecture. I love it all. This painting is a scene that you see when you walk outside the Gare De Lyon train station. I can remember when I took the photo that I used as inspiration for this piece. My friend asked me, "Why would you take a picture of the street? It's ugly. It is the train station that is beautiful." The wonderful thing about being a tourist is that everything is new and fresh. To me, the street was just as beautiful as the train station. That is the power of a good painting — it can enchant the most boring scenes.
The Intersection of Technology and Creativity
Q: As an artist known for your traditional artistic techniques, how do you navigate the intersection between traditional art forms and the digital world?
Art is a language, and learning to speak it in different arenas is critical to the success of an artist. I don't put too much thought into what is traditional and what isn't. I just try to consider what the work will look like scaled down to the size of The Frame. I try to think about what pieces have enough complexity to remain on the screen in someone's space for an extended period.
Q: What unique opportunities does the digital art platform offer for artists like yourself?
The main opportunity I see for the digital space is access to a new audience. Someone may not spend thousands on my painting, but they may download an image of it. I'd like to think that sometimes that may even translate into someone then going out and buying a physical copy of a painting.
It's also a great way to reach an audience that does not traditionally go to galleries. Art is most successful when people can see a little bit of themselves in it, regardless of whether that is a feeling, experience, thought or mood. That isn't limited to an art museum attendee. Finding people and connecting with them through art is something that can be done on a much larger scale through a digital platform.
I love the opportunity to reach new audiences who may not have appreciated art before. The art world can sometimes be guarded; The Frame gives new fans an opportunity to consider living with art.
Visit the Samsung Art Store in The Frame to explore more of Logan Hicks's collection.