Ever since the beginning of the global pandemic, we have been choosing our living room sofa over our seat at the local movie theater, our QLED TV over a mega screen, and the convenience of enjoying a film at home over the excitement of a screening in a movie theater.
At CES 2021, which was held in January of this year, Samsung Electronics premiered its EZCal app, which enables you to calibrate the picture quality of your TV to a quality comparable to that of a movie theater for those who want to enjoy that true cinema experience at home. Samsung Newsroom sat down with the developers of the EZCal app to hear more about the story behind how this upcoming app, which helps customers quickly and easily enjoy optimal viewing qualities, came to be.
EZCal: For Cinematic Viewing Quality in the Comfort of Your Home
In August 2019, Hollywood film directors including Christopher Nolan and James Cameron emphasized the need for a 'film maker' mode on user's personal TVs, a mode that would portray a film in the quality that the creator had in mind when they originally produced the content. Such a particular picture quality is favored not only by Hollywood filmmakers but also by experts across a range of fields, including professional engineers of picture quality for TVs, experts from institutions concerning international picture quality standards, and developers of picture quality-calibrating solutions. This 'film maker' mode is also known in the industry as 'creator-intended picture quality' or 'picture quality in accordance with international broadcasting video standards.'
However, in practice, this 'film maker' mode has often not been able to provide all users with the flexibility they require when looking to enjoy cinematic viewing experiences in the comfort of their own homes. In order to find ways to make it easier for users to enjoy cinema-level picture quality at home, Samsung Electronics developed a way to connect TVs and smartphones using compatible apps that then easily calibrates picture quality using the color data exchanged between the two devices: EZCal.
"The fact that this app need be used only by those who want to use it helped ease the burden in terms of research costs," noted Engineer Ji Man Kim. "What's more, the app is easy to operate, meaning that users can seamlessly enjoy the picture quality they desire."
EZCal stands for 'Easy Calibration,' and upon its unveiling at CES 2021 this January, the upcoming app quickly garnered attention for its ability to showcase a creator's intended picture quality through the app format, and even won the Best of CES Award at the AVS Forum, a forum comprised of industry experts.
High-End Picture Quality: From Measurement to Calibration
Prior to the development of the EZCal, calibrating the picture quality of a TV required a light-blocked room as dark as a darkroom along with a suite of high-end devices. The pattern generator and the optical instrument would first have to be connected to a PC equipped with a picture quality software solution, and the optical instrument would then be placed close to the TV screen so that it could recognize the pattern produced by the pattern generator. The picture quality would then be calibrated using the PC – all in all, this process was a cumbersome one and could take up to two hours if carried out manually. This process also required basic knowledge in picture quality, thereby preventing regular users from even attempting calibration.
"We had to grapple with how to move past the existing picture quality-calibrating framework and integrate it into the users' experience," said Engineer Jun Hee Woo of overcoming initial concerns that arose during the development process. "The solution was to simplify each step of the picture quality calibration process and to think of ways to replicate the functionality of high-end calibration devices."
In order to replace the instruments that would measure the optical data of the TV screen, smartphone cameras were harnessed for the EZCal app. But even then, one problem still remained: the picture quality of TVs could not be calibrated under the RGB spectrum, i.e., a color value acquired using smartphones. "Picture quality for TVs should be based on the colors that people perceive with their eyes," noted Engineer Jason Park. "This is why we needed the XYZ coordination data prescribed by the International Commission on Illumination (CIE). Developing an algorithm that could transform RGB data to XYZ coordination data was key to picture quality calibration."
The video pattern generator was then changed to incorporate a method of sharing video patterns directly from the TV, and the connection between the picture quality software solution and the PC was replaced by the connectivity of a smartphone to a TV linked via Wi-Fi. "It was through the process of verifying whether the hardware and software of the QLED TV and a Galaxy Smartphone were suitable for the development of EZCal that we became convinced that the complex picture quality-calibration process could be condensed within a single app," said Engineer Ji Man Kim.
Three Modes for Easy Calibration – to Your Tastes
The greatest advantage offered by EZCal is that you can easily and quickly calibrate the picture quality of your TV to whatever degree you desire. Once you launch the EZCal app on your smartphone, the Tizen app built into your television will begin operating in the background. Then, depending on the detail of calibration you desire, you can select from the following three options: Quick Mode, Basic Mode, and Professional Mode.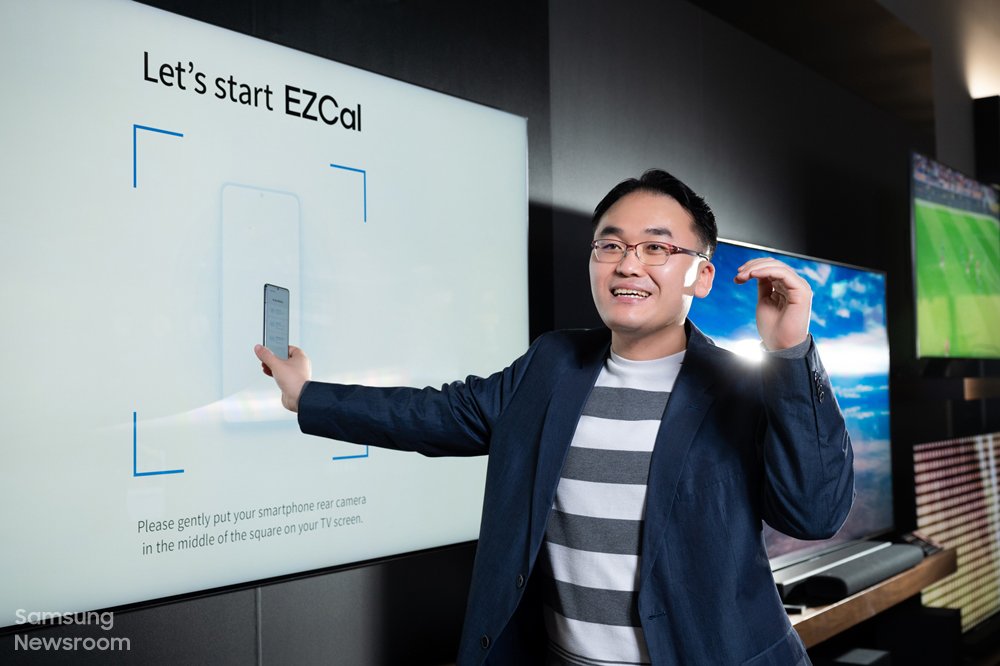 As its name indicates, Quick Mode is an option that enables easy calibration within a short period of time. Once you have selected this mode and brought your smartphone to your TV, the camera in your smartphone captures the on-screen video pattern and transforms the acquired RGB spectrum data into XYZ coordination data. "It only takes 15 to 30 seconds to calibrate the picture quality in Quick Mode," explained Engineer David Jung. "Our focus when developing this mode was on enabling calibration in a quick yet effective manner."
Basic Mode, a functionality that is one step more advanced than Quick Mode, offers users a wider range of calibrations. While in Quick Mode you can calibrate a content's white balance within two points, in Basic Mode you can calibrate this aspect within 20 points, and also calibrate the Gamma – which governs the brightness of video signals – and the greyscale linearity – the aspect responsible for the consistency of colors by signal strength – resulting in a more optimized picture quality. Whereas Quick Mode is an option designed to make the movie-watching experience more pleasant for regular users, the Basic Mode has been optimized for movie fans that enjoy being particular about their film's picture quality," explained Engineer Jason Park.
Thirdly, Professional Mode is an advanced setup mode tailored for those that enjoy curating sophisticated picture quality experiences. Although Professional Mode requires the longest time for calibration to complete – between 12 and 15 minutes – this longer calibration period allows for color and brightness calibration to be undertaken in even greater detail. "Professional Mode can be used for a variety of situations, whether you are watching movies or playing games," noted Engineer David Jung. "We recommend that you turn your room's lights off and use tripods for even greater calibration measurement accuracy."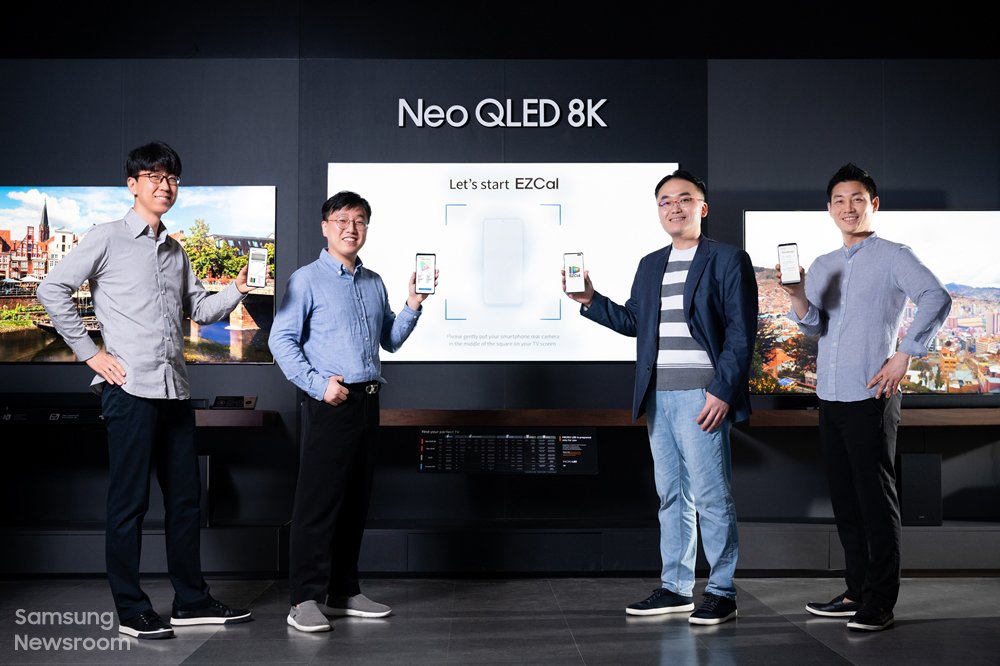 Reflecting the TV's ability to provide the best picture quality possible, Samsung's QLED TV lineup has consistently received support and praise from its users. Over 20,000 units of the 2021 QLED TV have been sold in Korea in just under two months since its release, a figure that mirrors the efforts of the company to provide users with high-quality viewing experiences at home.
Samsung's ongoing efforts to provide optimal picture quality experiences to users are what have led to the development of EZCal, which is set to bring about cinema-like picture quality to QLED users that would satisfy even the films' creators themselves. The team who worked on developing EZCal is proud of the range of calibration options offered by the app; "In the near future, we will see EZCal be used across even more diverse areas," shared Engineer David Jung. "There is no doubt that its emphasis on genuine media appreciation will expand to serve other purposes, too."
* Please note that all product and service features, characteristics, uses, benefits, design, price, components, performance, availability, capacity, and other relevant information may be subject to change.