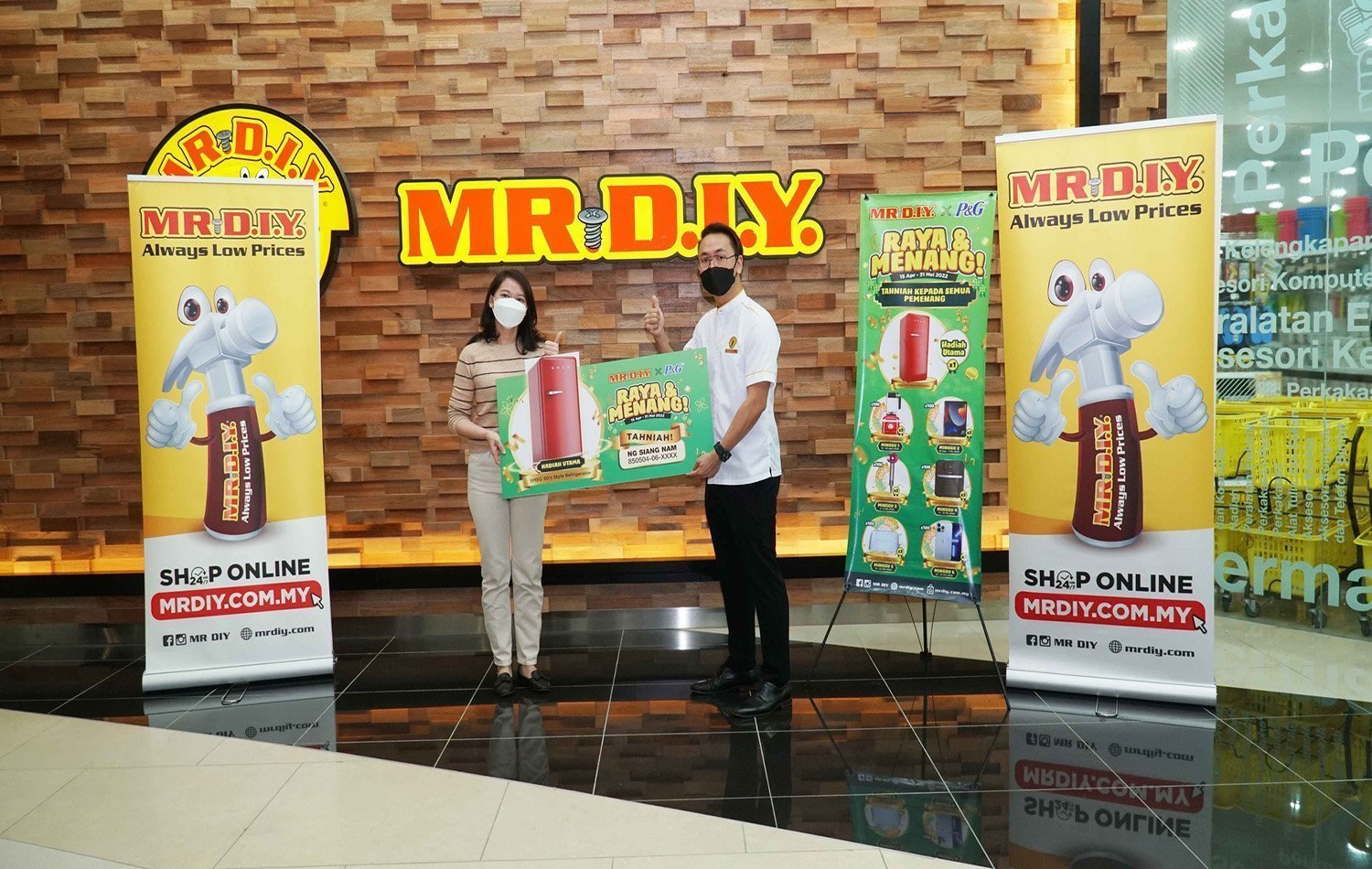 KUALA LUMPUR, 21 July 2022 — Hari Raya Aidilfitri might be over, but the celebration continues for supply chain manager Ng Siang Nam, 37, who was named the winner of the 'MR. D.I.Y. x P&G Raya & Menang' contest, taking home a highly-acclaimed retro-styled SMEG refrigerator.
Ng, from Petaling Jaya, emerged the Grand Prize winner of contest, the first ever festive contest jointly organised by Malaysia's favourite home improvement retailer MR D.I.Y. and consumer goods company Procter & Gamble Sdn Bhd (P&G).
Reacting joyfully to her win, Ng said, "I am thrilled to have won the grand prize of this contest. I didn't really spend a lot at MR D.I.Y. and joined the contest on impulse. It's the first time in my life I've won the grand prize in any contest, and I'm thrilled! Thank you very much MR D.I.Y and P&G; I never thought buying some shampoo and car fragrance could make me so lucky!"
When asked about her prize, Ng added, "I love the SMEG refrigerator; it's such a retro design and so stylish. I can't wait to set it up in my home."
Presenting the prizes to the winners, MR D.I.Y. Group Head of Marketing, Alex Goh, said, "The 'Beli & Menang' contest is a signature MR D.I.Y event that happens yearly. Thanks to our partnership with P&G, the contest today is one of the most sought-after amongst our customers, and we made it extra special this year by holding it in conjunction with Hari Raya Aidilfitri, hence the theme 'Raya & Menang'. We wanted to ensure customers have a little fun and find extra value during this festive season, so we offered weekly prizes as well. All part of our effort to ensure Malaysians always find great value at MR D.I.Y."
The 'MR. D.I.Y. x P&G Raya & Menang' contest saw 631 lucky customers walk away with weekly prizes worth more than RM130,000, which included blenders, tablets, hair dryers, ovens, toasters, and smartphones from reputable brands, plus MR D.I.Y. and/or MR. DOLLAR cash vouchers as consolation prizes.
The 'MR. D.I.Y. x P&G Raya & Menang' contest ran from 15 April until  31 May 2022 at selected MR. D.I.Y. stores and online at mrdiy.com.my. To check out the winners, visit MR D.I.Y.'s official Facebook page for MR. D.I.Y x P&G "Raya & Menang" contest https://www.facebook.com/mrdiy2u/posts/3234202443466844. For more information about MR D.I.Y., visit www.mrdiy.com, e-commerce platform, www.mrdiy.com.my, Facebook, and Instagram.