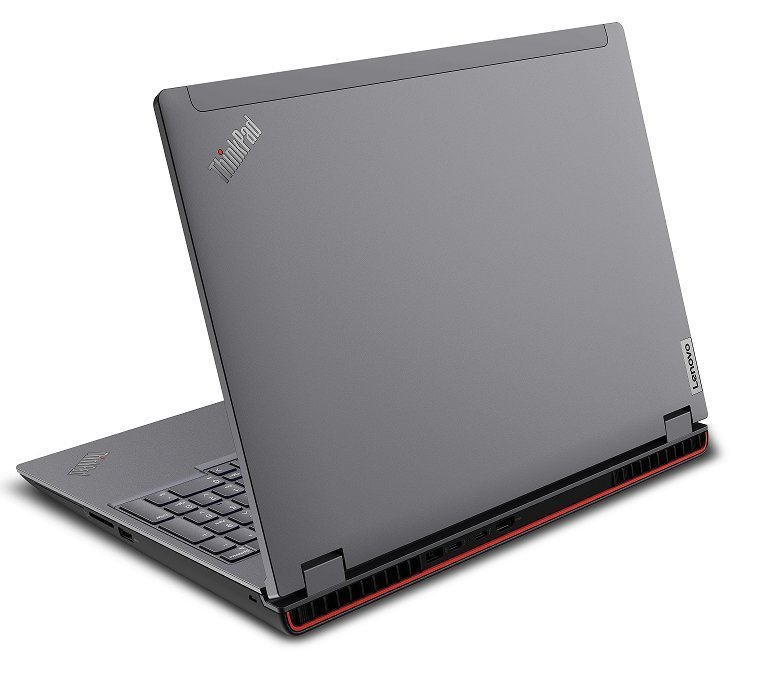 The ThinkPad P16 is New Power-Packed Mobile Workstation Tackling the Most Demanding Workflows On-the-Go
KUALA LUMPUR, MALAYSIA – 1 SEPTEMBER 2022 – Today, Lenovo is pleased to announce that the ThinkPad P16, the all-new power-packed mobile workstation built for the ultimate professional user, is now available in Malaysia. The ThinkPad P16 can be purchased at a recommended starting price of RM9,000. Customers who are interested to purchase the device can contact Nicole Lim, Commercial Marketing Lead, Lenovo Malaysia at hlim4@lenovo.com.
From engineers and designers creating sophisticated renderings to developers working on compute-heavy virtual and mixed reality simulations, the all-new P16 removes any compromise – providing the top-end of mobile performance inside a bold form factor designed to match the capabilities of what's under the hood.
Everything Today's Professional Users Need in a Modernized Design
With an all-aluminum storm grey chassis and a red accent across the back of the system, the new ThinkPad P16 offers an elevated design while providing the same reliability, security, durability, and expandability that users have come to expect with a ThinkPad P Series mobile workstation. Built to combine the best features of the ThinkPad P15 and P17 into an all-new compact and improved form factor, the P16 packs in the high-end performance and features of the P17 into a modern 16" chassis.
To offer that high-end performance and maintain a smaller footprint, Lenovo's thermodynamics engineers had to create an all-new cooling solution with dual fans, heat pipes, a dual vapor chamber, keyboard air intake, and dual by-pass design to reduce skin temperatures and maintain productivity. This innovative solution allows for more airflow through the chassis and keeps the P16 cooler and quieter even during the heaviest workloads that power users like animators, engineers, architects and designers put the system through on a daily basis.
Not only does the ThinkPad P16 boast a new 16" low blue-light display, but that screen real estate translates into a 16:10 viewing area with a higher screen-to-body ratio thanks to narrower bezels, higher pixels per inch and higher vertical resolution and space. There's also an OLED Touch option with pen support. Additionally, the new mobile workstation features enhanced aesthetics such as a wider touchpad and integrated fingerprint reader in the power button, and a FHD camera for better picture quality on video calls. Users will also have better connectivity than ever before with new Wi-Fi 6E1.
Delivering the Highest-Levels of Power and Performance in a ThinkPad Machine
Packaged in a newly designed thinner and lighter chassis, the ThinkPad P16 delivers the most power of any ThinkPad P Series mobile workstation ever built. Featuring the new Intel 12th Gen HX CPUs – the industry's first 55W processor – the system has increased core count and clock frequencies for faster runtimes on applications while being more power efficient. The new hybrid architecture from Intel integrates Performance-cores and Efficient-cores to transform the computing experience by increasing compute efficiency and delivering intelligent workload optimization.
With support for up to NVIDIA RTX™ A5500 professional graphics with 16GB of dedicated memory, the ThinkPad P16 has more power to accelerate graphic workflows and tackle GPU memory-intensive workloads. The ThinkPad P16 also comes equipped with the latest DDR5 memory technology, supporting up to 512GB capacity, as well as a maximum of 8TB storage capacity via Performance SSDs for higher read/write and data transfer speeds so users can complete tasks faster.
Lenovo's Commitment to Reliability, Durability and Sustainability Continued
The ThinkPad P16 is ISV certified and tested at the highest level to pass MIL-SPEC standards2 – allowing users to take their productivity to the next level with a trusted and reliable device. The newest addition to Lenovo's mobile workstation portfolio follows its commitment to environmental sustainability, utilizing 30% post-consumer recycled plastic material (PCC) in the speaker enclosure and 97% PCC in the batter pack frame and FSC certified materials used in the carton and accessory box. The ThinkPad P16 has been recognized with important certifications like ENERGY STAR® and EPEAT™ Gold registered in the United States.
For more information visit Tech Today.