Core gamers can easily make the switch from work to play with the Lenovo Legion Y32p-30 Monitor, offering stunning 4K visuals and lightning-quick response rates.
Whether working from home, in the office, or somewhere in between, Lenovo's newest generation of ThinkVision Monitors offer more choice to the hybrid workforce.
Tiny but mighty, the powerful ThinkCentre M60q Chromebox Enterprise delivers always-on productivity to accommodate flexibility in work styles and use cases.
September 1, 2022 – Today, Lenovo announced a range of desktop PC and monitors designed for the evolving needs of an increasingly hybrid-working society. Unveiling the visually stunning Lenovo Legion Y32p-30 Gaming Monitor, the next generation of ThinkVision T32p-30,T34w-30, T24i-30, T32h-30, and S25e-30 commercial monitors, and Lenovo's first Google Chrome Enterprise desktop, the ThinkCentre M60q Chromebox Enterprise, Lenovo continues to deliver on its vision of enabling smarter technology for all. Each of its new devices benefit both in-office and remote users alike.
In February of this year, Gallup1 data showed that nearly 42% of Americans had a hybrid work schedule while 39% worked entirely from home. Consider that alongside the 72% of organizations around the world that stated in a recent Buffer2 study that they plan on permanently allowing some amount of remote work, and it's clear that remote work is no longer considered the exception, but will increasingly be accepted as the rule. As people continue to spend more time in front of their screens, there is a need for elevated products that offer more than face-value benefits. Lenovo's latest portfolio spotlights features that keep the wellness of the user in mind and enable productivity and efficiency.
Immersive Gaming for Your Hybrid Lifestyle – Lenovo Legion Y32p-30 Gaming Monitor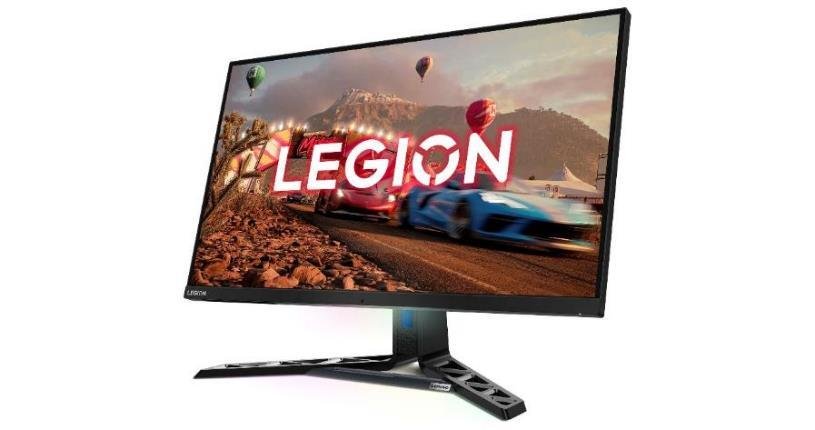 For the gamer by night, remote worker by day – meet the new Lenovo Legion Y32p-30 Gaming Monitor. Featuring a 31.5-inch UHD display with 144Hz refresh rate and 0.2ms response time3, this powerful monitor is designed for razor-sharp, blur-free visuals, rendering each frame near-instantly so that users can keep up with the action.
Gamers, graphic designers, and content creators alike will delight in the breathtaking 4K visuals and rich colors emanating from the near-edgeless panel, resting easier knowing they have Eyesafe® Certified 2.0 blue light protection. As day turns to night – and vice versa – an auto-ambient brightness sensor adjusts the screen for optimized viewing.
Adding to the immersive experience, the monitor can be set to emit smart RGB lighting from underneath the front bezel, dynamically pulsing through colors in step with the on-screen action in real-time, creating a true gaming atmosphere right at home.
For the ultimate multi-tasker, multiple ports, including an HDMI hookup, and the USB-C® docking solution allow users to easily connect, charge4 and transfer data between laptop computers, mobile devices, and gaming consoles. Easily jump from one device to the next by simply pressing the KVM switch, while the Picture in Picture (PIP) and Picture by Picture (PBP) functions place content from the separate devices side-by-side so users can get more done.
The overall PC experience can be personalized even further through optional, downloadable Lenovo software offerings, including Lenovo Artery which allows users to customize display settings for a more optimized experience, and Lenovo Legion Arena which consolidates all of a user's games across platforms into a central library for a quick and easy launch.
Ushering in the Next Generation of Visuals – New ThinkVision Monitors (T32p-30, T34w-30, S25e-30, T24i-30, and T32h-30)
Adding to its comprehensive collection of display options, Lenovo introduced a range of next generation monitors within its ThinkVision S- and T-series portfolios: the ThinkVision T32p-30, T34w-30, S25e-30, T24i-30, and T32h-30 monitors. Designed to support knowledge workers across industries with a spectrum of features made to maximize both productivity and comfort, these monitors are primed to address today's modern working needs while offering users a buffet of options to choose from, based on their specific needs.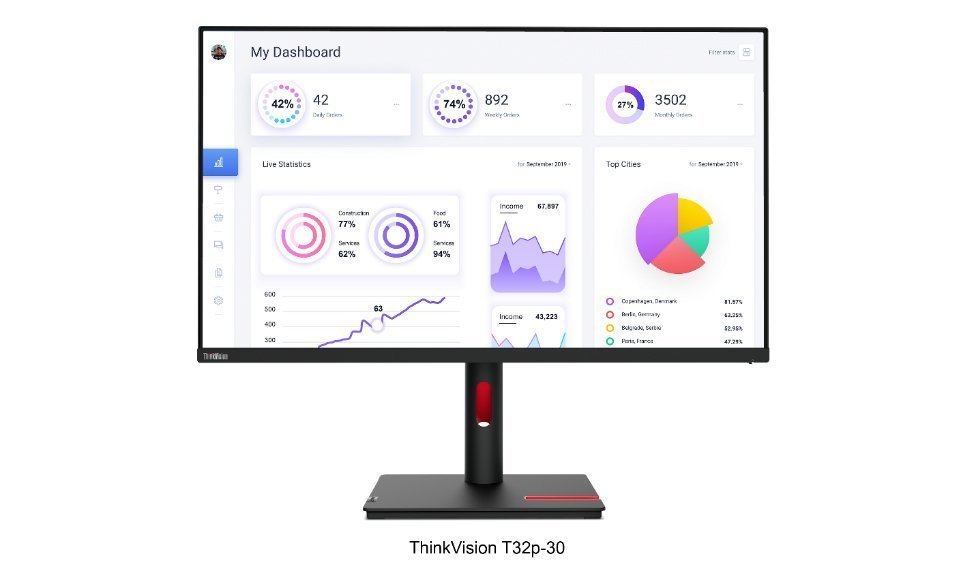 When a large display option is desired, the new ThinkVision T32p-30 offers a vast 31.5-inch 4K UHD resolution display with In-Plane Switching (IPS) for optimized viewing from any angle. Delivering incredibly sharp image quality backed by a 99% sRGB color gamut, high contrast ratio, and 350 nits of brightness, users will have the picture clarity they need to handle data-heavy work, making viewing large spreadsheets, image-loaded dashboards and content editing a breeze. With a three-side borderless design, this wide, flat monitor makes it easy to switch between multiple documents and offers a seamless, more productive viewing experience in a multi-screen setup. For those who prefer to see even more with each glance, the ThinkVision T34w-30 is a 34-inch WQHD curved display with a 21:9 aspect ratio and 1500R curvature, delivering a panoramic experience with consistent focal length across the screen.
Productivity-driving features are abundant across these next-generation monitors. For enhanced efficiency both monitors offer a single USB Type-C® cable solution that serves as a fast charger while also freeing up the remaining ports – including HDMI, DP, and Ethernet – for other accessories and interfaces. Additionally, the dedicated USB Type-A port on the top of the monitor accommodates the ThinkVision VoIP Modular Stack that was announced in January 2022, enabling a cableless webcam and/or soundbar connection5 for a seamless web conferencing experience at home or in the office. To reduce tech clutter and preserve a cleaner desk, both monitors feature an open-slot phone or tablet holder, a hollow shaft for clean cable management, and VESA mount compatibility with a quick-release function for easy dismounting.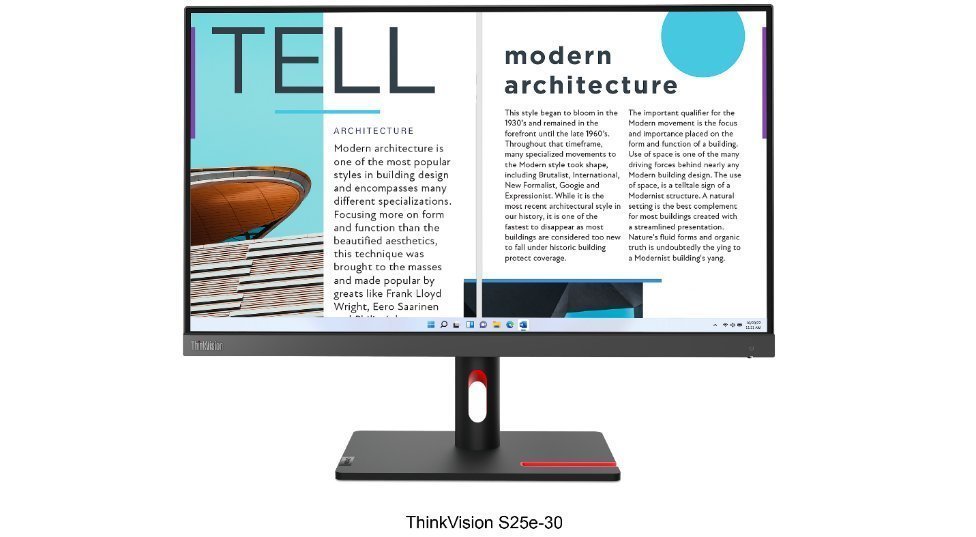 Targeting the small to mid-sized business (SMB) user, the ThinkVision S25e-30 monitor combines performance, comfort, and value in a larger6 24.5-inch FHD display with a 1920×1080 resolution, 99% sRGB color gamut, and 75Hz refresh rate for fluid browsing. Its three-side, near-edgeless design and multiple connectivity options via VGA, HDMI 1.4, and 3.5 mm audio out ports enable the ThinkVision S25e-30 to quickly connect to external devices, including multiple screens for added productivity.
Featuring elements of the same design updates as the other new monitors announced today, the new ThinkVision T24i-30 and T32h-30 round out this comprehensive portfolio of new displays. Accommodating multiple connected devices and accessories, the next-generation ThinkVision T24i-30 is a 23.8-inch FHD display with IPS for wide viewing, also offering extensive connectivity options, including VGA, HDMI, DP and a four-port USB hub. Great for day-to-day work, the ThinkVision T32h-30 is a 31.5-inch QHD display with an RJ45 ethernet port for better network security, and a USB-C® monitor docking solution, offering efficient connectivity via a single cord.
User-Centric Design Across These Lenovo Legion and ThinkVision Monitors
From eye health and ergonomics to the use of responsible packaging, the recent updates made to these monitors highlight Lenovo's attention to purposeful design both for people and the planet. Each is built with 85% post-consumer recycled content (PCC) ABS in the bezel, back cover, stand, and base cover, and is shipped with packaging7 designed to help support the environment. To address increased screen time, natural low blue light technology is built in, helping to prevent eye fatigue by reducing harmful blue light emissions without compromising on color.
New to this generation of monitors resulting from customer feedback is a joystick navigation button accessibly positioned on the lower backside of the monitor, allowing users to easily configure their display settings from a single source without having to use multiple buttons. Each monitor also features stands that easily tilt forward and back so users can select their ideal viewing angle. However, the new ThinkVision T-series monitors and Lenovo Legion Y32p-30 include ergonomically advanced stands that also swivel, pivot, and lift8 up and down, offering users the flexibility to adjust it to their most comfortable working posture.
Should technical assistance be needed, companies can also purchase Lenovo Premier Support9 for their ThinkVision monitors, an advanced-level hardware and software support solution designed to meet the demands of Lenovo's business customers remotely.
Productivity Fit for the Cloud – ThinkCentre M60q Chromebox Enterprise
Designed for the modern workforce, the ThinkCentre M60q Chromebox Enterprise expands on Lenovo's ThinkCentre "Tiny" desktop portfolio to deliver ChromeOS computing in a compact, yet versatile, 1L chassis. Easily mountable on the back of monitors, walls, or even mobile carts when a more portable in-office experience is needed, this tiny, versatile device is more than meets the eye.
With the power of up to 12th Generation Intel® Core™ i5 processors, secure ChromeOS operating system, virtual desktop infrastructure (VDI) integration, and multi-screen support of up to four monitors, the ThinkCentre M60q Chromebox Enterprise is engineered for heavy workload productivity – whether in the office, at a kiosk, or remote. Users will be able to get more done thanks to its quick boot functionality, speedy Wi-Fi™ 6E10 connectivity and seamless access to productivity and video conferencing apps.11
As a Chromebox Enterprise device, this desktop enables IT teams to more easily deploy, better secure, and seamlessly manage their cloud workplace from anywhere. Additionally, without the need for imaging, zero-touch deployments can be executed quickly and remotely to get new devices up and running no matter where they are located, making it great for self-service kiosks, digital signage needs, in frontline environments like healthcare and call centers, or even for knowledge workers in financial services. Organizations that don't require these enterprise-specific features or device orchestration can also opt for the ThinkCentre M60q Chromebox, identical in every way minus the Google Chromebook Enterprise Upgrade management.

Combining Lenovo ThinkShield and the Google-designed Titan C security chip, the ThinkCentre M60q Chromebox Enterprise delivers a built-in, enhanced security experience with added features like safe browsing, sandboxing, data encryption, and verified boot to add peace of mind when needed. Additionally, routine software and security updates occur automatically in the background without disrupting users, minimizing distractions. Organizations can further reduce downtime should issues arise by adding Lenovo Premier Support9. Going beyond break-fix repairs, this advanced support service can also deliver next-business-day replacements12.
All of the products announced today can be purchased as part of a Lenovo TruScale Device as a Service (DaaS) solution to give employees a user experience they want and the support they need with the latest technology, software and services all under one contract. TruScale DaaS offers organizations flexibility to scale their IT capabilities in line with their evolving business demands, regardless of where employees are located.
Quote
"Understanding the importance of choice in the user experience, we consistently innovate our portfolio to bring new form factors, features, and capabilities that can expand possibilities for our customers," said Johnson Jia, Senior Vice President of Intelligent Devices Group's Global Innovation Center, Lenovo. "As more people start to embrace hybrid work, we want to present technology solutions that don't just match their transformed lifestyle, but tech that can reveal and solve for the unrealized challenges it may present, like the desktop computer and monitors that we've introduced today."
Visit the Lenovo StoryHub Tech Life press kit for images and full specs and Lenovo's Tech Life virtual showcase for more details. 
The Lenovo Legion Y32p-30 Gaming Monitor will start at €999 (including VAT) and is expected to be available starting in January 2023.13  
The ThinkVision T32p-30 Monitor will start at €669 (including VAT) and is expected to be available starting in January 2023.13  
The ThinkVision T34w-30 Monitor will start at €699 (including VAT) and is expected to be available starting in January 2023.13  
The ThinkVision S25e-30 Monitor will start at €169 (including VAT) and is expected to be available starting in January 2023.13  
The ThinkVision T32h-30 Monitor will start at €549 (including VAT) and is expected to be available starting in January 2023.13  
The ThinkVision T24i-30 Monitor will start at €249 (including VAT) and is expected to be available starting in December 2022.13  
The ThinkCentre M60q Chromebox Enterprise will start at €299 (including VAT) and is expected to be available starting in
December 2022.13  
More details on local product specifications, availability, recommended retail pricing will be announced at a later date.