PETALING JAYA, Apr. 18, 2022: LG Electronics Malaysia (LG) is about to make life in the kitchens easier than ever for Malaysians with the introduction of two (2) new models for LG InstaView Door-in-Door™ Refrigerators, which boast upgraded features and design innovations for improved user convenience. The sleek refrigerators comes with a wider glass panel for its InstaView Door-in-Door™ system which allows consumers to see 23 per cent more on the inside of the refrigerator while UVnano™ technology is featured in the built-in water dispenser for enhanced hygiene.
Loved by consumers around the world for its ability to enhance user convenience, LG InstaView Door-in-Door™ refrigerators has been further refined in its 2022 models. LG InstaView illuminates the refrigerator's interior with just two quick knocks on the transparent glass while the Door-in-Door™ feature reduces interior cold air loss by providing a convenient space to keep frequently accessed items handy.
LG InstaView Door-in-Door™ Refrigerator (Model: GC-X257CSES)
With a more immersive tinted glass panel in the 2022 refrigerators, the new design complements the seamless InstaView Door-in-Door™ refrigerator's flat stainless steel design and elegant aesthetic. And because the InstaView window is 23 per cent larger than previous models, seeing what's inside a refrigerator is now easier than ever.
LG's new InstaView refrigerators now incorporate LG's UVnano™ technology which harnesses the power of light to maintain a hygienic and germ-free water dispenser tap effortlessly and effectively. First introduced in 2017 on the company's most premium water dispenser products, UVnano™ operates once every hour to remove up to 99.99 per cent of bacteria on the refrigerator's dispenser tap. For additional peace of mind, users can also activate the UVnano™ feature with the press of a button.
"Our core value has always been helping our consumers to lead a good life through our products. With the introduction of the 2022 models of LG InstaView Door-in-Door™ Refrigerators, we want our consumers to enjoy farm fresh tasting food for a longer period of time," said Justin Choi, Managing Director of LG Electronics Malaysia. "Further reinforcing our Healthy Home Solutions notion, this is where we take the opportunity to provide consumers with innovations that enables consumers to live a healthier life through our range of products."
A CES 2021 Innovation Awards Best of Innovation winner, the newer models of the LG InstaView refrigerators enables consumers to live smarter, thanks to LG ThinQ. With the most extensive range of Wi-Fi enabled appliances today, consumers can control, manage and diagnose appliances using only their smartphones.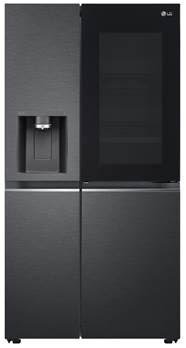 LG InstaView Door-in-Door™ Refrigerator (Model: GC-X257CQES)
Every new InstaView product in the lineup incorporate LG's proven freshness-enhancing systems, Hygiene FRESH+™ and DoorCooling+™. The intelligent air filter can not only remove bacteria up to 99.999%, but also minimise bad odour in the refrigerator. Simultaneously, DoorCooling+ cools the entire refrigerator compartment evenly by distributing powerful airflow from a strategically positioned vent.
The new models also comes with Inverter Linear Compressor, which provides up to 32 per cent in energy savings, top-rate durability and optimal temperature control to keep foods fresher longer.
The new models are listed in the below table:
Knock Twice And "Guess It"
In conjunction with the launch of the new models, LG is partnering up with WonderBrew Kombucha, a home-grown Malaysian brand founded by Malaysians for Malaysians to launch a contest, where consumers stand a chance to walk away with amazing prizes!
From 20th April to 20th May, all consumers need to do is head over to http://lg-instaview-guess-it.com/ and take a guess on the number of WonderBrew bottles that are placed in the new LG InstaView Door-in-Door™ Refrigerator through a few simple steps.
Go to the microsite http://lg-instaview-guess-it.com/
Knock twice on the glass panel to guess how many bottles can be fitted in the entire fridge and submit the answer.
Fill in the participation form to redeem one (1) free drink.
Complete the sentence of the reason you would like to get an LG InstaView.
Click on the 'submit' button and stay tuned LG Facebook Page or Instagram account for the winner announcement.
Better hurry because the first 2,000 participants will receive one (1) COMPLIMENTARY bottle of WonderBrew Kombucha drink.
Winners from this contest stand to win:
Grand Prize: LG InstaView Door-in-Door™ Refrigerators (Model: GC-X257CQES) worth RM15,999 x 1 unit
First Prize: LG TONE Free (Model: HBS-FN6) worth RM799 x 9 units
Second Prize: WonderBrew Rookie Pack worth RM70 x 100 sets
For those who have been eyeing to get a new refrigerator, here's your chance!