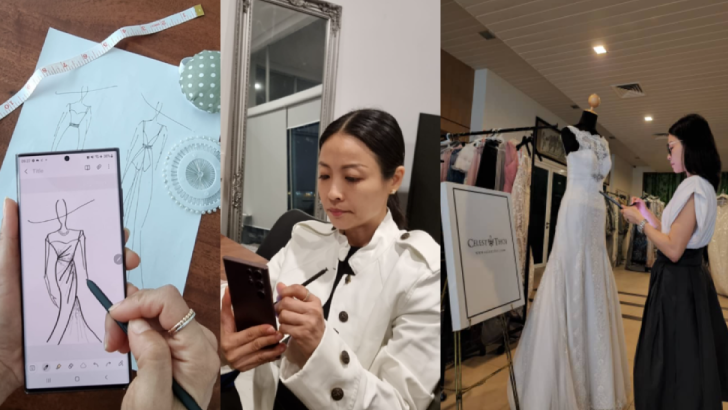 Each of us, deep down inside, has that little part where we dream to be somebody. The dreamer inside us may manifest in different ways to represent the desires we keep to ourselves. Some may dream to be an artist. Some may dream to reach for the stars. For established designer Celest Thoi, her sharp-sighted mind coupled with an attraction to wedding gowns made her life's journey true and clear – granting the wish of every bride out there of having a perfect gown to complete their dream wedding.
Surely, designers have their own ways to keep inspired throughout the day–one thing that grounds them to their passion even when life may throw them off balance. Here's how Celest keeps the fire burning for her passion for fashion to give every bride a picture-perfect memento.
Positive tenacity
A creative soul may sometimes find themselves in a bit of a slump. It may seem easy to overcome, but it can sometimes affect their creative flow and tilt the designing process. Celest, however, believes that eliminating your doubts is the key to maintaining inspiration and creativity. "Ever since I designed my own bridal gown, the joy and meaning it's brought to my life keeps on giving', she claims when asked about her passion and love for design. The self-made designer claims that constructive criticism is important too, in terms of improvising one's ability. Some may find them too taxing, which is why she also says to keep the negative feedback in check and not to read into them too much. One should deconstruct the criticisms, and then, work their way into bettering themselves.
She also derives heavy inspiration from her clients to inject their personality into the design.  Their life stories are placed on respective canvases as singular entities and Celest joins them to paint a picturesque series of precious moments during the wedding. "It may sound cliché," said the designer, but she very much believes in creating wedding moments that strive to be described as the single most magical instance in her client's life.
Find ways to work smarter
To make it happen, Celest relies heavily on her smartphone when organising her daily schedule, juggling meetings with clients, accessing design candidates, and managing brand operations on-the-go, all done right at her fingertips just as a modern girl boss should. To put into perspective how important her phone is, Celest had even mentioned that she would rather lose her car keys than her phone, which truly goes to show how much work is done on her device and just how much she cherishes it!
Relying on cameras is another fraction of her career. The wedding designer sees the smartphone as her holy grail because aside from managing things, it also has a solid camera to replace carrying a second device. Juggling multiple things at once made easier than ever thanks to the efficiency of her phone. Celest also gushed about the fact that her phone is more than enough when it comes to taking pictures in dense and dim settings. For a lovely soul like our designer here, a romantic setting combined with low light complements the dresses she designs to a perfect picture. Hence, the 'Nightography' feature built in her phone gives her an endless array of options to explore, especially in dark places where things don't traditionally work out.
Take a leap of faith and trust the process
A person as successful as Celest always has their own set of secrets to the trade. For now, she's keen on sharing just two: First, our designer here took a sweet switch to #LifeWithGalaxy and she's completely fallen in love with what the Galaxy S22 Ultra offers her. Celest was never one to gatekeep her design concepts or the tools used to make them, as she believes that collaboration is a vital component to innovation.
Staying true to this principle, Celest acknowledged the Galaxy S22 Ultra for bringing a leap of convenience to the entirety of her work. Where in the past she struggled with mentally envisioning the final edit during each shoot, Celest prefers using Portrait Mode today to adjust the background density before each shot to quickly identify key edit points. Once done, she even skips exporting to a PC for editing and instead does it on the spot before instantly uploading the finished project to her social platforms and website. All in one, more time for fun!
The other secret may shock everyone, but it's a feat she's proud of achieving. Celest divulged that the surreal photos found in her latest lookbook were produced using nothing other than… Her mobile phone! From pre-planning towards the end, her phone was the only pillar she relied on to produce all the amazing shots in her lookbook. Clearly, limitations are no longer a worry for Celest when she has all the power to produce professionally worthy photos on a device she keeps closest to her!
Think you have the right stuff to be a self-made designer? Well now you can with the new Samsung Galaxy S22 Ultra! Find out more here: https://www.samsung.com/my/smartphones/galaxy-s22-ultra/buy/