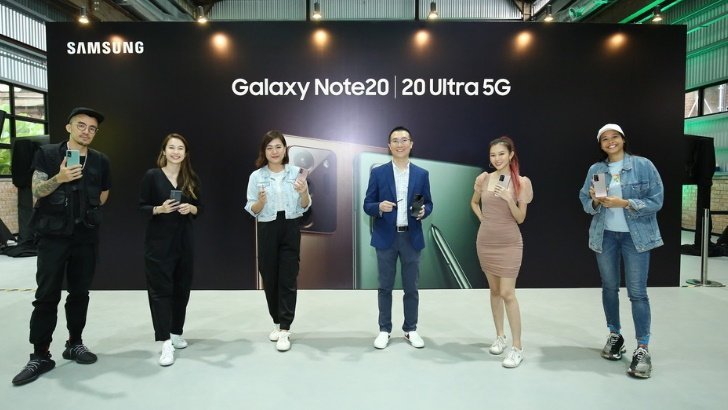 Samsung launches the latest computing power phone with once-in-a-lifetime promos, featuring sensational giveaways!
Malaysians rejoice! Today, the 18th of August 2020, will be marked a significant day in our history with the momentous launch of the new Samsung Galaxy Note20 – the latest powerphone set to make Malaysians reassess the way they approach work and play. Officially launched here at Sentul Depot, Kuala Lumpur, the event was witnessed by a multitude of mesmerized media, content creators, influencers, and more – who were all thrilled about the new device that can help them in all dimensions of life.
"The Galaxy Note20 finally becoming official in Malaysia is an especially memorable event for all of us at Samsung. Every detail of the Galaxy Note20 was meticulously thought through, all with the aim to allow people to bring every crucial part of their lives, be it work or play, onto one single device. So, with all that's happening this year in 2020 and us adapting to a new normal, we are absolutely thrilled to release the Galaxy Note20 to Malaysians to redefine the meaning and purpose of the smartphone in this day and age" said Yoonsoo Kim, President of Samsung Malaysia Electronics.
While most products feature just one specialty that is compelling enough to capture the attention of Malaysians, the Galaxy Note20 arrives on Malaysian shores with several. Sometimes, we are forced to pick between being a master of one or a jack of all trades. This is where the Galaxy Note20 stands apart from the others, as the master of all.
Power to Work
Gone are the days when we had to be anchored to a desktop to get actual work done. Gone are the days when we need an actual laptop or notebook to take legitimate notes at an important meeting. The Galaxy Note20 has managed to combine the computer and the notebook into one unified device, allowing users to be a genuine professional with the device that was taken out from their pockets.
The Galaxy Note20 comes with a much-improved S Pen, giving users a more lifelike and fluid S Pen-to-screen writing feel. Combined with the enhanced Samsung Notes, users are given an experience that is arguably even more seamless than an actual pen-and-paper. For one, the enhanced Notes app automatically syncs with other Galaxy tablets or Windows PCs, which means that you will never need to worry about leaving your notes at home again.
Last but definitely not least, Samsung has expanded its integration with Microsoft devices even further with its Galaxy Note20, introducing a suite of new experiences for more continuous productivity! Its Link to Windows feature allows you to respond to texts, receive notifications, and even answer those pesky calls all from your PC, even if your phone is in another room. Moreover, the Your Phone Apps feature even lets you to launch and run multiple apps on your Windows 10 PC as well!
Power to Play
10 years ago, no one would believe that the smartphone will be the primary source of entertainment for the everyday person. Today, this reality is the truth. When conceptualizing the Galaxy Note20, Samsung didn't hold back in making sure its users will get the ultimate experience in all forms of entertainment; from watching videos and movies, to listening to your favourite music, to playing the best games.
Powered by the latest and most powerful Exynos processor yet, a 120Hz display, and accompanied by Samsung's latest Wireless DeX feature; the Galaxy Note20 Ultra allows for next-generation mobile gaming like never seen before. Picture this: You've just gotten home from a long day at work. You immediately let yourself melt into your couch, but you're still itching for a quick Asphalt race with console-level gameplay and graphics. Simply connect your Galaxy Note20 with your Smart TV via Wireless DeX and enjoy a race with your friends!
Power to Create
Artists and content creators unite! The Galaxy Note20 is finally here in Malaysia to introduce you to a whole new galaxy of convenient creativity – be it creating sketches or music recordings or videos.
With a camera system upgraded with today's advanced technology, the Galaxy Note20 is able to capture professional-grade pictures and 8K videos that can make photography and videography amateurs look experienced. What about visual artists, you ask? The newly redesigned S Pen and the Galaxy Note20 offers artists the realest pen-to-paper feel that one can get. If you ever feel that art produced on a digital device will never be as good as the real thing, we beg to differ. Simply visit Samsung's PENUP app and you will see a huge collection of stunning art made with Samsung devices and the S Pen.
And now with the significantly improved S Pen, the art will only get better!
Power Your Style
Through its latest Galaxy Note20, Samsung has elevated the design heritage of its Note series with lavish new Mystic colour options – Bronze, Green, Black, White, and Grey with matching S Pens. Moreover, the new power smartphone is also wrapped in neutral tones and a textured haze finish that confidently give the Galaxy Note20 a touch of sophistication and a timeless premium feel to the most powerful Note yet.
But that's not all. The Galaxy Note20 is just one device in one larger, seamless, and gorgeous Galaxy Ecosystem; with each and every one of these devices playing their own crucial part for the most authentic Galaxy experience. The Galaxy Note20 helps you get all your work done, the Galaxy Watch3 supplements your phone with easy access to notifications and an upgrade to your health and lifestyle, and the Galaxy Buds Live provides the ultimate entertainment experience. Not only that, if you have a new Galaxy Tab S7[1] at home, rest assured that all your Galaxy devices are automatically synced even if they're not in the same room!
Power Up Connectivity
As we head deeper into the year 2020, we continue to await the next generation of connectivity and technology. With that, it is only inevitable that content get better but heavier too. This is why Samsung is future-proofing its Galaxy Note20 making it 5G-ready so that when the time comes, Malaysians will be able to enjoy blazingly fast internet speeds.
Samsung Galaxy Note20 Celebratory Launch Promo[2] in Malaysia!
Samsung Malaysia Electronics, high on the thrill of the launch of its latest Galaxy smartphone, is excitedly giving away exceptional gifts along with the Galaxy Note20 for a limited period! From August 21st till October 31st 2020, customers who purchase any Galaxy Note20 smartphone within the series will be entitled to a FREE UV Sterilizer with Wireless Charger and a Wireless Charger Convertible, worth RM508! This deal can be made at all Samsung Experience Stores nationwide or the Samsung e-store
Moreover, a Galaxy Note20 Trade-Up programme is available as well, where customers can trade in their existing smartphone for up to RM4,005 for a new Galaxy Note20 series! For more information about the Galaxy Note20's celebratory launch promo, visit: http://samsung.com/my/offer/note20campaign.
For more information about the new Samsung Galaxy Note20, visit: https://www.samsung.com/my/smartphones/galaxy-note/
[1]

The

Galaxy Tab S7 will be available in Malaysia soon.
[2]

Terms and conditions apply.