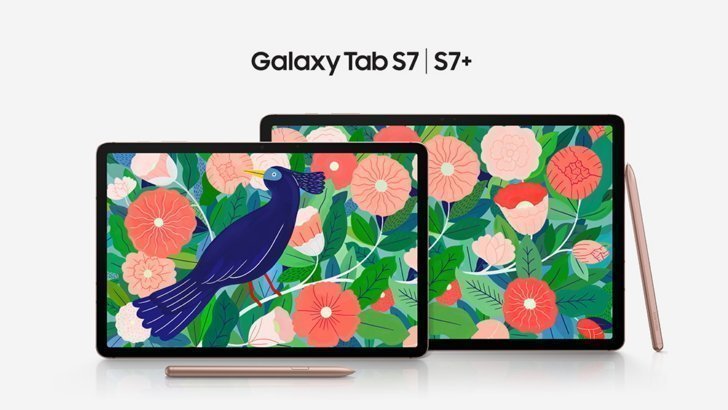 At Samsung, innovation has always been driven by the mission to equip users with the technology they need to thrive in a changing world. That's never been more important than it is today, as people around the world seek ways to stay productive, connected, and entertained in this new era.
With the Galaxy Tab S7 and S7+, Samsung is offering you a 5G-enabled[1] tablet with a large screen that's loaded with all the tools you need to unleash your creativity, immerse yourself in entertainment and take your productivity to the next level.
Packed with cutting-edge features and seamlessly integrated into the Galaxy ecosystem, the Galaxy Tab S7 and S7+ are built to support you in every pursuit—from work, to play, and everything in between. Featuring a new-and-improved S Pen, a stunning display and a suite of creativity features, these tablets offer a vast canvas for bringing your ideas to life. Powerful processing, an expanded keyboard and upgraded versions of Samsung DeX allow you to get more work done in less time with a PC-like experience. With ultra-fast 5G connectivity, you can enjoy uninterrupted mobile gaming and high-definition streaming.
A Powerful Device for Work
We all have our own preferences for how we work and study, and our devices should let us accomplish more the way we want. With the Galaxy Tab S7 and S7+, you can experience a smarter, smoother way to complete your daily tasks, wherever and whenever you please.
The Galaxy Tab S7 and S7+'s unrivalled productivity features are powered by the latest next-generation processor. The processor's CPU, GPU and NPU deliver enhanced performance, ensuring that multi-tasking and videoconferencing is seamless when you're on the clock, and playing a high-quality streaming game when you're unwinding with friends after work is easier than ever.
Building on almost a decade of design and technical innovation, Galaxy Tab S7 and S7+ come with an improved S Pen right in the box. Engineered with a rounded form factor and an elongated tip, the S Pen offers a natural writing and drawing experience. Combined with the display's refresh rate of up to 120Hz, the S Pen's biggest leap in responsiveness[2] to date reduces lag significantly, allowing you to write with life-like precision and accuracy when you're taking notes during an important call.
The all-new Samsung Notes is a powerful complement to the upgraded S Pen. Elevate your notetaking with easy PDF import and annotation, as well as the ability to write, type and draw in the same area. Samsung Notes also features Audio Bookmark, which allows you to record lectures or meetings while you write, and then sync the two together. Easily navigate lengthy lecture recordings by tapping on a sentence and automatically jump back to the corresponding audio timestamp.[3] With the Samsung Notes syncing feature, you can quickly access and manage your Samsung Notes on your Galaxy Note20 and Samsung PCs. If you're out running errands, you can easily jot down a note on your Galaxy Note20 when inspiration strikes and then pick up right where you left off when you return home to your Galaxy Tab S7 and Tab S7+.
Today, as we switch back and forth between drafts, calls and spreadsheets at a moment's notice, multi-tasking is critical. Enhanced Multi-Active Window on Galaxy Tab S7 and S7+ now lets you open and run up to three apps simultaneously, so you can take video calls, monitor email and take notes all at once. With App pair, you can even tie up to three apps together for simultaneous launch to save time when you're in a hurry. The Galaxy Tab S7 and S7+ also come with edge screen, similar to the feature on Galaxy smartphones, providing quick access to your most used apps.
If you want to experience a PC-like interface on your tablet, you can use the improved Samsung DeX, with Samsung's versatile Book Cover Keyboard[4]. This upgraded keyboard comes with an added line of intuitive function keys[5], a larger touchpad and several new angles, so that you can comfortably write, type and sketch when you're away from a desk. The latest One UI brings a streamlined task bar to Samsung DeX. With the addition of screen zoom support and font sizing options, you can customize Samsung DeX to suit your preferences. After snapping a window to the right or left of the screen, your most recent apps appear so you can quickly choose and launch your preferred tool. If you need to present to a group, you can wirelessly connect your tablet to compatible TVs.[6]
Working across operating systems has never been more convenient than on the Galaxy Tab S7 and S7+. Samsung's close partnership with Microsoft brings big benefits to Galaxy device users. Quickly sync your Samsung Notes with Microsoft OneNote and Outlook, so you won't miss a single memo you left on your Galaxy Note20 while working with the Galaxy Tab S7 and S7+.[7]
More than one million apps are optimized for Android tablets, giving you plenty of choice when searching for the perfect app for your needs.
The Ultimate Device for Downtime
Make your downtime more enriching and unleash your creativity with new leisure features on the Galaxy Tab S7 and S7+.
Galaxy Tab S7 features an 11" LTPS TFT display and Tab S7+ features a one-of-a-kind 12.4" Super AMOLED display – both supporting a 16:10 aspect ratio picture. Combined with quad speakers sound by AKG, these displays offer you an immersive cinematic experience from the comfort of your couch. The SGS-certified displays on Galaxy Tab S7 and S7+[8] are comfortable to your eyes with low blue light emission, so you're never left feeling strained after a long movie binge. With up to 120Hz refresh rate, you can enjoy smooth scrolling when scanning through your social media feed. Not only that, with an intelligent battery that adapts power output based on your activity, the Galaxy Tab S7 and S7+ can help you stream, game and create without being tethered to an outlet.
The Galaxy Tab S7 and S7+ make it easier for you to relax and unwind with premium entertainment apps available on the tablets. The tablets come with four months of free YouTube Premium[9], so you can enjoy YouTube content uninterrupted, meaning ad-free offline and in the background. You'll also be able to access your favorite Netflix[10] content instantly when you search with Finder. You can also discover music on Spotify[11] through Finder search and set tunes from the app as your alarm.
Whether you are a professional creator or simply enjoy drawing during your downtime, the Galaxy Tab S7 and S7+ have all the tools you need to express yourself fully. Simply grab the S Pen and let your imagination run wild on popular creativity apps.
Available for the first time on an Android tablet, the popular drawing app Clip Studio Paint[12] is the preferred platform for digital artists and comes preloaded[13] on the Galaxy S7 and S7+.[14] A six-month free offer to Clip Studio Paint EX, the premium version of the app, will be available as an exclusive to all Galaxy users. This version will give you access to advanced design features, including multi-page management, the ability to extract lines from 3D data, and more.
With Noteshelf, you can create and customize virtual notebooks and share your creations with friends and loved ones.[15] Available for free on the Galaxy Tab S7 and S7+, the app lets you add handwritten notes, geometric shapes, personalized photos, audio recordings and more to your digital notebooks. You can even organize them in an easy-to-access virtual bookshelf.
If you want to produce eye-catching social media posts and marketing content, head over to Canva and try out the app's easy-to-use templates while creating your own template with fonts, images and videos.[16] Galaxy Tab S7 and S7+ users will also get access to 200 exclusive templates and a 30-day free trial of Canva Pro.[17]
The Center of Your Connected Galaxy Experience
Change is the only constant in our world today and tablets need to be able to work flexibly with other devices.
The Galaxy Tab S7 and S7+ are designed to help you work effortlessly across your Galaxy devices. By syncing with Samsung Cloud, memos and notes drafted with Samsung Notes on the tablets are instantly available on your Galaxy smartphone and PCs[18], so you can keep track of all your ideas.
Instead of uploading files or pictures to the cloud and downloading them on another device, Samsung Flow[19] lets you instantly transfer what you need between phone and tablet. With the Call and Text on other devices feature, you can check messages right on the tablet when your phone is charging and isn't by your side.[20]
Creating your ideal home environment is easier with the Galaxy Tab S7 and S7+. SmartThings in Daily Board enables the tablets to serve as the control center for all your Samsung IoT devices, so you can control your smart home from one place. The Music share feature on the Galaxy Tab S7 and S7+ easily connects your music and playlists across smart devices.
Samsung's partnership with Microsoft makes it easier for the Galaxy Tab S7 and S7+ to work with your Samsung PC. All your Samsung Reminders are synced with the Microsoft To Do app and Outlook[21], while Microsoft Teams tablet UI optimization[22] gives you flexibility when you work or connect with friends and family with multiple devices. Second screen also lets you use the Galaxy Tab S7 and S7+ via Wireless Display[23] as a second monitor or a drawing pad for your Samsung PC[24], so you can combine the power of your devices and have double the area to create, view and work. You can also utilize the S Pen and touch input on Tab while using Second screen.
Design That Turns Heads
Available in three statement colors[25] – Mystic Black, Mystic Silver and Mystic Bronze – the Galaxy Tab S7 and S7+ are stylish devices that can do it all. The tablets will be available for purchase in Malaysia from 28 August 2020 onwards.
For more information about the Galaxy Tab S7|S7+, please visit https://www.samsung.com/my/tablets/galaxy-tab-s7-wifi-t870, https://news.samsung.com/my/
For more information about Samsung's latest Galaxy devices including specifications, please visit www.samsung.com/my
[1]

Requires optimal 5G connection. 5G services are only supported in 5G network enabled locations in 5G-ready countries. Actual speed may vary depending on country, carrier, and user environment.
[2] Available on the Galaxy Tab S7+ when using the Calendar app, Samsung Notes in Screen off memo mode, or in Writing mode when using Fountain Pen, Calligraphy Pen, Pencil, Calligraphy Brush, Highlighter and Marker Pen Tools.
[3] PDF import, PDF annotation, Audio Bookmark are supported from the latest Samsung Notes, ver.4.0.
[4] Book Cover Keyboard for Tab S7 and Tab S7+ are available respectively and sold separately.
[5] Book Cover Keyboard for Galaxy Tab S7 and S7+ both provide function keys; however, a dedicated line for function keys is only available on the Galaxy Tab S7+'s Book Cover Keyboard.
[6] Samsung DeX wireless connection is compatible with TVs that support screen mirroring only.
[7] The service will be available starting later this year.
[8] SGS, the world's leading certification company, awarded Galaxy Tab S7+'s display the Eye Care Certification (Galaxy Tab S7's display the Low blue light Certification) based on its ability to drastically reduce the harmful effects of blue light. This certification can be found on www.sgs.com/performance. ※ Galaxy Tab S7+ display SGS certification Number : FFU/20/GEN/00025 ※ Galaxy Tab S7 display SGS certification Number : FFU/20/GEN/00018
[9] New users only (no past trial of YouTube Premium, YouTube Music Premium, YouTube Red or Google Play Music). Redeem in the YouTube application on eligible devices between February 14, 2020  and April 5, 2021 at 11:59pm PST. Form of payment required. After trial, billed on a recurring monthly basis. Cancel anytime. No refunds for partial billing periods.  Full terms: https://www.youtube.com/premium/restrictions
[10] Netflix preloaded as stub. Netflix is not yet available in China, Crimea, North Korea, or Syria.
[11] Spotify availability may vary by market.
[12] PRO and EX version of Clip Studio Paint are both available.
[13] Preload supported in select markets. Clip Studio Paint can be downloaded from the Galaxy store.
[14] Supported languages for the software settings: English, French, German, Japanese, Korean, Spanish, and Traditional Chinese. For text input, Arabic, Hebrew, Urdu are not yet supported.
[15] Noteshelf preloaded on the device as stub. App availability may vary by country and region.
[16] Canva preloaded on the device as stub. App availability may vary by country and region.
[17] 50 exclusive templates are available over four updates for Galaxy Tab users, for a maximum 200 templates. Additional cost will be charged after the free trial period of Canva Pro.
[18] Samsung Notes app needs to be installed.
[19] Samsung Flow may not be supported by some models, depending on the smartphone specifications.
[20] Availability of Call and Text on other devices varies by country and service provider.
[21] The service will be available starting later this year.
[22] The service will be available starting later this year.
[23] Wireless Display capable Windows 10 PC models and Windows 10 2004 or later version are required for this new feature. (Windows update: September 2020 or later) Galaxy Tab S7 and S7+ to support this feature through additional firmware updates later this year.
[24] Compatible with Galaxy Book Flex, Galaxy Book Flex alpha, Galaxy Book Ion, Galaxy Book S and Samsung Notebook Plus based on Windows 10 OS.
[25] The availability may vary by market.