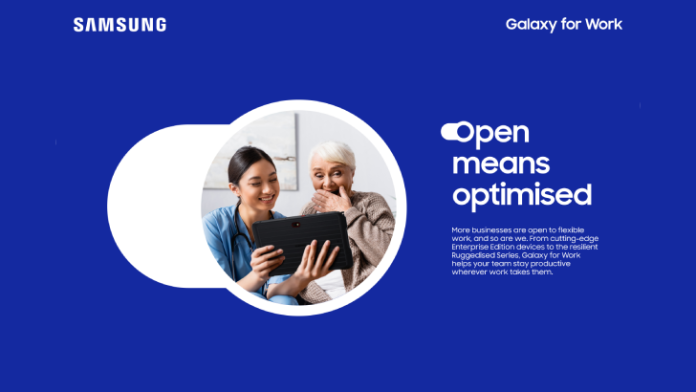 Samsung introduces "Galaxy for Work" to the region as the secure and scalable solution to drive enterprise mobility and digital transformation
A study[1] by Samsung Electronics and Tech Research Asia surveying more than 1,440 businesses in Southeast Asia and Oceania found that more than half of these businesses feel that device security is a common pain point. 33% of the respondents also find their business devices too obsolete to run applications, while 44% have devices that require extra hardware or accessories to work.
With a large number of business at risk of compromising their data via their corporate liable devices, they struggle to find the balance between a secure and flexible solution and maximizing productivity from digitalization.
"To thrive in this fast-changing world, businesses need a robust and secure technology infrastructure to support flexible work – and a closed ecosystem just isn't the answer," said Ian Chong, Regional Director & Head of Mobile Experience B2B, Southeast Asia & Oceania.
"Samsung's Galaxy for Work equips businesses with an open ecosystem of secure, versatile devices that are optimized for their unique needs, giving them all the freedom and confidence they need to stay competitive in today's business landscape."
Samsung has brought Galaxy for Work to Southeast Asia and Oceania as workforces in the region are getting more hybrid and decentralized, and businesses feel the need to digitalize to avoid employee downtime, lost revenue and other opportunity costs.
The Power of Galaxy's Open Ecosystem
With in-depth expertise in mobile security and digitalization, Samsung offers an open ecosystem by putting trust in collaboration. Running on the Android Open source, this was made available to carriers, OEM and developers alike to make their innovative ideas a reality. This allows some of the biggest names in tech to and work together to step up their game, strengthening it collectively. Opening the ecosystem has not led to more vulnerabilities, but to greater and more diverse security practices.  This collaboration enables businesses to focus on what is most important to them, by giving them the freedom of streamlined productivity, seamless device continuity, and effortless management of devices all with a solution trusted by governments worldwide – Samsung Knox[2].
Versatile Devices with Optimized Experiences
Samsung continues to empower businesses with versatile Galaxy devices that cater to their unique operational needs. From cutting-edge Enterprise Edition devices to the resilient Ruggedized Series, our wide-ranging product lineup, complemented by Samsung Knox and B2B accessories, ensures seamless remote deployment and easy customization for diverse sectors.
Security Leadership with Samsung Knox's End-to-End, Real-Time Protection
In an era where work and personal lives intertwine, businesses face the challenge of safeguarding data security while respecting individual privacy. As a leading global company that designs and manufactures its own products, Samsung is able to keep an eye on each component from the processor up. Organizations are secured from day one, thanks to security-specific hardware and isolated software integrated across Samsung's portfolio and supply chain that provides end-to-end protection at all levels of the mobile experience, from the chips inside to the apps. A secured supply chain, prevents unauthorized access to Galaxy devices and provides users with a product they can trust.
Samsung's commitment to data protection continues with Samsung Knox, offering real-time protection against data attacks and malware. Unauthorized attempts to access or modify the core of Galaxy devices are promptly blocked, ensuring user information remains safe.
Your Privacy, Secured with Transparency and Control
Security should never compromise personal privacy. Therefore, Samsung's Security & Privacy Dashboard gives users a comprehensive view of their data, empowering them with transparency and control. For business, while users have control and transparency of their Samsung Galaxy devices, businesses can determine what happens to their data with features such as Security and Privacy Dashboard and Permission Manager without invading their employee's personal privacy
Samsung remains dedicated to delivering top-notch security while respecting individual privacy, setting new standards for user trust in the digital world.
With "Galaxy for Work", businesses can now integrate agility, seamless productivity and resilience into their core to quickly adapt to current challenges and become digital-first.
The latest Galaxy Enterprise Edition product line-up includes the newly launched Samsung Galaxy XCover6 Pro that combines advanced functionality with a sleek design. The Galaxy Ruggedized Series includes the ruggedized Samsung Galaxy Tab Active4 Pro and Samsung Galaxy XCover6 Pro smartphone, delivering excellent performance in the toughest conditions.
Galaxy Enterprise Edition
Tailored for the rigors of the business world, Galaxy Enterprise Edition[3] offers the most advanced mobile experience for enterprises. It bundles cutting-edge, customizable and secure Samsung devices with a guaranteed product life cycle of a minimum of two years[4], up to 5 years of extended security support[5] for business continuity, and 1 year of Knox Suite[6], which consists of mobility solutions such as Knox Manage and Knox Asset Intelligence, 7 for efficient business management.
Galaxy Ruggedized Series
Designed for frontline workers, the Galaxy Ruggedized series offer smartphones and tablets that can meet the MIL-STD-810H[7] standard to withstand extreme conditions. Additional features and accessories are also available to maximize efficiency and convenience. For example, Samsung DeX[8] allows employees to connect their compatible Galaxy mobile device to a monitor and turn it into a desktop workstation seamlessly, so your team can continue to deliver excellence wherever they work.
Learn more about the power of Galaxy for Work's open ecosystem to transform your business operations and stay ahead of the competition at https://www.samsung.com/my/business/open-means-business/
[1] Source: A Mobile-First Strategy: Building Resiliency in Your Business. Ruggedized Smartphones & Tablets in Asia Pacific – Enterprise Adoption, Use Cases and Benefits 2023, 2nd Edition. https://www.samsung.com/sg/business/insights/flexibility-engagement-and-tech-the-perfect-combination-for-modern-work/
[2] Samsung Knox has successfully met the rigorous security requirements set by governments and major enterprises around the world, providing business users with a robust mobile security solution.
[4] Product life cycle begins from the global launch of each product and varies by device and region.
[5] Samsung Security Update frequency (monthly, quarterly) may vary depending on the model. Samsung Galaxy Enterprise Edition devices start receiving Security MR (SMR) FOTA updates on the same day the monthly Android Security Bulletin is released.
[6] Knox Suite is renewable with additional cost from the 2nd year.
[7] MIL-STD-810H is a standardized form of testing designed by the US Military to accurately assess device limitations. Real world usage varies from the specific environmental conditions used in the testing. Samsung does not guarantee device performance in all extreme conditions.
[8] Samsung DeX wired connection is available via HDMI compatible display. Wireless connection is available on Smart TVs that support Phone Screen mirroring only. For optimal experience, use on Samsung Smart TVs launched in 2019 or later. Applicable to selected phone models.