New device and accessories will offer users increased mobility and performance through hybrid work
Malaysia, 8 June 2021 – Microsoft today announced that Surface Laptop 4 and new Surface accessories are now generally available in Malaysia via commercial authorised resellers and authorised retailers at a starting price of RM4,599.00.
Designed to enable inclusive hybrid work environments, the new innovative and versatile Surface Laptop 4 and PC accessories aims to empower users to adapt to new ways of working and creating, immerse themselves in their creative flow – inside and outside of the workplace – to achieve more.
"We are pleased to bring the new Surface Laptop 4 and PC accessories to Malaysia, expanding our innovative line-up of products and solutions for the hybrid environment. Surface Laptop 4 with new meeting and collaboration accessories from Microsoft aim to empower users to innovate, thrive and create amid the evolving work environment. Our latest line-up provides increased mobility, enhanced performance, and enterprise-grade security features to support the modern-day user. This is testament to our continuous commitment to support users throughout their transition into the post-pandemic world," said Michal Golebiewski, Chief Marketing & Operations Officer, Microsoft Malaysia.
Surface Laptop 4
Surface Laptop 4 is optimized for Microsoft experiences. While it retains the iconic design, details, and materials as the previous models, it will feature our signature 3:2 PixelSense high-contrast touchscreen display in 13.5" or 15" models, and Dolby® Atmos™ Omnisonic speakers. This provides users with a cinematic experience for their favourite movies and shows from the comfort of anywhere.
Surface Laptop 4 also features a built-in HD front-facing camera with incredible low-light capability and a studio microphone array, to enable enhanced meeting experiences at work. In addition, its large trackpad with gesture support, allows users to easily adjust to their preferred workflow.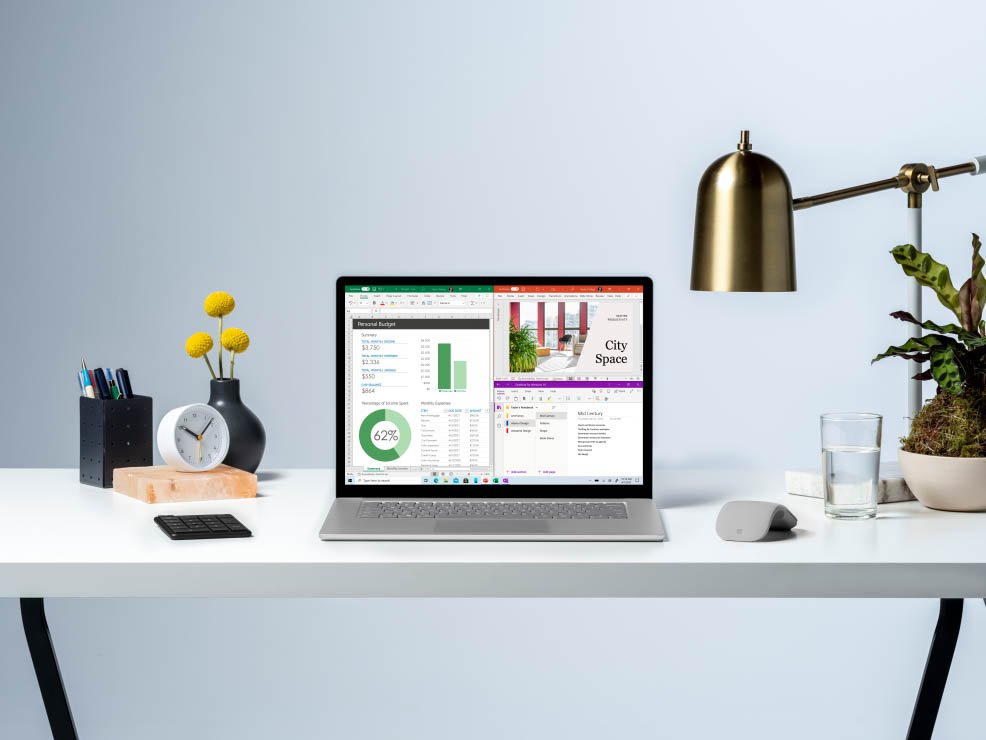 Available in either the 11th Gen Intel® Core™ processors, or AMD Ryzen™ Mobile Processors with Radeon™ Graphics Microsoft Surface® Edition (8 cores), the device will power modern, multitasking demands whether at the office, living room, coffeshop or classroom.
Adapting to the security needs of our customers, Surface Laptop 4 also will offer incredible security out-of-the-box with integrated hardware, firmware, software, and identity protection. They can maintain control of sensitive information with a removable hard drive for data retention[1] and get more security and control with cloud-first device deployment and management, all the way down to the firmware layer.
The device comes in Alcantara (Platinum) or metal finishes (Black and Platinum) for selected models.
Microsoft Modern USB & Wireless Headsets
Certified for Microsoft Teams, the Microsoft Modern headsets enables greater focus and call privacy, especially in shared workspaces. Users can effortlessly join a meeting or answer a call with the dedicated Teams button, and always be in control with a physical mute button and LED mute indicator. With these new features, users can achieve greater focus and call privacy during call regardless of their location.
Microsoft Modern USB-C Speaker
Equipped with the same intuitive controls as the Modern USB Headset and certified for Microsoft Teams, the new Microsoft Modern USB-C Speaker is your ultimate workday audio companion. It offers high-quality audio for meetings, calls, and casual music listening. It has a powerful speaker driver, dual microphones, and intuitive controls and indicators. The device also has a compact design, with an integrated cord storage that takes up minimal desk space, making it portable enough for wherever you work.
Microsoft Modern Webcam
Studies have shown that meeting participants engage more actively when given the ability to connect visually on camera in the remote workplace. The Microsoft Modern Webcam delivers high-quality, reliable video conferencing to enhance or add to your existing PC setup with an experience certified for Microsoft Teams. It easily attaches to your monitor, laptop, or tripod to provide exceptional 1080p video, HDR, and a 78° field of view optimized for meeting experiences. True Look ensures users also look their best with auto white balance, auto light adjustment, and facial retouch.
The webcam also includes an integrated privacy shutter with LED usage indicator that users can easily open and close, depending on when they want to be on camera.
Availability and Pricing
Surface Laptop 4 and all accessories are generally available from 8 June 2021 via commercial authorised resellers such as SoftwareONE and Maxis; and authorised retailers such as   All IT, Gloo by SNS, Harvey Norman, Lazada-Microsoft Authorised store, PC Image, Senheng, Shopee-Microsoft Authorised store and TMT by Thundermatch.
The device and accessories will be available in the following configurations in Malaysia.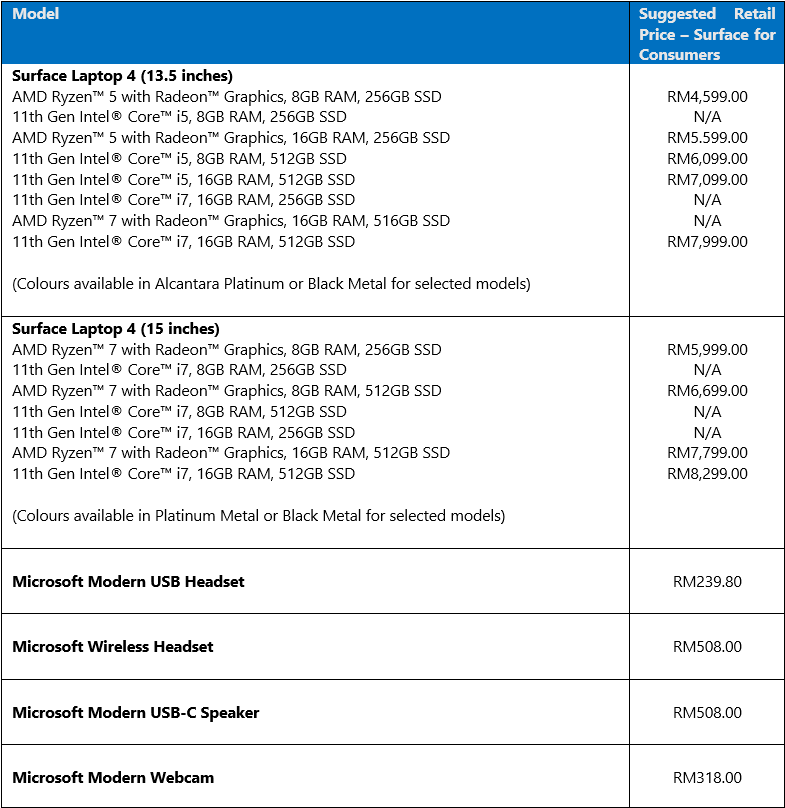 [1] This device does not contain user serviceable parts. Hard drive is only removable by an authorized technician following Microsoft provided instructions.