'66 Potret Malaysia' is a loving tribute to family and country and features award-winning Malaysian photographer Khairul Amin as he reflects on the inspirations behind this heart-warming and patriotic project.
OPPO launches '66 Potret Malaysia' contest and aims to inspire Malaysians with a contest that celebrates, captures, and shares our collective stories of Malaysia through portrait photography.
Kuala Lumpur, 21st August 2023 – As Malaysia soon marks its 66th Independence Day, the nation is gearing up towards three weeks' worth of festivities until Malaysia Day, in celebration of our collective histories, cultures and identities. To commemorate this, OPPO, a global leader in innovative technology, proudly presents "66 Potret Malaysia" – a short film that offers a captivating glimpse into Malaysia's soul through a collection of 66 stunning portraits.
Each portrait, skillfully captured using the OPPO Reno10 Pro+ 5G, captures the essence of Malaysia's diversity in people, culture, and environment through the lens of Malaysian photographer Khairul Amin. "66 Potret Malaysia" presents a touching tribute to Khairul's late mother, whose love and nurture had left an indelible mark on his life, leading him towards his pursuit for photography and pride for the country.
"My mom's love saw no colour – only hearts," said Khairul, as he reflected on his mother's sense of spirit, unity, and respect for others in the places they went and the stories she told.
"Her stories were snapshots, capturing the respect we have for our diversity. These lessons, now memories, shape every frame I take with my OPPO. This Merdeka, each click of my OPPO remembers her. 66 portraits for 66 years, echoing the heartbeat of our land, the people, the diversity she held dear, " said Khairul Amin in the film, '66 Potret Malaysia'.
With Khairul Amin's 66 Portraits of Malaysia, OPPO, in its pursuit of technological innovation for mankind and kindness for the world, hopes to inspire Malaysians to capture and memorialize moments that make us unique as Malaysians.
The OPPO '66 Potret Malaysia' Contest
With the film's release, this Merdeka and Malaysia Day sees OPPO invite all Malaysians to reflect and revel similarly in the spirit of unity and togetherness, by sharing their best Portraits of Malaysia in OPPO's '66 Potret Malaysia' contest.
Taking place between 21st August and 17th September 2023 on social platforms Facebook and X, those interested in participating will first be required to Like & Share the 66 'Potret Malaysia' campaign post on Facebook and X, and submit their portrait photos with the following hashtags in the comment section: #OPPO66PotretMalaysia #66MerdekawithOPPO #TeamPortraitExpert.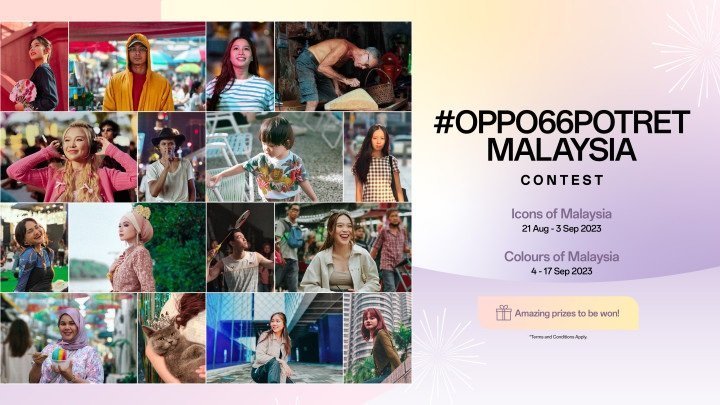 Contest submissions are categorized in two themes: 'Icons of Malaysia' and 'Colours of Malaysia'. The former, 'Icons of Malaysia' invites the public to share stunning portrait photos that feature Malaysia's most iconic, unique, and representative food, places, or items. Submissions that follow this theme will be open from 21st August to 3rd September 2023, and the best photo will win an OPPO Reno10 5G, while 2 eligible participants will be chosen randomly for an OPPO Enco Buds2.
From 4th to 17th September 2023, Malaysians will be invited to submit their portraits in accordance with the 'Colours of Malaysia' theme. During this period, public is invited to share patriotic portraits that feature the colours of the Malaysian flag (yellow, blue, red and white). The best photo will win an OPPO Pad Air (4+64GB); while 2 eligible participants will be chosen randomly for an OPPO Enco Buds2.
Winners of this contest will be announced on 22nd September 2023, on OPPO's Facebook and X pages. 
To know more about the '66 Potret Malaysia' contest, visit  https://www.oppo.com/content/dam/oppo/my/store/event/66PotretMalaysiaContest_tnc.pdf
The Portrait Expert
Need an edge over the competition for the contest? Seek out the Portrait Expert in the all-new OPPO Reno10 Pro+ 5G and its professional-grade camera system.
With a powerful 64MP Telephoto Portrait Camera that boasts the highest megapixels of any smartphone telephoto camera, it gives users the ability to capture crisp and clear portrait photos at 3x optical zoom without pixelation or compression.
Together with its sizeable f/2.5 aperture, 25cm minimum focus distance, and 1/2″ camera sensor, the advanced telephoto camera in the OPPO Reno10 Pro+ 5G offers unparalleled freedom to create and compose that perfect portrait photograph with a simple click.
Say goodbye to battery woes, as the OPPO Reno10 Pro+ 5G boasts 100W SUPERVOOC™ Flash Charge Technology. A 50% charge can be achieved in just nine and half minutes, while a full 100% charge takes just 27 minutes.
The Reno10 Pro+ 5G comes equipped with SUPERVOOC™ S – a tailor-made, singular power management chipset that integrates a variety of charging and battery safety functions. With up to 45% space reduction on the motherboard, and an industry-leading 99.5% battery discharge efficiency, the Reno10 Pro+ ensures that you'll never miss an opportunity to capture memorable and meaningful moments.
Find out more about the OPPO Reno10 Pro+ 5G by visiting www.oppo.com/my/smartphones/series-reno/reno10-pro-plus/.
To watch OPPO's '66 Potret Malaysia' film featuring Khairul Amin, please click here.