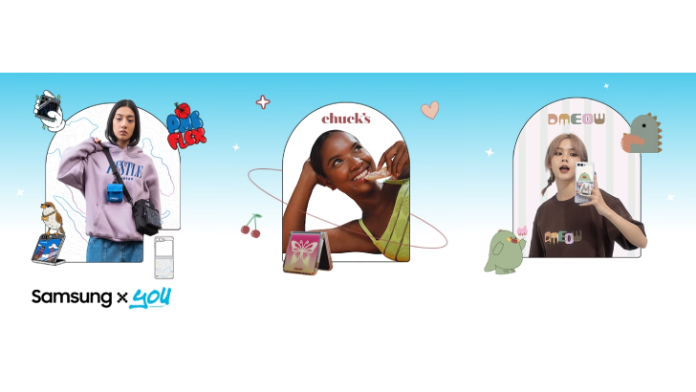 Samsung x You offers new ways for fans in Malaysia to experiment, discover and express themselves and the communities they belong to
Samsung Electronics today unveiled the 'Samsung x You' campaign, highlighting its mission and plans to deliver the best personalized products and experiences for fans across the Southeast Asia and Oceania (SEAO) region. By developing products that allow people to experiment, discover, and express who they are, the campaign seeks to empower users in SEAO to connect with the communities that share and understand what they love with Samsung.
Personalization is a key driver of interest among consumers looking to own a premium smartphone. In particular, 85% of these consumers are likely to stay with a mobile brand that offers a wide range of personalized options[1]. The preference for personalized options is important not only for exterior personalization such as phone accessories and phone colors, but extend also into software aspects such as app icons, widgets and home screen appearances.
To better engage and create resonance with Millennials and Gen Zs in SEAO, Samsung empowers users around the region to personalize their Samsung Galaxy devices to reflect their personalities and unique identities – from colors to accessories, or cover screen to user interface (UI), for products ranging from the Flip5 and Fold5 to the Watch6 and Buds2. With One UI 5 and Good Lock, an app which allows customization of the lockscreen, keyboard, navigation bar and more, users now more than ever have wider options for personalizing their Galaxy devices inside out. The Samsung x You campaign is a culmination of the company's efforts in offering innovative and unique products and experiences that celebrate our users and their individuality.
"At Samsung, we have long been believers of empowering our users to embrace who they truly are and express themselves through our efforts in innovation and design. Through our bespoke services and offerings, our users have the option to personalize their devices' look and feel to how they want it to be. This customization extends to the functional aspects as well through software innovation, bringing out the fun and experiential aspects of the user experience tailored to individual needs," said Sangho Jo, President and CEO of Samsung Electronics, Southeast Asia and Oceania.
He further adds, "The Samsung x You campaign is a natural culmination of our efforts thus far, as part of our ongoing commitment to further solidify Samsung as a driver of personalization in this industry, starting first with our Galaxy devices such as our latest foldables and wearables, and eventually the rest of our product offerings. We are excited for consumers to see and experience our increased focus on personalization in our storefronts and online stores, and through the Samsung x You campaign, be inspired to show the world their unique personalities and find the communities that matter to them."
Samsung x You Across Southeast Asia and Oceania
Samsung x You will be progressively rolled out across all markets in the Southeast Asia and Oceania region, including Australia, Indonesia, Malaysia, New Zealand, the Philippines, Singapore, Thailand, and Vietnam. Consumers can expect a series of hyperlocal campaigns ranging from collaborations with local artists and brands that exemplify the expressions of community pride and belonging, customized accessories that leverage local elements and culture, curated user experiences such as pop-ups for the latest Galaxy devices, as well as in-store Bespoke Studio experiences that let users sticker their favorite products, as well as to purchase Samsung Galaxy devices personalized to suit their unique styles.
The Samsung x You campaign will also see the launch of exclusive The Breakfast Café Accessories Collection in the SEAO region, which features new Samsung original designs. Inspired by the shared love for food in the region, as well as the popular appeal of café hopping and brunch dates among the Millennials and Gen Zs, Samsung has also collaborated with four cult-favorite brands regionally – COMMON GROUNDS, Hellu Coffee, OATSIDE and Ya Kun Kaya Toast – to bring to life breakfast-themed accessories that will transform the latest Galaxy devices into the ultimate brunch companion. These accessories include phone cases, GripToks, Buds Cases, keyrings and more, and will be up for grabs across all markets in the SEAO region through social contests, giveaways and purchase redemptions[2].
Exclusive merchandise giveaways in Malaysia
Customers who purchase the Galaxy Z Flip5 at Samsung Experience Stores at The Gardens Mall from 17 – 19 November 2023 and Pavilion KL from 24 – 26 November 2023 can redeem The Breakfast Cafe accessories[3].
Join our Brunch Date Giveaway on Instagram from 1 – 15 Nov 2023. Those who submit the most creative posts will stand a chance to win a Bread Bundle, OATSIDE Bundle, or Coffee Bundle!
Brunch Date Giveaway
Step 1
Take a photo of your authentic Malaysian breakfast.
Step 2
Samsung will provide an image of the Galaxy Z Flip5 Toast Phone Case with a transparent background to use in your entries. Edit the image into your breakfast photo.
Step 3

Post your photo on IG Feed and hashtag #MYSamsungBreakfast #JoinTheFlipSide #SamsungxYou
Follow and tag @SamsungMalaysia
Set your profile to public
Write your most creative comment on the Brunch Date Giveaway contest posts from today until 15 Nov 2023 and stand a chance to win exclusive collaboration merchandise, Chuck's Bundle[4], Dmeow Bundle[5], or PMC Bundle[6]! There'll be 5x winners for each bundle.
Comment & Win
Step 1
Like and follow @SamsungMalaysia on Instagram
Step 2

Comment on the Brunch Date Giveaway contest posts
Hashtag #JoinTheFlipSide #SamsungxYou #GalaxyZFlip5
Tag 3 friends and tell us what you like about the Galaxy Z Flip5
To learn more about Samsung x You, please find your nearest Samsung Experience Store https://www.samsung.com/my/samsung-experience-store/locations/, or the Samsung Online Store https://www.samsung.com/my/samsung-x-you/
To buy the Galaxy Z Flip5 | Galaxy Z Fold5, go to:
[1] Based on internal research conducted by Samsung's Southeast Asia and Oceania (SEAO) Consumer and Market Insights team in July 2023. Consumers, aged 18 and above, and who indicated that they were intending to purchase a premium mobile in the next six months were surveyed. A total of 1,246 respondents were surveyed from the following markets: Singapore (309 respondents), Indonesia (318 respondents), Thailand (305 respondents) and Vietnam (314 respondents).
[2] Hellu Coffee collaboration accessories are available in Australia, Indonesia, Malaysia, New Zealand, the Philippines, Singapore, Thailand, and Vietnam. Common Grounds, OATSIDE and Ya Kun Kaya Toast collaboration accessories are available in Indonesia, Malaysia, the Philippines, Singapore, Thailand and Vietnam.
[3] On a first come, first served basis. While stocks last. Terms and Conditions apply.
[4] One (1) Galaxy Z Flip5 Phone Case, one (1) compact mirror, and one (1) Lucky Lip.
[5] One (1) Galaxy Z Flip5 Phone Case, one (1) set of pop sockets.
[6] One (1) Galaxy Z Flip5 Phone Case and one (1) phone pouch.