The Samsung Jet™ cordless stick vacuum cleaner Jet 70 easy is powerful, lightweight, and designed to deliver a hygienic solution for your home, every time. Furthermore, the Samsung Jet™ innovative Clean Station™ makes emptying your vacuum's dustbin simple, clean and hassle-free.
Armed with industry-leading suction power and a 5 Layered HEPA filtration system[1], the Jet 70 easy not only keeps your home spotless, but also helps to keep the air dust-free. Read on for an in-depth introduction to each of the leading features of the Samsung Jet 70!
Powerful Filtration
Cleaning one's home is no effortless task, so it is important to have a vacuum that will comprehensively get the job done while keeping fine household dust out of the air of your home.
The Jet 70 easy 5 Layered HEPA filtration system minimizes the dust that escapes back out through the exhaust during cleaning. Firstly, the vacuum's main cyclone separates large dust particles, while the metal mesh grille filter separates smaller particles. The Jet Cyclone and micro filter then catch even finer dust particles, and finally, an ultrafine dust filter traps up to 99.999 percent of micro dust[2], including 0.3~10µm sized particles and allergens that are prone to escaping from traditional vacuums.
Hygienic Dustbin Disposal
Ready to clean out the dustbin? Users can easily remove the device's dustbin and wash it out after emptying to remove any lingering dust. The whole dustbin, including the multi-cyclone system, is fully washable. The internal rotating drum located by the head of the Soft Action Brush is also detachable with just a click for easy maintenance.
150W: Industry-Leading Suction Power
With the Jet 70 easy, you can vacuum worry-free thanks to its Digital Inverter Motor that consistently maintains a high level of energy efficiency to sustain the vacuum's industry-leading suction power of up to 150W[3]. Even towards the end of a charge, the Jet Cyclone's system features nine separate cyclones to minimize the loss of suction.
Long-Lasting Performance
The Jet 70 easy high-capacity battery lasts 40 minutes[4] on a full charge and is replaceable, meaning that with a spare battery, users can take advantage of up to 80 minutes of power for a deep clean.
When it comes to charging, the vacuum's 2-in-1 Charging Station allows you to choose between two options – wall-mounted or free-standing – so you can place it anywhere you like around the house.
Intuitive Design, At A Glance
The Jet 70 easy powerful cleaning solutions all come in a lightweight body weighing in at just 1.48 kilograms[5], ensuring a strain-free cleaning experience.
Want to check how much battery is left, whether there's a blockage or just how the vacuum's brush is faring? One glance at the Samsung Jet's intuitive, integrated digital display will give you all the information you need.
3 Tools for Any Surface
The Jet 70 easy comes with one soft action brush which is optimal for harder floor types and for those hard to reach areas thanks to its woven anti- static silver threads. When moving from floors to furniture, use the Combination Tool to cover large areas and the Long Crevice Tool for small spaces.
No More Fine Dust: the Innovative Clean Station™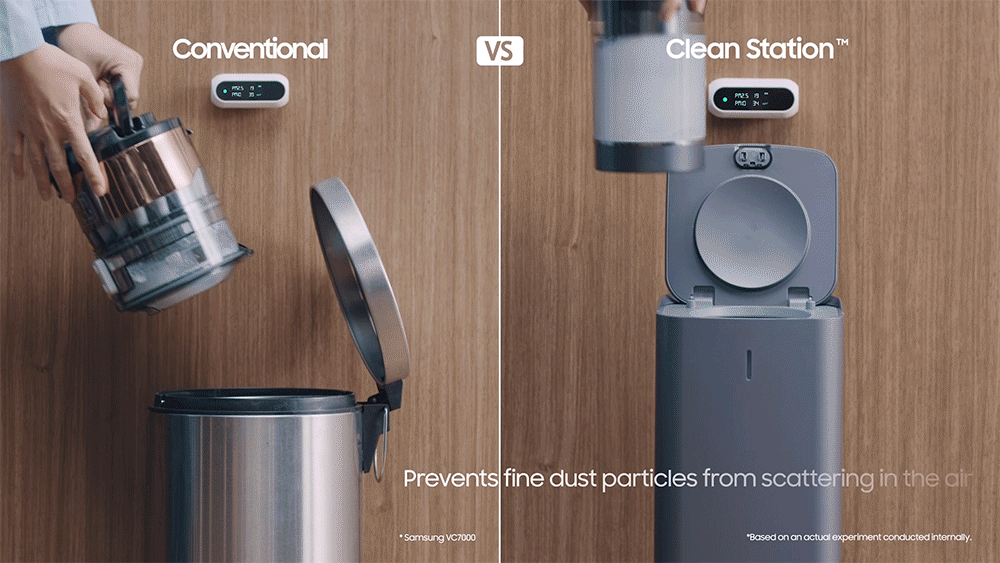 Only available in white in Malaysia*
Tired of breathing in a face full of dust when emptying your vacuum's dustbin? Simply place the dustbin on top of Clean Station™ for a sterile, dust-free finish.
The Clean Station™ features an Anti-Dust Emitting Structure that prevents ultrafine dust from being released back into the air while emptying the dustbin. The vacuum's air-tight design, with its 5 Layered HEPA Filtration System, is 400 times more hygienic than conventional dustbins[6], trapping fine dust particles to keep everyone breathing easy.
The Clean Station™ even features Air Pulse Technology, which regularly oscillates air around the vacuum's bin to remove trapped dust. These stubborn particles are then collected in a 2-liter dust bag inside the device, which only need be replaced once every few months*.
[1]

HEPA filtration system: High Efficiency Particulate Air filtration system
[2]

Based on internal testing, using Max mode, in accordance with the IEC62885-2 Cl. 5.11 standard.
[3]

Based on internal testing of the suction power at the inlet of the non-motorized tool, using Max mode, in accordance with the IEC62885-2 Cl. 5.8 standard.
[4]

The stated run time applies to the minimum power level with a non-motorized tool attached.
[5]

Handheld body weight
[6]

Fine dust emission level tested when emptying the dustbin. Based on PM10 concentration (µg/m3), maximum level compared with the Samsung VC7000. Based on UL tests. Results may vary depending on individual use.
*

Results may vary depending on individual use.