realme Watch 3 features multiple upgrades, including all-day comprehensive health monitoring sensors – priced at RM259, with limited time offer of RM199.00 from 23rd to 25th August
realme launches GT NEO 3T to flagship GT NEO series, unparalleled in speed and performance – priced at RM1,799, with limited time offer of RM1,599.00 from 23rd to 25th August
KUALA LUMPUR, 23 August 2022 – realme, the world's fastest-growing smartphone brand, unveils its latest addition to the GT NEO series, along with an exciting lineup of devices as part of its 4th anniversary celebration in Malaysia. Called the 828 Fans Festival and themed 'Keep it Real', realme is looking to set the benchmark in providing cutting-edge technology to the youth with the latest addition of wearable, realme Watch 3, and the realme GT NEO 3T, made available to realme's Malaysian fans from 23 August 2022 onwards.
realme Watch 3
Built to be the ultimate lifestyle companion, the realme Watch 3 proves itself to be a major improvement from its predecessor, featuring multiple upgrades – for sports enthusiasts, the realme Watch 3 packs powerful sports and activity tracking functions, all on your wrist. With its stylish design that fits easily into your everyday look, the brand's all-new wearable is designed with a 1.8-inch large stunning display, a reflective metallic frame, and a beautifully curved rear cover.
One of the biggest upgrades to the Watch 3 is the Bluetooth calling function, which is largely enhanced by the Dual-Mode Bluetooth Chip and AI Noise Cancellation algorithm to reduce any ambient environmental noise, keeping users connected with an elevated, crisp and clear calling.
As with most smartwatches, the realme Watch 3 features all-day comprehensive health monitoring sensors that bring 24/7 heart rate monitoring, as well as spO2 (or blood oxygen levels) tracking, stress and sleep monitoring. Keeping up with the trend in health and fitness, the Watch 3 boasts support for over 110 sports activities to track your exercise progress. The realme Watch 3 will also be able to provide recommended recovery times based on the user's most recent workout and VO2 max measurement for a better workout efficiency.
Equipped with a 340 mAh battery, expect less charging as the Watch 3 was designed for a longer-lasting (up to 7 days on a full charge), more efficient use. The realme Watch 3 also comes with over 100 watch faces to fit most people's preferences, and is available in both black and grey options.
realme GT NEO 3T
Originally designed to convey the spirit of speed and to motivate users to make breakthroughs in life, realme also drew its inspiration for the GT NEO 3T from race cars, which they believe portray speed, power and beauty.
Inspired by the iconic racing flag, and further adapted to create a design to express the spirit of speed and success, the realme GT NEO 3T was craftly created in two striking colours – Dash Yellow and Shade Black – matching the bold personalities of its users.
For those who like getting things done at a turbo pace, the realme GT NEO 3T provides undefeated performance. Under the striking hood of this magnificent device is the powerful Qualcomm Snapdragon 870 5G chipset, satisfying every type of user in its day-to-day speed and performance. And speaking of speed, the realme GT NEO 3T supports 80W SuperDart charge that is capable of powering your device up to 50% in just 15 minutes. With a robust battery capacity of 5,000 mAh, users are good to get through a full day of usage without having to refuel.
Product Availability
Customers can get their hands on the realme Watch 3 on Malaysia's Official Online Store on Shopee, and realme GT NEO 3T on realme Global Store on Shopee and from 23 – 25 August with limited-time offers.
Additionally, in conjunction with realme's 4th anniversary, realme is offering its fans special offers with its realme 828 Fan Festival Promotions with discounts up to 70% on selected products, only available between 23 – 25 August.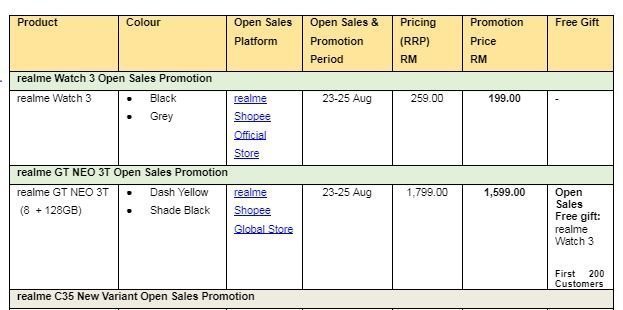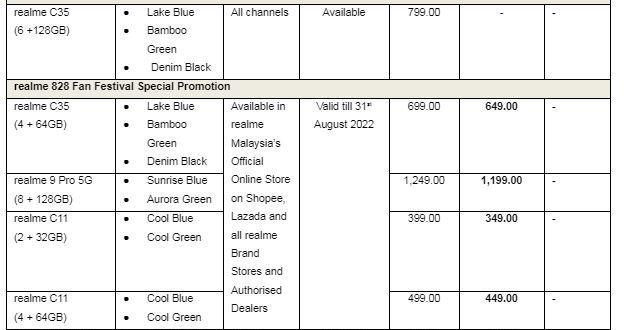 For more information on the realme GT NEO 3T, realme Watch 3 and other available promotions, please visit realme Malaysia's official Facebook Page – https://www.facebook.com/realmeMalaysia/, and don't miss out on the great announcements to be made within the month of August 2022!