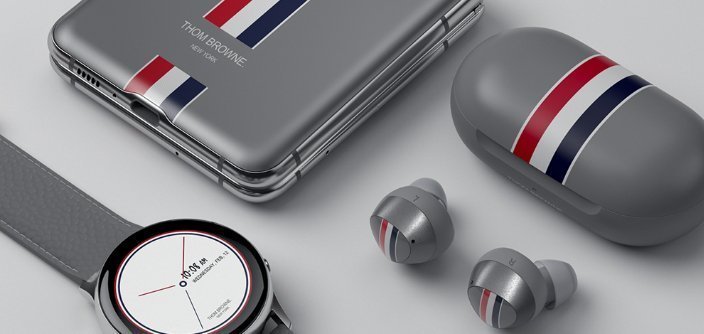 Introducing Galaxy Z Flip Thom Browne Edition – An Exclusive Smartphone Experience with Sartorial Style
 
Samsung Electronics Co., Ltd. and Thom Browne today revealed Galaxy Z Flip Thom Browne Edition, an exclusive collaboration from the leading technology company and iconic New York fashion brand. Galaxy Z Flip Thom Browne Edition draws on Samsung's all new Galaxy Z Flip device and the fashion brand's bold, timeless style to introduce a groundbreaking foldable smartphone experience.
 
"Partnering with Samsung to create Galaxy Z Flip Thom Browne Edition was an incredible opportunity to reimagine how consumers express themselves through their smartphone," said Thom Browne. "We designed Galaxy Z Flip Thom Browne Edition just like I do my collections—with proportion, individuality and aesthetic in mind—to create the perfect blend of art and technology."
 
Galaxy Z Flip Thom Browne Edition was created for those who are not afraid to make a statement—and who want their technology to be as iconic as their wardrobe. It features distinctive Thom Browne signature brand colors on a pebble grey exterior, pulled right from the runway and offering all of the same innovative features as Galaxy Z Flip. To complete the look, the special edition version also comes with custom designed Galaxy Buds+ and Galaxy Watch Active2.
 
"Working with Thom gave us the opportunity to make this stylish device even more covetable, bringing together Samsung's latest technology innovations with Thom's signature aesthetic inspired by his suits —the precision tailoring, the intentional use of materials, the elevated style that is uniquely his own," said Stephanie Choi, Senior Vice President and Head of Global Marketing Team of Mobile Communications Business, Samsung Electronics. "Galaxy Z Flip Thom Browne Edition is a marriage of our shared desire to delight people down to the finest details."
 
 
Signature Style and Design
A grey Thom Browne suit transforms into the sleek Galaxy Z Flip exterior. The limited edition smartphone is the first-of-its-kind to be encased in glass while still having a matte look that is soft to the touch and effortless to hold. Classic longwing brogues take a modern form with a grey pebble leather phone case, featuring the distinctive Thom Browne signature brand colors down the center.
 
And, when unfolded, Galaxy Z Flip Thom Browne Edition reveals even more design details inside. Iconic blinds—a reference to the mid-century office aesthetic at the center of the Thom Browne world — appear onscreen every time the phone is turned on and off. App icons, labeled in classic text, create an elemental Thom Browne uniformity. And sound cues—a typewriter for the keyboard, an analogue ringtone, a shoe tap on a marble floor—create a unique soundtrack for the device. Custom Thom Browne wallpaper ties the entire experience together.
 
Coordinating Wardrobe of Accessories
From the minute they open the box, Galaxy fans are transported to a world of luxury and high style. Like opening a drawer to reveal a cache of treasured items, faille grey folding paper and Thom Browne's signature brand colors create an all new fashion experience. Inside, consumers will find a Galaxy Watch Active2 with a grey leather strap and a Thom Browne custom watchface that lets you personalize your wellness with style. And for a complete connected look, Galaxy Z Flip Thom Browne Edition is finished off with Galaxy Buds+ in matching grey for a cohesive and connected experience on the go, as well as a specially designed leather phone case infused with Thom Browne's iconic style.
 
A limited quantity of Galaxy Z Flip Thom Browne Edition devices will be available in select markets*. Pre-orders for the device will begin Feb. 14 on Samsung.com and Thombrowne.com, as well as at NET-A-PORTER and MR PORTER. The official launch will be in March*.
 
For more information, please visit www.thombrowne.com, news.samsung.com/galaxy, www.samsungmobilepress.com or www.samsung.com/galaxy.
 
 
About Thom Browne
Thom Browne is widely recognized for challenging and modernizing today's uniform: the suit. By questioning traditional proportions, Browne's designs consistently convey a true American sensibility rooted in quality craftsmanship and precise tailoring. In 2001, Browne began his business with five suits in a small "by appointment" shop in New York City's West Village and, in the years following, expanded his business to include complete ready-to-wear and accessories collections for both men (2003) and women (2011). Browne has also become known for his highly conceptual runway presentations which have gained global attention for their thought provoking and dramatic themes and settings. The brand is currently offered in over 300 leading department store and specialty boutique doors across 40 countries and through 31 directly operated flagship stores in New York, London, Milan, Tokyo, Hong Kong, Beijing, Shanghai and Seoul.
 
* The Galaxy Z Flip Thom Browne Edition is not available in Malaysia market

** All descriptions provided herein may be different from Malaysia market