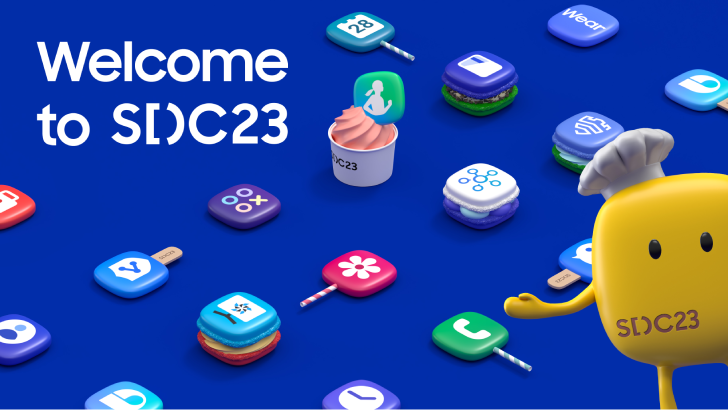 Participants who register to attend will have access to keynotes on future technologies as well as hands-on experiences
Samsung Electronics Co., Ltd. today announced that it will host the Samsung Developer Conference 2023 (SDC23) at the Moscone Center in San Francisco on October 5.
The annual conference will mark the ninth SDC since being first held in 2013. Unlike last year, when it was only possible for invited participants to attend, anyone can attend SDC23 with prior registration.
At SDC23, Samsung will highlight platform innovation including SmartThings, Bixby, Knox and Tizen. This focus will illustrate ways Samsung's various business areas and devices are expanding seamless customer experiences. In addition, the company will share its cooperation plan and open innovation strategies with developers and partners to build next generation connected experiences for millions around the world.
JH Han, Vice Chairman, CEO and Head of Device eXperience (DX) Division at Samsung Electronics, will open SDC23 with a keynote that outlines the company's vision based on tech innovation and expansion of customer experience. This technology enables a more personalized and secure customer experience with the help of platform innovation and a strengthened ecosystem. He will be joined by other Samsung executives who will share the company's strategies in areas relating to future technologies. The list of speakers includes:
Jaeyeon Jung, EVP, SmartThings Team
Hobum Kwon, VP, Platform Team, Samsung Research
Bongjun Ko, EVP, Application S/W R&D Group, Visual Display Business
Sally Hyesoon Jung, VP, Framework R&D Group, Mobile eXperience Business
Hon Pak, VP, Digital Health Team, Mobile eXperience Business, and more
Beyond the keynote address, SDC23 will feature breakout sessions open for attendees to have opportunities to collaborate and learn more about Samsung's latest developer-focused platforms and tools, including One UI 6, SmartThings, Matter, Bixby, Tizen, Samsung Health and more.
In addition, some sessions will be held in the 'Open Theater' where participants can talk about various topics on the spot, while participants who are interested in coding can participate in actual coding through 'Code Lab' and receive mentoring from Samsung developers on various topics.
The keynote and major sessions will be livestreamed through Samsung YouTube and Samsung Developer sites at the time of the event.
For more information about the Samsung Developer Conference 2023, please visit http://developer.samsung.com/sdc. Further information can also be found on Twitter (@samsung_dev) and Facebook (@samsungdev) with the hashtag #SDC23.