Fuelling motivation to fly past favourite workouts with Samsung Health's holistic health insights and enhanced Workout Modes.
Samsung Malaysia Electronics hosted its first ever spinning fitness event at FlyProject, Publika to offer Galaxy Watch5 Series experiential opportunities and showcase its cutting-edge fitness features to FlyProject members. Together with FlyProject's Rockstar Spin Instructors, Jojo Tan and Jaz Izwan, Samsung fuels the fitness experience by demonstrating holistic health monitoring on Samsung Health, and workout performance tracking on Galaxy Watch5 Series.
The main fitness features highlighted included the Body Composition monitoring, fitness targets setting, 90+ Workout Modes support, and the fully connected watch-phone experience, as these are the key metrics that fitness aficionados look for. Galaxy Watch5 consumers at the event were surprised and delighted by new hands-on experiences in obtaining body composition data in just 15 seconds at their fingertips, as well as tracking their spinning ("Indoor Cycling") workout performance with detailed analysis including heart rate zones, calories burned, sweat loss, recovery and more.
Gan Jun Keat, the Product Manager of Galaxy Wearables at Samsung Electronics Malaysia said "the Galaxy Watch5 Series was designed to provide a comprehensive and personalised wellness experience to help users stay healthy and engaged – with its wide range of end-to-end metrics, including advanced sleep coaching, body composition measurement, and in-depth heart rate monitoring to assess fitness and stress levels."
"Following the intense spinning session, the Workout Mode on the Galaxy Watch5 Series will share detailed results of your indoor spinning performance, including calories burned, workout time, and heart rate zone analysis. The heart rate zone analyses the effectiveness of your workout based on your heart rate. For instance, Aerobic (70% to 80% of your maximum heart rate) is the ideal zone for weight loss as the total calories burnt is higher, making it great for burning fat, strengthening muscles and general fitness!" he added.
The successful event drew an enthusiastic crowd of 40 participants. Among the highlights of the event was a talk session by Jun Keat, Product Manager of Galaxy Wearables, who shared the innovative features of the Samsung Galaxy Watch5 series and an exciting, intense spinning session with fitness experts and spin instructors, Jojo Tan and Jaz.
Highlights from Galaxy Watch5 X FlyProject event:
Participants of the Event Shared Their Thoughts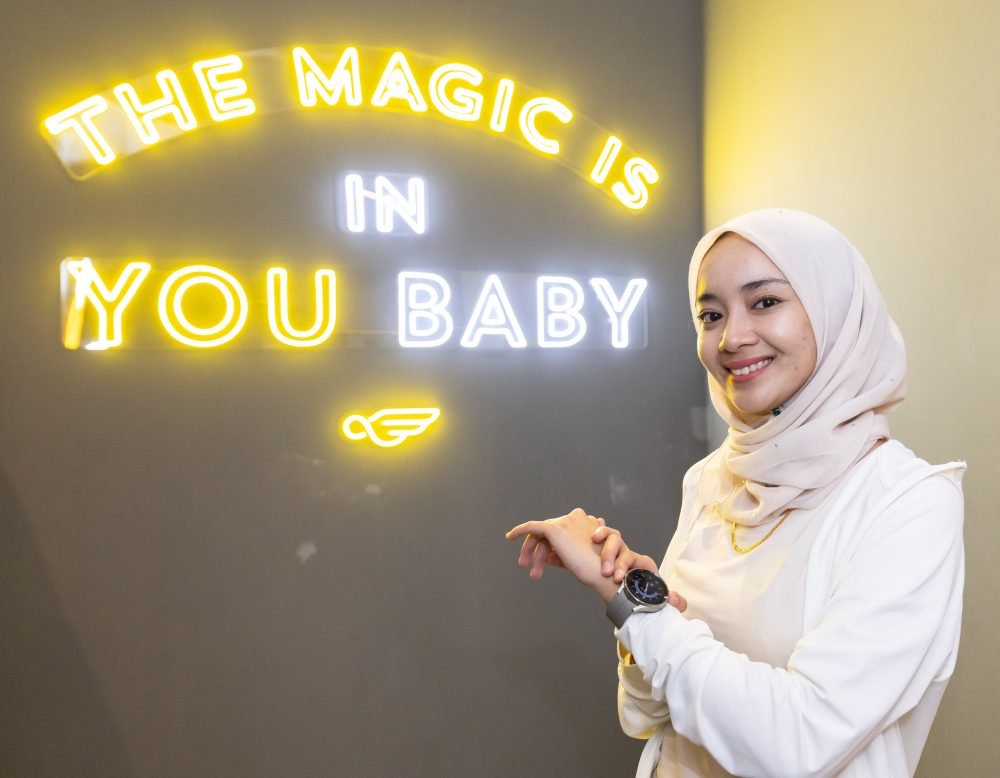 "With the Galaxy Watch5, I feel it is rather easy to track my body composition, calories burned, and spin performance. The Galaxy Watch5 has a really sleek design and comes in various sizes, with my preference being 40mm, which I consider is the ideal size for me." – Amirah
"Speaking from the perspective of someone who is into tech, this Galaxy Watch5 Pro is so comfortable. It has improved tremendously in terms of apps and technology, as compared to the version I had a while ago, the Galaxy Watch Active2. This Galaxy Watch5 Pro has the perfect size for men and fits me very well. I was smitten by it, especially because it was black (Graphite). My favourite feature is the workout mode, which allows me to specifically monitor my indoor spinning session just with a few taps." – Jaz
"It's my first time using the Galaxy smartwatch, and I appreciate how it displays different heart rate zones, especially the "Aerobic Zone" during my workout. I can easily know the durations I spend on each zones right after my workout mode ends and assess my stamina. That's the most significant feature I noticed," – Bovi
"Galaxy Watch5 is amazing! It's incredibly fashionable and lightweight. It tracks everything. I really like it! The design of the watch caught my attention the most. It looks so sleek! I like round watches better than square watches. I'm a big fitness fan, and workout a lot, so this is a must-have watch for me!" – Bella