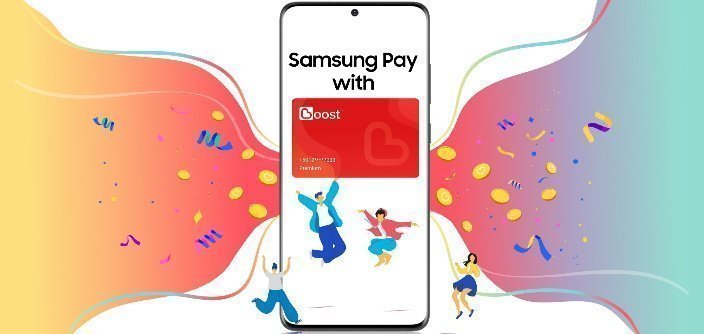 Samsung Pay integrates with Boost e-wallet for seamless and secure cashless payments.
Samsung Malaysia Electronics is celebrating Samsung Pay's third anniversary by developing and enhancing users' mobile payment experiences. Today, Samsung Pay's partnership with Axiata Digital eCode Sdn Bhd's Boost e-wallet enables Samsung Galaxy devices[1] to access convenient cashless payments from one single app, Samsung Pay.
This integration with Boost, Malaysia's leading lifestyle e-wallet, powers Samsung Pay users to easily conduct cashless payments with cash merchants and small business owners even without having a physical credit, debit, or prepaid card. Samsung Pay now adds even more features such as loyalty cards and e-wallet services, allowing for straightforward digital transactions with businesses operating in night markets, food trucks, bazaars and more – so get working on that wish list because this is as real as it gets!
This all-in-one mobile payment platform also enables safe and secure cashless transactions for young users and students who do not use card payments. Just by scanning the QR code, customers with Premium Wallet can also easily share bills using Samsung Pay when using Boost's functionality for peer-to-peer money transfers in the app. Moreover, top up can be made with any Visa, Mastercard, AMEX cards or even through online banking all within a single Samsung Pay app – now isn't that a breeze?
"At Samsung, we continuously strive to deliver the best experiences to our customers," said Yoonsoo Kim, President of Samsung Malaysia Electronics. "We are thrilled to be partnering with Boost, one of the top e-wallet providers in Malaysia with over 7.4 million users, to offer Samsung Pay users a richer mobile wallet experience. This partnership advances our commitment to providing customers with a more convenient payment experience that is simple, secure and available almost anywhere."
Hail to Samsung's Near-Field Communication (NFC) and patented Magnetic Secure Transmission (MST) technology, Samsung Pay is a widely accepted mobile payment platform that is simple, secure and works almost anywhere  just by swiping and tapping your Galaxy device, from flagship models to most of the Samsung Galaxy A series and selected wearables[2] on any contactless payment terminal.
Samsung Pay users can enjoy a peace of mind with Samsung Knox, digital tokenization and biometric authentication to ensure secure payments without adding risk to physical cards. Additionally, customers will also benefit from an array of deals and rewards such as Samsung Reward Points and Boost Coins when they transact with Boost QR payment within the Samsung Pay app.
"Boost is excited to be the first and exclusive e-wallet to partner Samsung Pay who shares our aspiration to see digital payments become part of our everyday lifestyle. Since 2017, Boost has been pushing the boundaries of digital payments by pioneering many industry firsts, giving Malaysians more reasons to go cashless. With 160,000 Boosted merchants and counting nationwide, we are committed to providing everyone with a simple, seamless and secure digital payment experience for users as well as merchants. As a Samsung Pay user for over a year, I am personally excited to be able to link my two most used payment methods – Boost and Samsung Pay – to handle all my transactions," said Mohd Khairil Abdullah, CEO of Boost.
Simple, Secure and Almost Anywhere
Samsung is making it easier to go cashless – and as simple as do-re-mi. All it takes is a single swipe up to launch Samsung Pay app with Boost e-wallet "card", even with locked home screen.
Samsung Pay users simply need to register or link their Boost account to Samsung Pay to start paying with Boost e-wallet. The steps detailed below:
Step 1: Install Samsung Pay and sign in to your Samsung Account
Step 2: Register your fingerprint or iris and create a 4-digit PIN to secure your payment
Step 3: Add Boost QR card by registering for a new account or link your existing Boost account
Step 4: Add money with credit/debit cards or via online banking. Upgrade to Premium wallet for higher limit.
Step 5: Scan QR to launch your camera to scan QR code for payment
Step 6: Show your QR code and authenticate with fingerprint or Boost PIN to make payment or receive money
Samsung Pay x Boost QR Payment Launch Promotion
Promotion
Details
Stand a chance to win Samsung devices and more
·       Join the promotion in Samsung Pay app and complete the Contest question before transacting.

·       Each Contestant can submit one (1) answer only throughout the Contest Period.

·       Contestant will be awarded with a random Ten (10) digits unique code in the form of voucher upon completing the required number of QR payment transactions in Samsung Pay app (excluding top-up, refund and peer-to-peer transfer).

·       A minimum spend of RM5 for each QR payment transaction is required.

·       Every five (5) QR payment transactions will receive one (1) voucher with unique code as entry.

·       Contestant can complete as many QR payment transactions to gain more entry voucher(s) throughout the Contest Period.

·       Contestants will be shortlisted based on the unique code and best answer for the Contest question.

·       Shortlisted contestant will need to submit proof of QR payment transaction history in Samsung Pay app.

·       Only unique codes with minimum spend of RM5 for each QR payment transaction (excluding refunds) will qualify as prize winners.

·       Each Contestant is entitled to win one (1) Prize only in the Contest.

 

Details
Prize
Qty
Grand Prize
Galaxy Fold (512GB)
1
2nd  Prize
Galaxy S20 (128GB)
5
3rd Prize
Galaxy Tab S5e (64GB)
5
4th Prize
Galaxy A51 (128GB)
10
Special Prize
Galaxy Buds
20
Consolation Prize

(42nd – 2041th Prize)

500 Samsung Rewards Points

Expiry: Six (6) months from date issued

2,000

 

·       Prizes are given out on an "As Is" basis and are non-transferable, non-refundable, non-exchangeable for cash or with vouchers of other denominations, whether in part or in full.

·       Promotion period: 21 May – 30 June 2020

·       Download and activate Samsung Pay app for further details.

 
*Terms and conditions apply
[1]

Samsung Galaxy devices includes Galaxy Fold, Galaxy Z Flip, Galaxy S and Note series. Galaxy A71, Galaxy A51, Galaxy A50s, Galaxy A30s, Galaxy A80, Galaxy A9 2018, Galaxy A9 Pro, Galaxy A8 Star, Galaxy A8 | A8+, Galaxy A7 2018, Galaxy A7 2016 & 2017 and Galaxy A5 2016 & 2017
[2]

Wearables incudes Gear S3, Gear Sport, Galaxy Watch, Galaxy Watch Active, Galaxy Watch Active 2
*Only NFC, without MST
** QR Payment supported across all devices except for wearables.