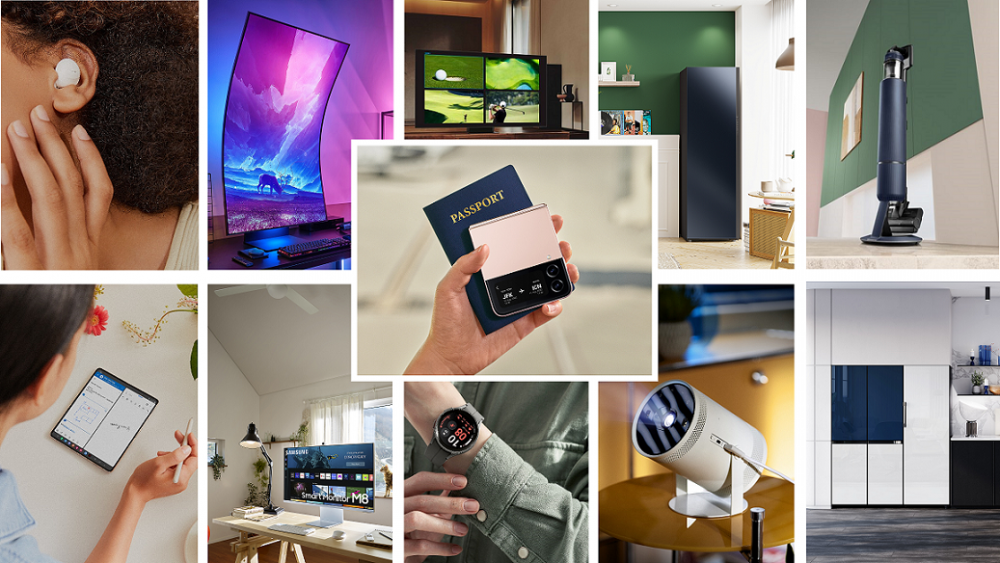 This holiday season, pamper your loved ones (and yourself) with Samsung's latest and greatest tech toys to help you get a head start on achieving your life goals and dreams in 2023.
From customizable digital appliances and immersive digital displays to the latest mobile devices from Samsung, there is something for everyone to achieve more in the year ahead.
For jetsetters
Eyeing that perfect getaway or know a jetsetter already planning their next few holidays? Check out the perfect travel companions that add ease and color for every sojourn!
With its upgraded camera equipped with a 65% brighter sensor[1], Samsung's new Galaxy Z Flip4 will help capture every holiday moment from high-quality selfies to easy-to-take videos on its Cover Screen. For the fashionable traveler, the Galaxy Z Flip4 can complement every travel outfit in Bora Purple, Graphite, Pink Gold and Blue[2] or help you truly live life your way with the expanded Galaxy Z Flip4 Bespoke Edition's 75 combinations of glass colors and frame options[3].
The Retail Recommended Price for Galaxy Z Flip4 starts from RM4,099 to RM4,499.
Samsung's Galaxy Buds2 Pro is yet another perfect gift to sink into the rhythm of your ideal getaways. Watching movies on-the-go does not get any better than when using the Buds2 Pro's Intelligent 360 Audio with enhanced head tracking which syncs audio with every body movement[4]. Equipped with Active Noise Cancellation that eliminates even soft sounds like wind[5], these affordable earphones are bound to elevate one's music-listening experience even through the drone of your long-haul flight's airplane engines.
The Retail Recommended Price for Galaxy Buds2 Pro is RM899.
For gaming contenders and home entertainment enthusiasts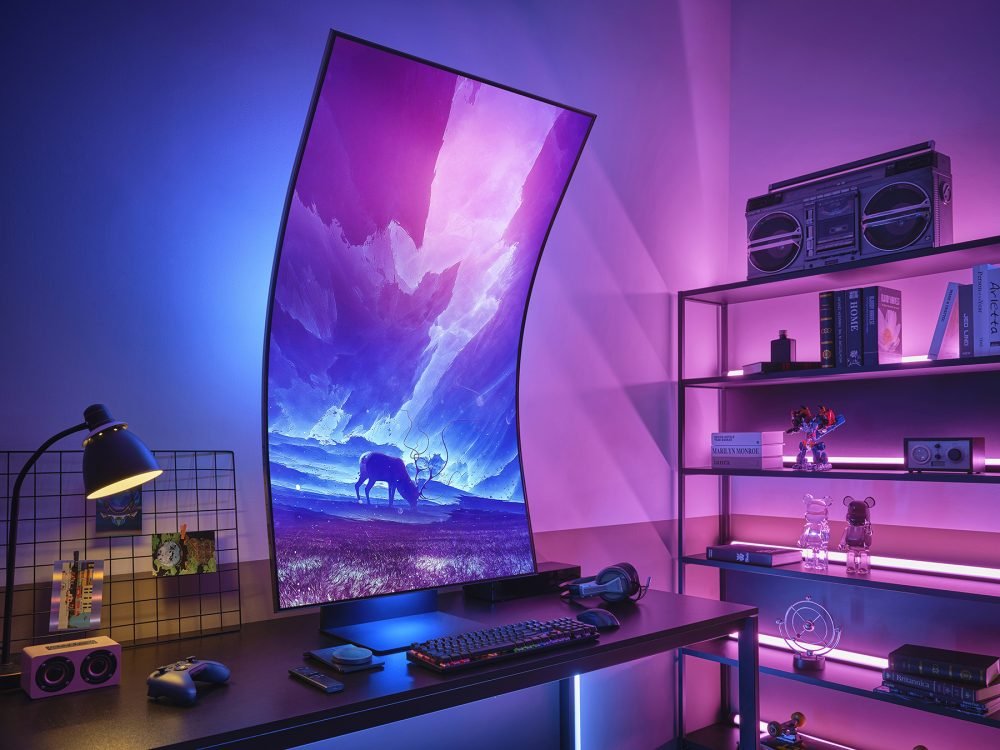 If you know a loved one who is leveling up his or her gaming skills, the Odyssey Ark monitor is the perfect gift. As the world's first 55-inch 1000R curved gaming screen, the Odyssey Ark provides you a completely new form factor to enjoy in-game graphics down to the finest pixel.
The huge rotatable display also enables the fastest reaction times with its 165Hz refresh rate and 1ms response time (GtG)[6]. It comes with the Ark Dial, an exclusive controller which helps gamers navigate to the Game Bar[7] and review in-game statistics without getting distracted.
The Retail Recommended Price for Odyssey Ark is RM13,999.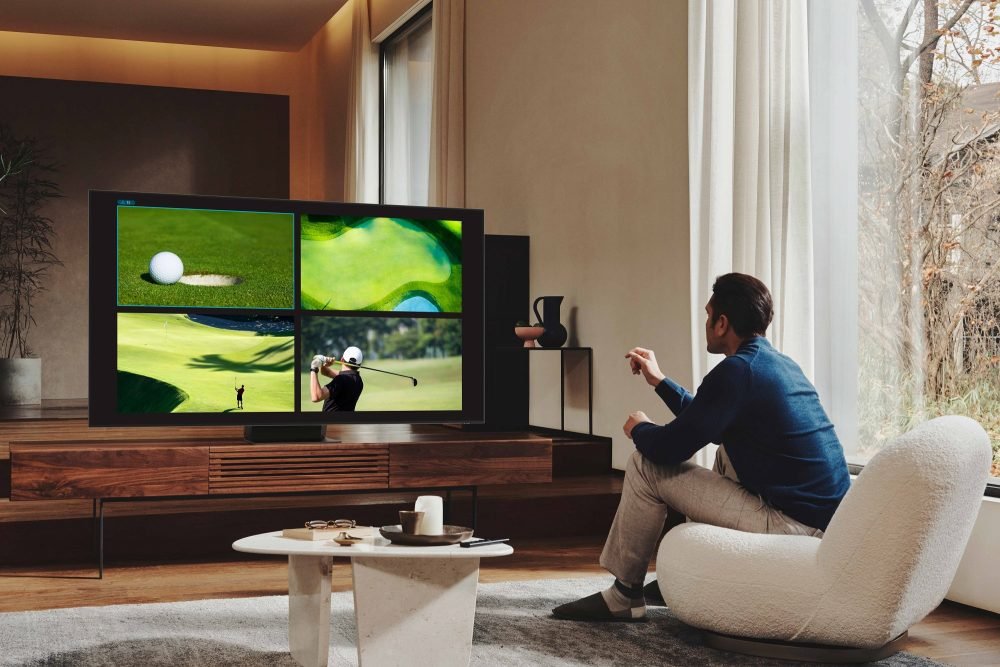 Nothing beats watching the latest blockbuster movie in the comfort of your home. The Samsung Neo QLED 8K is the ultimate gift for movie and TV buffs alike with its ultrafine contrast in 8K quality with immense depth and sharpness provided by the upscaling technology of the Neural Quantum Processor 8K[8]. Watch content displayed to your liking with the Auto Rotating Stand or Wall Mount[9], that allows you to rotate the TV horizontally and vertically as you switch from viewing the latest movies to trending social media videos.
The Retail Recommended Price for Samsung Neo QLED 8K starts from RM12,499 to RM49,999.
For new homeowners 
Have a special someone who's about to own a home for the first time? Functional and efficient gifts can help them or even yourself, ring in the new year with confidence.
Give the gift of clean clothes with minimal laundry care, with Samsung's Bespoke AirDresser. Equipped with JetSteam to eliminate 99.9% of bacteria and viruses[10] and Deodorizing filter to effectively remove common odors[11], the Bespoke AirDresser is a handy addition to any homemaker's arsenal.
The Retail Recommended Price for Bespoke AirDresser is RM8,799.
For those who are still working remotely and spending more time at home, you might want to pick up the Bespoke Jet™ Cordless Stick Vacuum to step up your cleaning routine. After using its 210W suction power[12] and a lightweight design to clean your space quickly, the All-in-one Clean Station™ grants you an integrated and hassle-free way to store, charge and empty[13] the Bespoke Jet™ before your next clean up.
The Retail Recommended Price for Bespoke Jet™ Cordless Stick Vacuum is RM3,899.
For aspiring high performers
2023 might be your year to conquer every resolution – from productivity to health goals – and Samsung's smartphones, displays and wearable devices have got you covered.
The new Galaxy Z Fold4 is a multi-tasking powerhouse that's perfect for high performers. Get PC-like functionality with its Taskbar[14] and simple swipe gestures[15] to instantly switch full-screen apps to pop-up windows or split your screen in half. Unfold your way to better writing, note-taking, and drawing experiences with the S Pen[16], which can be carried with the upgraded Standing Cover[17] as a compact addition to your Galaxy Z Fold4.
The Retail Recommended Price for Galaxy Z Fold4 starts from RM6,799 to RM8,299.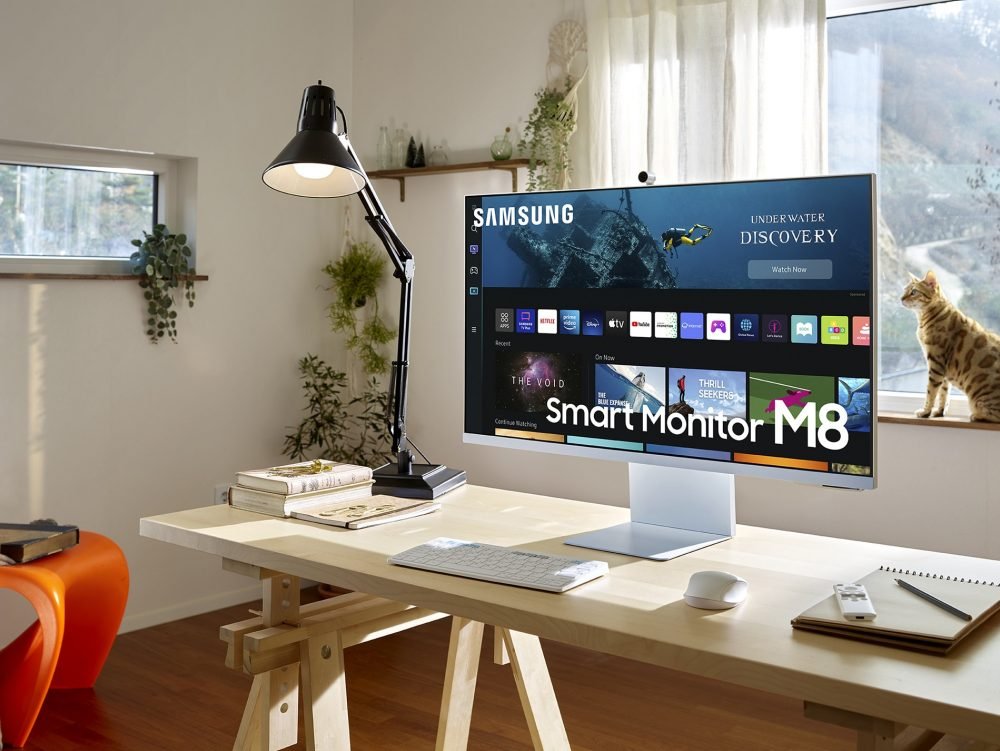 Do you know of a loved one who needs a better monitor at home for more seamless work and play? The Smart Monitor M8 enables you to watch, play and live in style with its new Workmode[18] that allows you to remotely access another PC and even connect to Samsung mobile devices with Samsung DeX[19] for seamless working. Master hybrid working with its SlimFit camera's tilt functionality that helps you look your best in every meeting.
The Retail Recommended Price for Smart Monitor M8 is RM3,488.
Prioritizing your health while being busy is no easy task, but it can be achieved with the latest Galaxy Watch5 Series. Samsung's new smart watch features comprehensive health metrics, including sleep monitoring[20] and body composition measurement[21], alongside a cutting-edge BioActive sensor technology[22] to monitor your heart rate, blood oxygen and even your stress levels in-depth.
The Retail Recommended Price for Galaxy Watch5 Series is RM1,199.
For party planners
Finally, who does not love a good home party? These gift ideas are perfect for livewires and party planners!
Build your own home theatre powered by Samsung's portable yet powerful Freestyle, which can be placed anywhere with its 180˚ Dynamic Angle, while projecting screens from 30 inches up to an incredible 100 inches. Host your friends and family to an immersive audio experience from wherever they're sitting, thanks to the Freestyle's omni-directional sound, powered by its 360-degree speaker.
The Retail Recommended Price for The Freestyle is RM4,999.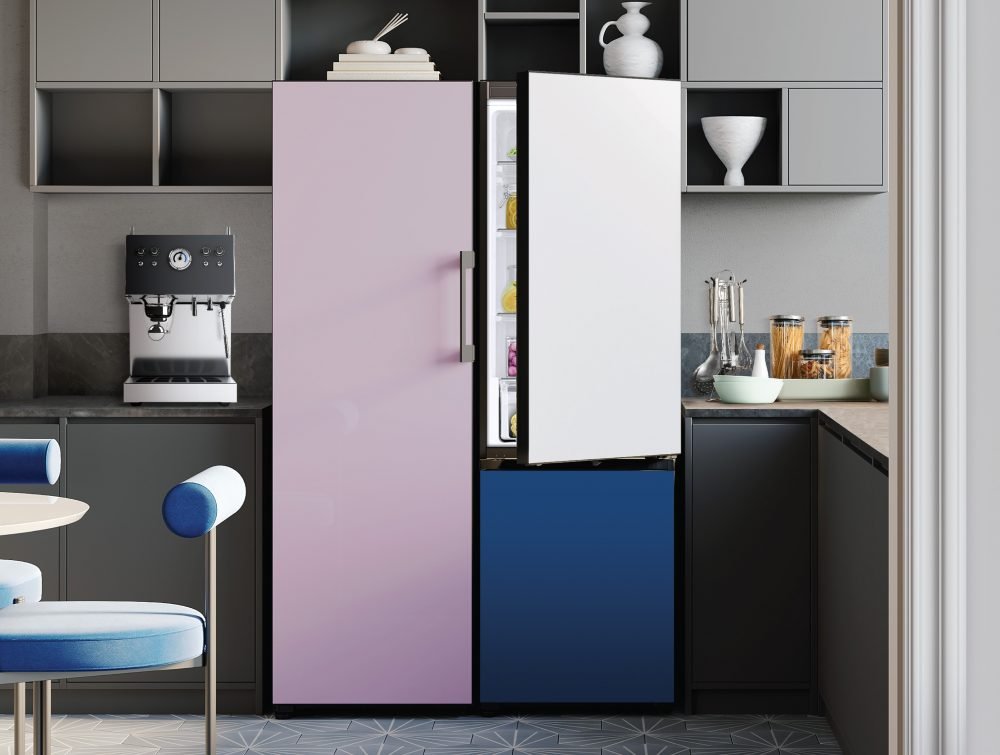 You can't host a party without food and drinks. From cooling down beverages to storing food and desserts, the Bespoke Refrigerator combines form and function to elevate every hosting experience. Tailor your fridge to host gatherings with the seamless integration of multiple refrigeration modules. From a 1-Door Fridge or Bottom Mount Freezer choose and combine the best configuration of modules to make your day-to-day refrigerator ready for any occasion. Finally, you can customize the Bespoke Refrigerator with different colors and finishes[23] to add life to any kitchen and party.
The Retail Recommended Price for Bespoke Refrigerator 1-Door and Bottom Mount Freezer (BMF) is RM5,499 each.
[1] Compared to Galaxy Z Flip3 5G.
[2] Available colors may vary by market, carrier and retailer.
[3] Customers can choose frame options of Black, Silver, or Gold and front and back colors of Yellow, White, Navy, Khaki or Red.
[4] Available only on Samsung Galaxy smartphones and tablets with Android One UI version 3.1 or later. 360 Audio and head tracking support may vary depending on the application and content. Enhanced head tracking and Direct Multi-channel is supported with Android One UI version 4.1.1 or later.
[5] Requires Voice Detect function to be turned on under settings on the Galaxy Wearable application.
[6] Gray to Gray. A unit of measurement of pixel speed. Used to measure the response time of gaming monitors.
[7] Game Bar supports PC & console gaming but does not support the Samsung Gaming Hub.
[8] Viewing experience may vary according to types of content and format. Upscaling may not apply to PC connection and Game Mode.
[9] The Auto Rotating Stand and the Auto Rotating Wall Mount are sold separately. Please refer to the product detail page of the Auto Rotating Stand and the Auto Rotating Wall Mount to check for compatibility.
[10] Based on testing by Intertek: 1) Eliminates 99.9% of viruses, including Influenza B, Norovirus (Murine Norovirus), Rhinovirus (Human Rhinovirus), Hepatitis A (Human hepatitis A), Rotavirus (Porcine Rotavirus) and enterovirus (Porcine enterovirus). 2) Eliminates 99.9% of bacteria such as Staphylococcus aureus, E. coli, MRSA, Streptococcus pneumoniae, Legionella pneumophilia, Pseudomonas aeruginosa, klebsiella pneumoniae, Corynebacterium diphtheriae, and Enterococcus faecalis. 3) Kills 100% of house dust mites. Based on testing by Korea University, College of Pharmacy: Eliminates 99.9% of viruses, including Influenza A, Coronavirus (Porcine epidemic diarrhea virus (PEDV)), Adenovirus (Infectious canine hepatitis), and Herpes (Infectious Bovine Rhinotracheitis).
[11] Based on testing by Intertek: Eliminates 99% of Iso-Valeric acid: sweat, 4-Ethenyl pyridine: tobacco, Valeraldehyde: roasting meat, and Tetrachloroethylene: dry cleaning. Testing for Iso-Valeric acid and 4-Ethenyl pyridine based on KS K0891 Standard. Results may vary depending on the actual usage conditions.
[12] Suction tested based on the IEC62885-2 Cl. 5.8 standard, tested at the inlet of the non-motorised tool, using Jet mode. Based on SLG Prüf- und Zertifizierungs GmbH tests
[13] Results may vary depending on individual use. Dust and hair stuck inside the grille may not be removed with a single cycle.
[14] Taskbar feature supported on the main screen only.
[15] Requires activation of Labs in Settings.
[16] S Pen sold separately. Only Z Fold4 Main Screen has S Pen capability. Compatible only with the S Pen Fold Edition and S Pen Pro. All other S Pens or stylus pens not designed for Z Fold4(including those by other manufacturers) may damage the screen.
[17] S Pen Fold Edition is included in the Standing Cover with Pen case. Accessories sold separately.
[18] Windows 10 Pro, Mac OS 10.5, or higher, and compatible network settings are required for this feature.
[19] Wireless DeX supported on selected Galaxy, Note, and Tab devices.
[20] Sleep features are intended for general wellness and fitness purposes only. Not intended for use in detection, diagnosis, treatment of any medical condition or sleep disorder. The measurements are for your personal reference only. Please consult a medical professional for advice.
[21] Intended for general wellness and fitness purposes only. Not intended for use in detection, diagnosis, treatment, monitoring or management of any medical condition or disease. Any health-related information accessed through the device and/or application should not be treated as medical advice. Users should seek any medical advice from a physician. Do not measure your body composition if you have an implanted pacemaker or other implanted medical devices. Do not measure your body composition if you are pregnant. Measurement results may not be accurate if you are under 20 years old.
[22] These features are intended for general wellness and fitness purposes only. Not intended for use in detection, diagnosis, or treatment of any medical condition or disease. Availability of these features may vary by market or device. Requires Galaxy smartphone with Android 8.0 or later, 1.5GB RAM or more and the latest version of the Samsung Health app (version 6.22 or later).
[23] Materials include Satin Glass and Glam Glass. Door colour options include Satin Gray, Satin Sky Blue, Glam Navy, Glam Pink, Glam White, Clean Peach and Clean Vanilla. More colours may be available later. Panel colour availability for each model varies by region.