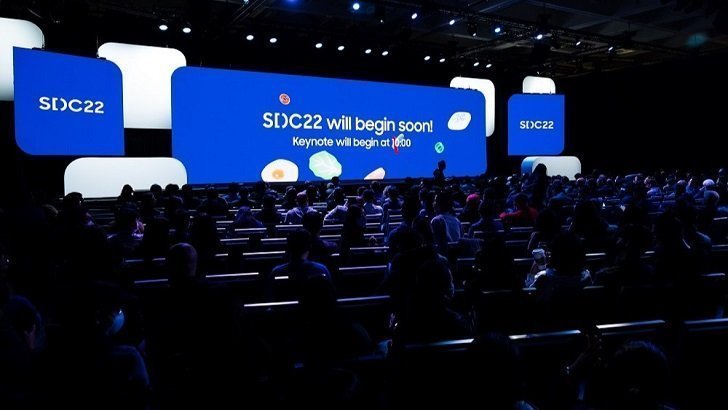 This month in San Francisco, the 2022 Samsung Developer Conference (SDC) spotlighted some of Samsung's best and brightest minds across tech, marketing and product fields, sharing a compelling vision of the future, showcasing the transformational technologies that will improve consumers' daily lives and give users more time to focus on what matters most.
With opening remarks from Jong-Hee Han, Vice Chairman, CEO and Head of Device Experience (DX) Division at Samsung Electronics, the presentations revealed how Samsung is crafting systems that help make lives smarter, safer, more convenient and more connected than ever before.
Read on to see Samsung Newsroom's recap of the innovation and inspiration revolutionizing how we live and work both now and in the future.
Opening: A Seamless, Frictionless Experience
Jong-Hee Han opened up the day's talks by underscoring the importance of convenience in an age of brilliant yet complex technologies. "At Samsung, our goal has always been to make our lives easier through technology innovation," said Han. "But innovation can also be burdensome for users if convenience is not at the forefront. Our teams are determined to deliver devices that are as smooth and accessible as they are advanced."
Covering everything from Calm Technology to Knox Matrix to holistic household platforms like Bixby Home Studio and SmartThings, Han outlined a device and systems ecosystem that puts the user experience at the center. "The goal of all this is to give you an easier, seamless and more frictionless experience," Han emphasized. "So you can focus on what matters most."
A Home That Learns and Adapts Through SmartThings
Following Jong-Hee Han, Jaeyeon Jung, Vice President and Head of SmartThings, Mobile eXperience Business, discussed how Covid-19 galvanized teams at Samsung to prioritize the important things in life, particularly in the home. "If you're like me, the past few years have been a time to prioritize what matters, to find moments to pause and refresh," said Jung.
Samsung's SmartThings platform, Jung explained, is the perfect way to do this in your home. Thanks to a wide range of improvements to the household ecosystem platform, finding, setting up, onboarding and synchronizing new devices into your household will be easier and more efficient than ever. This includes Galaxy Quick Pair, Matter Hub connectivity, SmartThings Energy and SmartThings Music Sync, as well as boosted integration with partner systems and an expanded SmartThings website.
Matter: A Truly Harmonious Household Experience
At the end of her talk, Jung introduced Matthew McCullough from Google, who provided an overview of Matter, a system that lays the groundwork for true interoperability between devices in the home. Samsung is committed to Matter integration, and confident it will make the dream of a fully integrated household a reality.
By working closely together, Samsung and Google aim to make life for both users and device makers simpler and smoother, with multi-admin features that cut down on manual management and make Google Home and Nest Hub more accessible. "This ease of use across Samsung and Google is just the start, and we're looking forward to delivering a more seamless, delightful home experience," said McCullough.
Industry Collaboration Making Device Ecosystems More Open
Continuing with the theme of interoperability, Mark Benson, Head of SmartThings U.S., emphasized Samsung's commitment to supporting Matter. "To accelerate Matter adoption, we created the SmartThings Matter Early Access Program, where we work with major device manufacturers to ensure their Matter-enabled devices work seamlessly with SmartThings," said Benson.
The SmartThings app, SmartThings Hub Core and SmartThings Cloud, Benson pointed out, are already prepared to support Matter. "It's all about delivering interoperability right out of the box," he said.
The Expanding Role of Bixby
Anil Yadav, Head of Bixby Lab at Samsung Research1 America, took to the stage to discuss SmartThings' bespoke speech platform and de facto voice in the home, including its exciting new feature: Bixby Home Studio. "With Bixby Home Studio, you can create experiences that span multiple devices and respond more intuitively to user commands," said Yadav. "For example, if you ask Bixby to turn on your air conditioner, Bixby can check if you have any windows open and let you know to close them, saving energy."
Ready to do everything from queuing up your next action movie on your Samsung Smart TV to boosting your mobile security with On-Device AI, Bixby is smarter and more powerful than ever.
Premium Security and Privacy for an Integrated Household
Samsung envisions more than just a convenient and integrated home experience. Its teams are also creating an experience that is as safe as it is smooth, as private as it is proactive. After Yadav's Bixby talk, Shin Baik, Principal Engineer of Security Team, Mobile eXperience Business, discussed with the audience how top-notch innovations need top-notch security to go with them. Unwavering in its three security and privacy principles — transparency, choice and protection — Samsung has worked hard to develop platforms like Samsung Knox. This will keep everything from your phone to your refrigerator safe and secure, said Baik.
A new platform called Knox Matrix, in particular, is now on the frontline of multi-device protection. "Knox Matrix is your own private blockchain," Baik explained. "Multiple devices share credentials, turning the ecosystem of devices into a shield that protects everyone."
In step with these developments, of course, is Samsung's insistence on a customizable privacy experience, which is provided by Samsung's comprehensive Security and privacy dashboard. "We believe that you — and only you — should be making decisions about how your information is managed and stored," said Baik.
A More Vibrant Content Ecosystem Than Ever
Sang Kim, Senior Vice President and Head of Product & Marketing at Samsung Electronics America, shared important insights on Samsung's extensive media network, covering a range of recent successes.
Samsung Gaming Hub, launched in June, is an all-in-one gaming solution that, thanks to partnerships with industry leaders like Xbox, lets players connect their controllers to Samsung TVs and access all the games they love without even needing a console or PC.
Samsung TV Plus, the FAST streaming TV and video platform that relaunched this summer, now reaches 24 countries and 465 million devices globally. It is projected to clock in an impressive three billion hours streamed by users by the end of 2022.
Thanks to broad reach, smooth monetization integration and an advertising environment optimized for both clients and users, Samsung streaming also offers an ideal platform for premium advertising.
"Today, Fortune 500 companies from around the world have leveraged Samsung TV Plus and our other advanced TV advertising solutions to reach valuable consumers," Kim said.
Tizen's Global Conquest
Following Sang Kim, Yongjae Kim, Executive Vice President and Deputy Head of R&D Team, Visual Display Business, took to the stage to talk about Tizen, Samsung's open source, Linux-backed operating system. Kim took the audience through a huge variety of developments in the Tizen journey, which is growing its capabilities to an ever-wider spectrum of uses and applications.
Leveraging partnerships with gaming leaders like Xbox, NVIDIA and Utomik, Tizen is helping bring a truly consolidated, uninterrupted gaming experience to users with Samsung Gaming Hub, with fantastic performance and image quality, Kim explained. It delivers stunning visual displays and blockchain wallet integration to Samsung TVs for better at-home art experiences, while also helping Smart Hub deliver the best in content searches and recommendations. Tizen Enterprise, meanwhile, is boosting B2B partners' display and signage options, while Tizen Everywhere aims to expand licensing and bring the system to more countries.
"Since its launch ten years ago, Tizen now powers more than 330 million TVs, refrigerators and other smart devices," said Kim. "At Samsung, we will continue to create Tizen experiences that transform and go beyond what many thought possible."
One UI 5 and the "Your Galaxy, Your Way" Philosophy
Next up was Sally Hyesoon Jeong, Vice President of Framework R&D Group, Mobile eXperience Business, whose theme for the day was the company's latest leap forward in the UI experience: One UI 5.
"On this stage three years ago, I shared our vision for One UI, the essence of the Galaxy experience," Jeong began. "One UI truly captures the 'Your Galaxy, Your Way' philosophy by bringing users an intuitive, connected experience that is uniquely yours."
Splitting the new UI update's advancements into three areas — Personalization, Productivity and Possibility — Jeong shared a host of new and improved features. Personalization included deep customization enhancements, like Dynamic Lockscreen for smartphones, Watch Face Studio for Galaxy Watches and custom-built Modes and Routines, while health and security functions are also more adaptable than ever. The Productivity section included Bixby Text Call, improved phone-to-PC connectivity and multitasking upgrades like Taskbar improvements. Possibilities covered One UI 5's integration with innovative Samsung Foldable devices and related functions like Flex Mode.
A Look Over the Horizon: Robotics and Health in Tomorrow's Homes
The final talk before the wrap-up was from Sebastian Seung, President and Head of Samsung Research. While many of the day's talks focused on recent improvements, Seung has his eye on the innovations of tomorrow, aiming for no less than the merging of the physical and digital worlds.
"I'd like to invite you to look over the horizon, to a future dreamed of but not yet realized," said Seung, who divided his presentation between the future of robotics in the home and Samsung's ambitions to contribute to health & wellness research.
In the home robotics field, Seung discussed the company's continued success with a household supported by advanced, AI-enhanced devices, including the object-detecting JetBot AI+ vacuum, the Bot Handy chore assistant prototype and even future plans for Samsung's latest robot arm manipulation code, which will soon be available on GitHub.
Moving on to the subject of health, Seung introduced Samsung Health Stack, an open source project from Samsung that aims to actively advance health & wellness research. "This is a full stack SDK, a mobile app for patients, a portal for researchers and a backend database," said Seung. "A complete package of open-source tools designed for the easy creation of digital systems for the research of health and wellness."
Closing: Building a More Sustainable Future With Samsung
To round off the talks, Jong-Hee Han returned to the stage to offer a final word, summarizing the technologies showcased at SDC and the course of the company's future of innovation.
"I would like to talk about the future one more time," he added. "The future of something very dear to my heart: our planet. I believe we have a responsibility to help create a sustainable future. We do that through Everyday Sustainability, a belief that every stage of the product lifecycle can be more sustainable."
Han presented a range of Samsung sustainability commitments and environmental research directions, including responsible material sourcing, recycling, disposal, renewable energy and billions in investments toward meeting carbon emissions reductions.
"By 2027, we will run all DX operations on renewable energy," Han said, ending the day on an optimistic note and a glimpse of a future for customers that is easier, more seamless, more frictionless and — crucially — more eco-conscious.
Watch the video below to see the complete recording of the SDC22 Keynote.
[1] Samsung Research, acting as Samsung Electronics' advanced R&D hub, leads the development of future technologies for the company's Device eXperience (DX) Division.