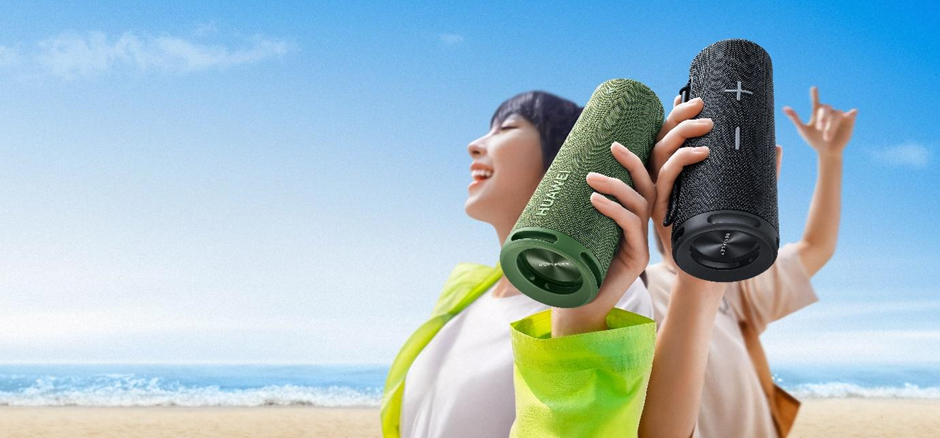 Get two (2) HUAWEI Sound Joy at Bundle Price of RM999 from 6 June to 30 June
KUALA LUMPUR, 3 June 2022 – If your plans for this year involve lounging outdoors, picnicking at the park, or just chilling with friends at home, why not make things more relaxing with the help of a portable Bluetooth speaker?
HUAWEI Malaysia recently released a brand-new portable speaker that intersects great sounds and aesthetic design, the HUAWEI Sound Joy. Co-engineered with French audio technology company Devialet, the HUAWEI Sound Joy will be the life of your party. Leveraging on Devialet SAM technology, it is a compact, stylish, and portable speaker designed for everyday use, while delivering incredible convenience and premium audio experience with minimal distortion for consumers wherever they go.
Bring Your Music With You
We all know that the stereos on smartphone and Bluetooth speakers are built differently to accommodate different needs. Whether you are out hiking, sunbathing on the beach, or just chilling with friends, all the situations where you want to bring the music and energy outside, HUAWEI Sound Joy is great for both indoor and outdoor occasions.
If you are a HUAWEI smartphone user, the HUAWEI Sound Joy supports One-Touch Transfer1 . When your HUAWEI smartphone is playing songs, you can tap your phone against the HUAWEI Sound Joy and the songs will be seamlessly transferred and played on the speaker for a more enjoyable listening experience.
Your Ideal Outdoor Music Partner
The brand-new woven fabric design even offers IP67 rated dust and water resistance2 and an anti-slip surface, making it tough and durable across scenarios. With a large-capacity built-in 8,800 mAh battery supporting up to 26 hours of play time3 and fast charging support4 , the HUAWEI Sound Joy is the ideal speaker that will bring life to any outdoor party.
Measures 202mm high and weighs 680g with a diameter of 73mm, similar to a size of a water bottle, Sound Joy adopts a two-way speaker system that can deliver high-frequencies and deep bass at a high volume. It also has one tweeter and a speaker dedicated for mids and lows. The combined set of speakers and the Devialet Sam technology provide more authentic audio experiences, while minimizing distortion to enjoy a more stunning listening experience even you are outdoors having a party.
So Maybe, Two Is Better Than One
Supporting a range of HUAWEI and Devialet technologies, HUAWEI Sound Joy is not only powerful, but it also seamlessly works in concert with other HUAWEI products, allowing users to enjoy their music no matter they're in a room or having a party outdoors.
Shake Stereo Link Up5 feature allows two HUAWEI Sound Joy to form a stereo system for even more exciting audio experience, especially when you are camping on an island. HUAWEI Watch Control6 lets you pause, skip songs and adjust volume when you are playing games away from the speaker. You can also activate the Voice Assistant feature.7 Once enabled, you can feel free to ask HUAWEI Sound Joy to call a contact or check the local weather for you.
The speaker comes in two attractive colours – Graphite Black and Spruce Green. Priced at RM 699, the HUAEWEI Sound Joy is available nationwide from 6 June 2022 onwards on HUAWEI Office Website, HUAWEI Experience Stores, authorised platforms, and retail stores. To make it better, consumers can get two HUAWEI Sound Joy at RM999 (RRP: RM1,398) until 30th June 2022.*