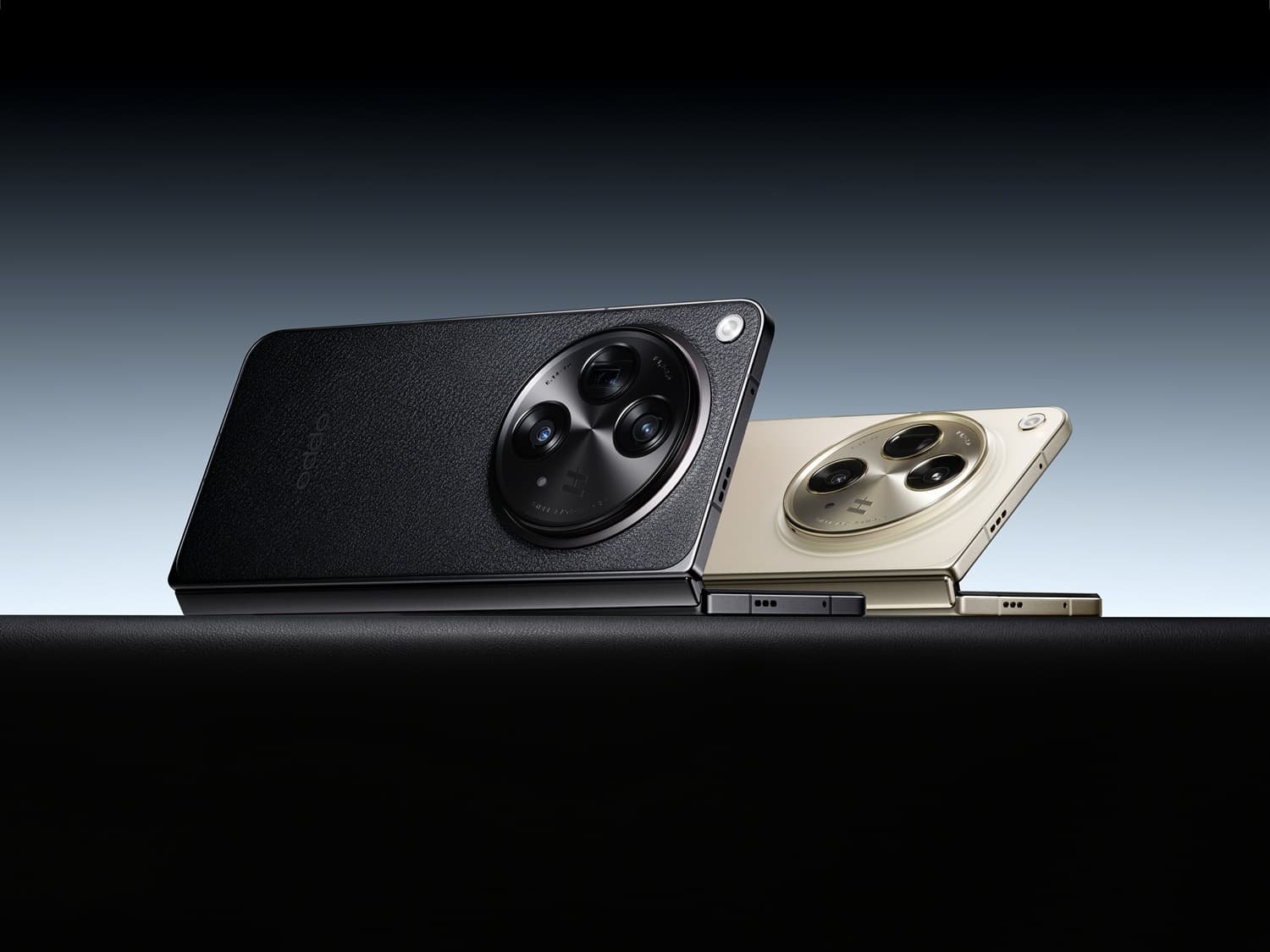 Kuala Lumpur, 15 November 2023 – Technological advancements continue to drive digital
revolutions in work and life, and as a result, more communications, discussions, and
transactions are happening digitally and virtually. As a result, these days, the demand of work requires people to be flexible, mobile, connected, and adaptable, wherever they may be.
Laptops and tablets are the default choice for working professionals, but they can be
inconvenient for working on-the-go. On the other hand, smartphones, while perfectly sized
and great for communication, are limited by their screen sizes, making viewing documents,
responding to lengthy emails, and editing content that little bit less convenient.
Foldable smartphones offer a wonderful balance between size and accessibility, but its novelty is slightly undermined by its compromised features, such as cameras and battery power.
The Digital Professional's Dream Companion
The OPPO Find N3 proves that such compromises need not exist. Meticulously designed and
engineered to break the ceiling for foldable smartphones, the Find N3 seeks to realise the
potential of foldable smartphones as the ultimate productivity device. Thin, light, powerful, and with a virtually crease-free screen, the Find N3 can enable PC-level productivity in a relatively small form factor.
Displays That Elevate Your Productivity
The OPPO Find N3 elevates the experience of book-style foldables, building on the comforts
and innovations from previous generations of the Find N.
Access just about anything through OPPO Find N3's front display and its 6.3-inch AMOLED
screen. With a familiar 20:9 aspect ratio when folded, these features make the Find N3 feel
familiar to your everyday brick-shaped phone, being perfectly sized, and comfortable to use
with one hand or two. Whether you're browsing, messaging, or gaming, the front display
enables access to any application, and features Dolby Vision, HDR10+ and a peak brightness of 2800 nits, ensuring that you'll be able to see and do anything, even on the sunniest of days.
Unfold the Find N3 and treat yourself to a far more comfortable viewing and multitasking
experience for modern professionals. Virtually crease-free, flat-folding and sturdy, the Find
N3's inner screen effectively doubles the front screen's potentials, measuring in at a generous 7.8 inches and a 2240×2268 resolution, and mesmerizing with class-leading peak brightness of 2800 nits and pixel density of 426PPI.
With such amazing screen features comes sharp imaging, and incredible color accuracy and
consistency produced in any environment that will surely be appreciated by professionals and content creators needing to capture and make edits on-the-go. Additionally, with a 120Hz Refresh Rate, and HDR10+ included, creative professionals can experience the full fidelity of any video – whether it's reviewing, editing, or streaming content.
ColorOS 13.2: UI Built for Foldables
Backing the OPPO Find N3's impressive displays is its masterfully tailored foldable UI,
enabling PC-level productivity at the palm of your hand. With OPPO's new ColorOS13.2, the
Find N3 allows you to concurrently navigate across up to three full-screen apps, making
multitasking on smartphones not only possible, but comfortable to do so.
Anchoring the Find N3's unfolded experience is the new Global Taskbar, which lives at the
bottom of the screen, and instantly appears when the foldable is opened. Hosting up to four recently used apps, it enables you to jump between any of them at an instant. Furthermore, the Global Taskbar turbo-charges multi-tasking, giving instant access to the App Library and File Pocket, transforming the way you view and manage photos and documents.
The App Library displays all your device apps, so you can easily drag one into view for either split screen uses or Boundless View. On the other hand, File Pocket pulls into view a visual illustration of your recently used files, images, and clipboard items so you can drag them into an active app.
Boundless View
The true extent of Find N3's PC-level multi-tasking power is unlocked with Boundless View,
providing a peering virtual window into multiple apps through the screen of the Find N3. Say goodbye to cramped single-screen multitasking with Boundless View, and flow effortlessly across two full-screen apps on the main 7.8" display.

Traditional split screen multi-tasking can be useful, but sometimes, just that little bit of extra room is needed to comfortably navigate multiple large documents, fill and compare forms, or search through hundreds of photos. Find N3's Boundless View unlocks full-screen multi-tasking, enabling drag and drop functions across one app to another.
Furthermore, Boundless View can display three split-screen apps side-by-side with one app
displayed off-screen for easy tapping into view. Each appears as it would on a traditional, tall smartphone, making the view perfect for multi-tasking across three social media apps
optimised for vertical displays.
15" Boundless View takes three-app multi-tasking to another level, displaying each in a
full-screen, 7.8" view. Navigate across them seamlessly – excellent for large documents, web pages, video conferencing and so much more – and enjoy a totally new way of working on the go.
The Largest Battery of any Foldable, with the Fastest Charging
Another useful feature of the Find N3 is the sheer size of its battery. When you're using the phone for every stage of content creation – communicating, scripting, capturing, editing, and publishing – a powerful smartphone with fast charging and plenty of power is absolutely necessary.
The Find N3 Flip goes the distance with its 4800mAh battery and ColorOS 13.2's latest power management features. A full workday is easily completed under full load, without having to plug it in to a power bank or a charger. Furthermore, should you need an extra charge, with its 67W SUPERVOOC charger, a short 10-minute charge keeps you on your feet, resulting in up to a 35% increase in battery charge.
The OPPO Find N3 is packed with great features and performance that will enhance a digital
professional's workflow and be able achieve PC level productivity without any comprises on
the go!
Those who are interested to get their hands on the OPPO Find N3 it is now available for
purchase at all OPPO Brand Stores, as well as online on platforms such as Lazada and
Shopee. The Find N3 is available in two stunningly gorgeous colours – Champagne Gold and
Classic Black, at the price of RM7,999.
OPPO Trade-In Campaign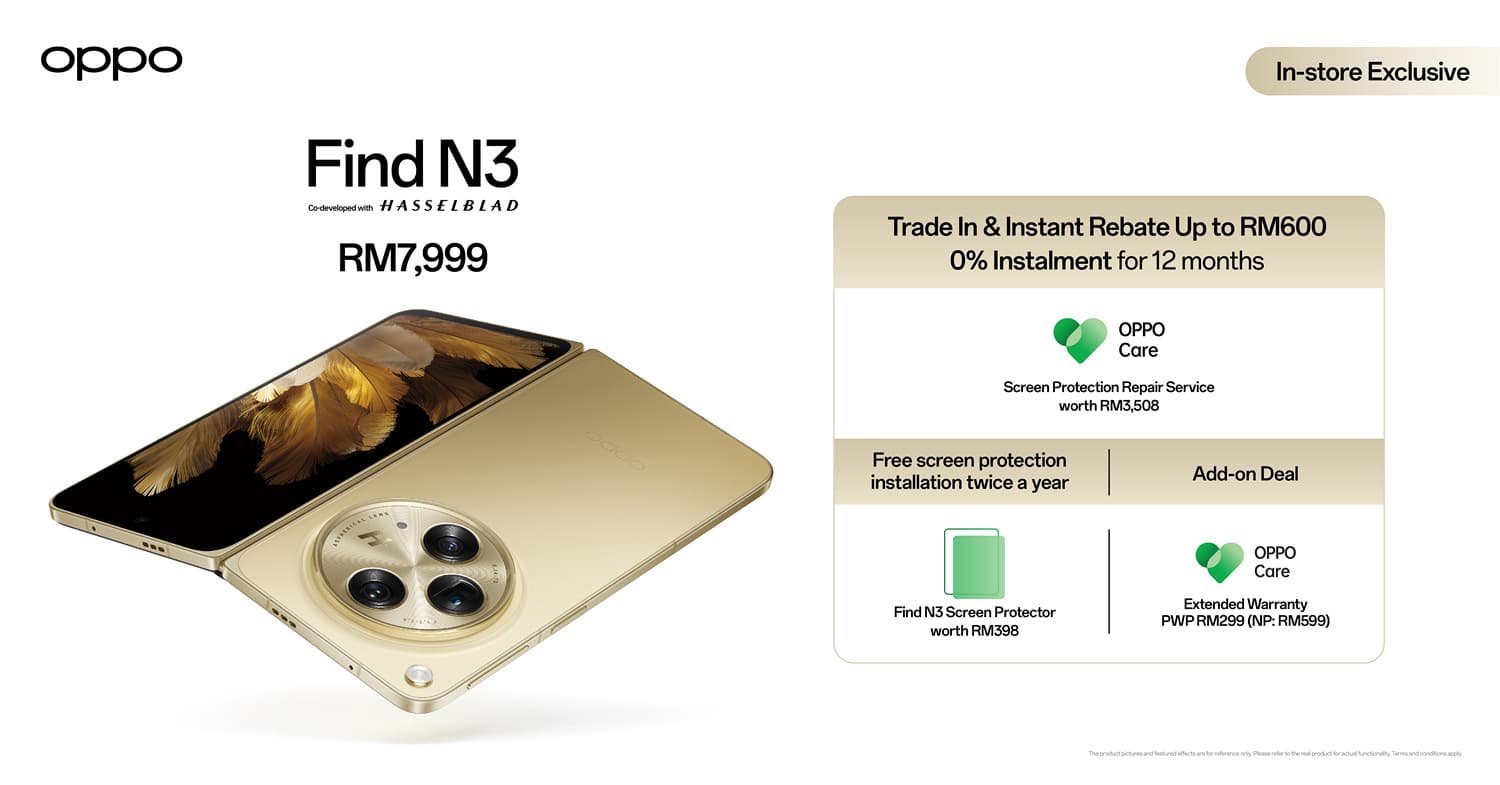 OPPO's latest trade-in campaign enables you to get your hands on the stunning OPPO Find
N3 at a great price! Available at any OPPO Brand Store in Malaysia, trade in your smartphone at an agreed value, and receive up to RM600 instant rebate on the purchase of OPPO Find N3.
The campaign runs between 6th November and 30th November, or while promotional stocks last. For more information about the trade-in campaign, please visit any OPPO Brand Store in Malaysia or click here.
For more information about OPPO Find N3, kindly visit https://www.oppo.com/my/smartphones/series-find-n/find-n3/.