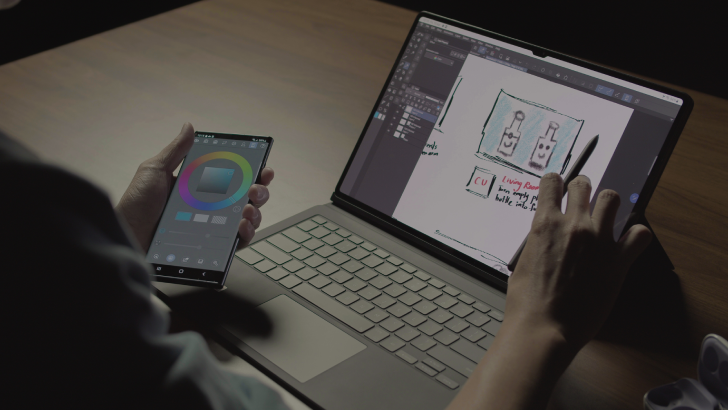 Imagining stories and putting together videos is a favourite pastime for Wong Ing Wei, also known as Ren Wei. When he's not busy at work as a primary school teacher, Ren Wei loves to craft storyboards, and create videos and content on various topics. His go-to tool is his Galaxy Tab S8 Ultra that lets him expand his creativity and boost his productivity.
An epic canvas needs an epic palette, and this is evident with the Galaxy Tab S8 Ultra. Using the Companion mode feature, the Clip Studio Paint app on the tablet can be connected to the Galaxy S22 Ultra so he can make the most the Galaxy ecosystem. The Galaxy S22 Ultra becomes his palette to select colours and brushes while his Galaxy Tab S8 Ultra serves as his digital canvas.
"Clip Studio Paint gives me a natural and smooth sketching experience, especially for planning storyboards. I can adjust the pen pressure and stabilization settings to draw smooth and natural lines. I can even gesture with the S Pen to gain quick access and switch between tools while sketching," said Ren Wei.
One advantage Ren Wei enjoys with the Galaxy Tab S8 Ultra is the intuitive ecosystem that he experiences when paired with his other Galaxy devices.
"With the Galaxy's open ecosystem I can experience seamless connectivity with my Galaxy Tab S8 Ultra, Galaxy S22 Ultra, Galaxy Watch4 and Galaxy Buds2. If I'm watching a movie on the Galaxy Tab S8 Ultra with my Galaxy Buds2 and I receive a call, the Auto Switch feature will connect to my phone to allow me to answer the call with my Buds and after ending the call, my movie will resume. I no longer need to fumble around with buttons or apps on my devices," said Ren Wei.
The Galaxy Tab S8 Ultra has been a boon for Ren Wei for work and play, letting him experience both to the fullest. When inspiration strikes for his next video, he uses Samsung Notes to jot down ideas and insert photographs to develop a mood board.
For his class, he uses the Tab to set up online discussions with his student's parents. The 120-degree Ultra-wide angle front camera lets his students' parents refer to reports in the background and he can hear them clearly with the Quad Speakers with Dolby Atmos®. The Tab's large screen also helps him with video editing.
"The Galaxy Tab S8 Ultra 4K recording capabilities lets me capture sharp and clear videos with both the rear camera and ultra-wide front camera. It's 14.6-inch Super AMOLED display makes it easy for me to split the screen into multiple resizable windows. Along with its 120Hz refresh rate and quad speakers' cinematic sound quality, I feel like I am editing videos in a studio," said Ren Wei.
Whether Ren Wei wants to push his artistic capabilities further or multitask with ease, the Galaxy Tab S8 Ultra has him supported with its unbeatable performance.
For more details on how the Galaxy Tab S8 Ultra lets you push your creative side, see: https://www.samsung.com/my/tablets/galaxy-tab-s/galaxy-tab-s8-ultra-wifi-graphite-256gb-sm-x900nzajxme/
To watch Ren Wei's video, see: https://r1.community.samsung.com/t5/tablets/samsung-galaxy-tab-s8-ultra-perfect-companion-for-productivity/td-p/16697970