With freebies worth up to RM3,300[1] including the all-new HUAWEI Sound X worth RM1,299[2](first come first served) [3]
HUAWEI is giving Malaysians the opportunity to upgrade their smartphone experience by leaping further ahead with the latest intelligent technologies
KUALA LUMPUR, 7 December 2020: The wait is (finally) over! Malaysians can now kick-start the 2020 year-end celebration with the arrival of the all-rounder smartphone, the HUAWEI Mate40 Pro! Set to arrive at Malaysian shores on 12 December 2020, customers also stand a chance to receive exclusive gifts and freebies worth up to RM3,300!
The HUAWEI Mate40 Pro is the latest line-up of revolutionary flagship smartphones that empower users to leap further ahead. Showcasing the pinnacle of HUAWEI technology, the new Series reinforces HUAWEI's dedication to innovation and its unrelenting determination to create the best Mate ever.
Priced at RM4,299, customers can head over to the nearest HUAWEI Experience Store (HES) or check out HUAWEI Store to get a first-hand look (or feel) of the HUAWEI Mate40 Pro in all its enchanting Mystic Silver glory starting from 12 December onwards.
To add on to the amazing smartphone customers will get, with every purchase of a HUAWEI Mate40 Pro, customers stand to receive amazing gifts and freebies:
Item
Remarks
Value (RM)
HUAWEI Sound X
· First come, first serve basis

· Limited to 1,000 units

· Must be redeemed from HUAWEI Member Center between 18 December – 20 December 2020

1,299
HUAWEI Video
· 3 months dimsum (RM18) + 1 month HUAWEI Video+ (RM15) subscription

· Redeem period between 12 December 2020 – 28 February 2021

· Must be redeemed within the first month of phone's activation

33
HUAWEI Book
· Applicable to one (1) redemption per one (1) customer ID

· Redemption period starts from 12 December 2020

40
HUAWEI Pay[1]
· 50% spending rebate[2] for ICBC UnionPay card holders.[3]

· Top 3 monthly ICBC UnionPay card spenders with minimum spending of RM500 stand a chance to win: 1 x HUAWEI P40 Pro or 1 x HUAWEI Freebuds 3 or 1 x HUAWEI GT2e[4]

100
HUAWEI Member Center
· Exclusive HUAWEI Mate40 Pro deals from Sunway Resort, Plaza Premium First and many more worth up to RM1,800

· Redemption period between 12 December 2020 – 31 December 2020

1,800
HUAWEI AppGallery
·  20% rebate for reload/top-up transactions made via AppGallery[5]
N/A
50GB Cloud Storage
· Redemption period between 12 December 2020 – 11 December 2021
46.80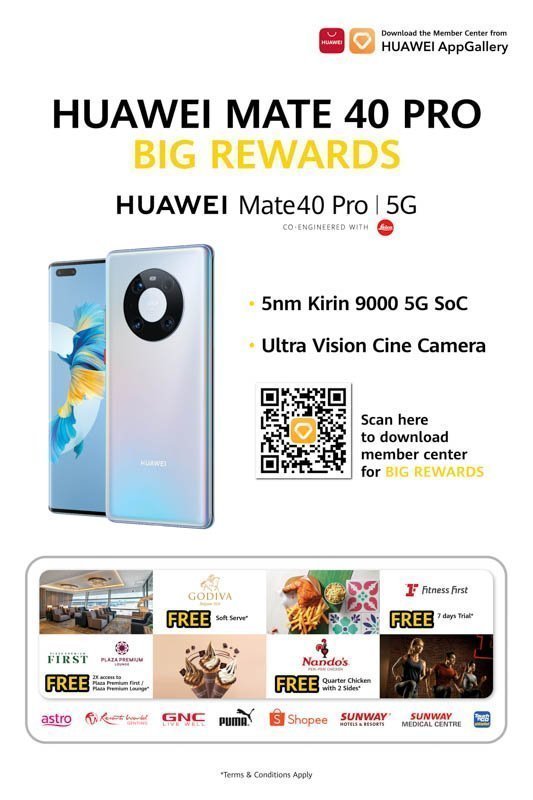 Should you still have doubts lingering in your mind as to whether you should own the HUAWEI Mate40 Pro, here are some features you can expect from the latest addition to the Mate series (which also tells you why you should not miss out on this):
All-rounder smartphone for photography with the co-engineered tri-Leica cameras
The HUAWEI Mate Series has always been known to give users surprises in the camera department – thanks mainly to its powerful imaging system and technology. Both iconic and innovative, HUAWEI Mate 40 Pro is an homage to balance and symmetry. The Space Ring camera system presents users with a window to explore the world, allowing for every moment to unfold a great story.
With the HUAWEI Mate40 Pro, HUAWEI continues to leap further ahead, breaking records and setting new ones. HUAWEI Mate40 Pro features Triple Camera Setup: Periscope Telephoto Camera to support 10x hybrid zoom and 50x digital zoom, Ultra-Wide Cine Camera, which offers an even wider field of view, improved low light performance and distortion correction algorithms, allowing users to capture beautiful expansive landscapes and the Ultra Vision Selfie Camera, for selfies and videos to reach greater heights with support for 4K capture and the option to shoot in one of three available fields of view, ranging from up close and personal to ultra-wide. So you need not worry about capturing a picture of a faraway object and turning out blurry. No matter how further the picture is, the output will always be a high-definition and impressive shot.
All-rounder smartphone for business on-the-go with the 66W SuperCharge!
In today's fast-paced era, smartphones are an inevitable part of a businessman. No matter where a person go, there's always a smartphone firmly placed in their hands (or pockets). Thus, it is important to own a smartphone that not only looks good but is able to last through a person's hectic schedule. Thankfully, the HUAWEI Mate40 Pro can do just that!
Equipped with 4400mAh, the all-rounder smartphone comes equipped with 66W HUAWEI SuperCharge. Whether you are attending back-to-back meetings or events, the HUAWEI Mate40 Pro allows you to take a step back and sigh in relief as you only need  a short period of time to have your smartphone charged up. Not only that, the HUAWEI Mate40 Pro also comes with 50W Wireless HUAWEI SuperCharge as well as reverse wireless charging. With all of these amazing items combined, battery drain is now a thing of the past.
All-rounder smartphone that follows your lead with AI Gesture Control!
Thanks to an intuitive gesture sensor and upgraded NPU, users can now unlock a new world of possibility through AI touch-free interactions. Just move your hand up and down or left and right to browse through your photos or flip through the pages in an e-book. Make a grabbing motion to take a quick screen shot or hover your hand close to the screen to answer calls, or control audio playback. Want to quiet your ringing phone? Just look at it, and the volume will lower automatically.
This feature comes in very handy, especially when your hands are covered in flour or paint.
All-rounder smartphone for daily necessities with Kirin 9000, the best performing chipset
Many users may or may not realise, a smartphone's chipset plays a vital role in ensuring everything runs smoothly. A smartphone chipset provides a core set of functions ranging from cellular communication, to Wi-Fi and Bluetooth communication, to general computing, to power management, to memory and storage interface and to peripheral interfaces. What this means is that if the smartphone has a mediocre chipset, then everything will pretty much fall apart.
With the HUAWEI Mate40 Pro, users can have a peace of mind. As one of the world's first smartphone to incorporate the 5nm process chipset, Kirin 9000 proves to be of invaluable significance to the HUAWEI Mate40 Pro. Performance wise, the extremely compact 5 nm Kirin 9000 5G SoC is capable of multi-tasking, processing massive amounts of data, and powering instantly-responsive AI computing with ease. Whether it's to ensure efficiency at work or have an immersive gaming experience, just lay back and let HUAWEI's technological advances do the work for you.
Now that the all-rounder smartphone has officially announced its arrival in Malaysia and you've had a glimpse into what the HUAWEI Mate40 Pro can do, how are you going to spend your 12.12?  We'd recommend you to mark your calendar for this you-don't-want-to-miss day of the year!
For those planning to head to the HUAWEI Experience Store (HES), don't forget to keep yourself sanitised and adhere to all standard operating procedures (SOP) while you're out and about!
Don't forget to keep yourself updated with more information on the all-new HUAWEI Mate40 Series and other amazing HUAWEI products by staying tuned to HUAWEI's Facebook page at www.facebook.com/HUAWEIMobileMY. Subsequently, ahead of the momentous day, let's check out what Malaysian personalities Jojo Goh, Liyana Jasmay and Dato' Norman Pang has to say about the all-rounder smartphone, HUAWEI Mate40 Pro in these videos:
[1] Applicable to all HUAWEI Pay users only.
[2] First come, first serve basis to the first 500 redemption.
[3] With minimum spending of RM20. Maximum value to be redeemed is RM100.
[4] For purchases and transactions made between 12 December 2020 – 12 March 2021.
[5] No minimum spending required; no maximum value capped.