The launch of the Samsung Galaxy S22 Ultra 5G at Unpacked 2022 marks many new milestones for the beloved Galaxy series. Marrying the productivity prowess of the Note series and the pro-grade camera and performance of the S series, the Galaxy S22 Ultra 5G sets a new standard for what a smartphone can be: The most powerful Ultra device that Samsung has ever created, to offer the ultimate smartphone experience today.
Read on to find out more about four cutting-edge features of the Galaxy S22 Ultra 5G that break the rules of mobile innovation.
Create to Your Heart's Content – First built-in S Pen in the S Series
Traditionally a feature included with the Note, Note users' favorite S Pen now comes built-in with the Galaxy S22 Ultra 5G , enabling fresh new ways to level up your creativity and get things done. The much-improved S Pen experience means that you write and draw on the Galaxy S22 Ultra 5G 's bright and expansive screen, making it the perfect tool to capture eureka moments through words or sketches while enjoying a more realistic pen-to-paper feel.
The S Pen also gives you instant access to signature S Pen tools such as Samsung Notes and Live Message, and the handwriting to text function has been upgraded to support 87 languages, so note-taking is more convenient than ever, especially when you're on-the-go.
And that's not all. The S Pen can also act as a nifty remote control to run your presentation from afar or be used to take a snapshot with the phone camera. Use it to annotate PDFs without downloading an additional app, and even zoom in to magnify anything on your screen by up to 300 percent.
 Super-charged Heart & Brain – First 4nm Processor on a Galaxy
As the first Galaxy device to be running on Samsung's groundbreaking 4nm Processor, the Galaxy S22 Ultra 5G makes multitasking on your phone even easier. The new processor enables Samsung's most advanced Artificial Intelligence (AI) and Machine Learning (ML) processing to run smoothly, delivering unrivaled performance for all your streaming, gaming and productivity needs.
As you create new content, the advanced AI features work in the background to improve the clarity and quality of photos and videos by helping subjects stand out better from the background, while simultaneously detecting and concentrating on multiple objects within the same scene for better focus and improved image steadiness.
A Battery that Goes On & On – First Galaxy battery that Lasts for More than a Day
With all the powerful features built into the Galaxy S22 Ultra 5G , rest assured that the device is well-equipped to endure long hours of use. Samsung has combined its power-efficient 4nm Processor with a large 5,000mAh battery[2] to ensure that S22 Ultra can last for more than a day on a single full charge[3]. What's more, the device even supports 45W super-fast charging, which lets you record more than 50 minutes of video – after a 10-minute charge[4] – so you can keep calm and carry on with minimal disruption to your work or play.
Pro-grade Camera in Your Pocket – First 12bit HDR available in a Galaxy S Series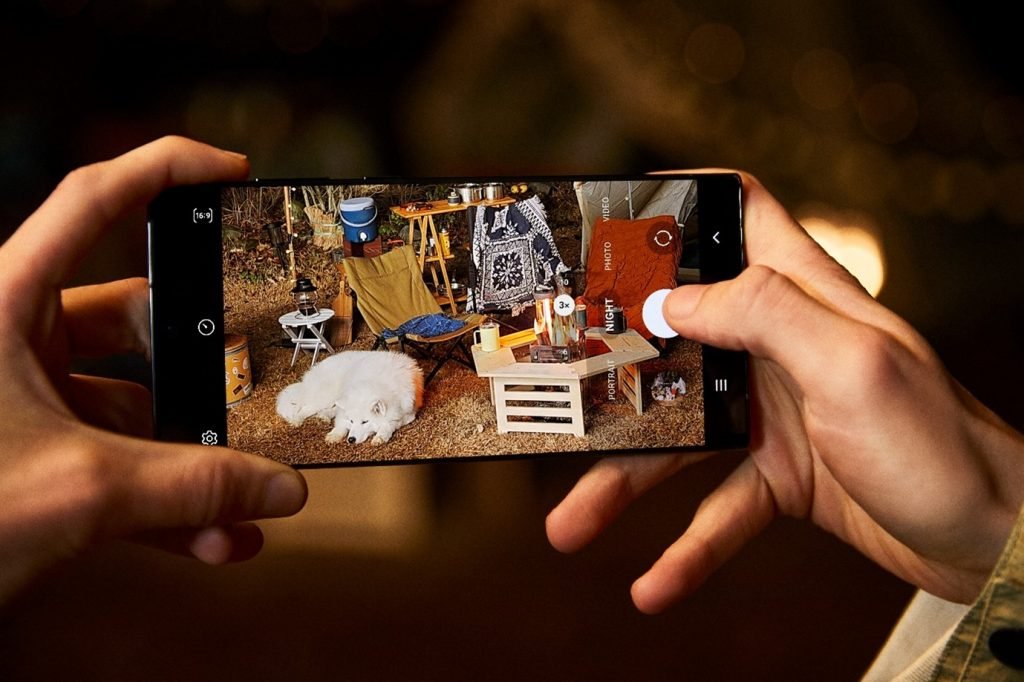 Whether you're a casual user or a seasoned content creator, the Galaxy S22 Ultra 5G enables users to capture stunning photos and videos all day and all night. With a 2.4um pixel sensor, Samsung's largest pixel sensor ever[5], the Galaxy S22 Ultra 5G can capture more light and data with its camera lenses to draw out the details. With the free Expert RAW[6] app, you also have access to DLSR-like controls to capture incredible moments.
To make the Galaxy S22 Ultra 5G even more amazing, its camera can capture more than 68 billion colors with the first-ever 12bit HDR available in a Galaxy S series phone for more vibrant and true-to-life videos. With the 12bit HDR that comes in the latest Galaxy S series, Galaxy S22 Ultra 5G users can record and view all the incredible details even in the very bright and dark areas of the scene, even if the shot is backlit, similar to what you see with your own eyes.
[1] A smaller processor consumes less energy and lets the phone's CPU pack in extra processing power.
[2] Typical value tested under third-party laboratory condition. Typical value is the estimated average value considering the deviation in battery capacity among the battery samples tested under IEC 61960 standard. Rated (minimum) capacity is 4855mAh for Galaxy S22 Ultra. Actual battery life may vary depending on network environment, usage patterns and other factors.
[3] Estimated against the usage profile of an average/typical user. Independently assessed by Strategy Analytics between 2021.12.08–12.20 in USA and UK with pre-release versions of SM-S901, SM-S906, SM-S908 under default setting using 5G Sub6 networks (NOT tested under 5G mmWave network). Actual battery life varies by network environment, features and apps used, frequency of calls and messages, number of times charged, and many other factors. The total usage time with fully charged device may vary by usage behavior.
[4] Based on Super Fast Charging results from internal Samsung lab tests, conducted with 45W Travel Adapter while it has 0% of power remaining, with all the services, features and screen turned off. Actual charging speed may vary depending on the actual usage, charging conditions and other factors. 45W Travel Adapter sold separately. Use only Samsung-approved chargers and cables.
[5] Same 2.4um pixel sensor size as in Galaxy S21 Ultra.
[6] Expert RAW must be downloaded separately from the Galaxy Store, for free, before use.