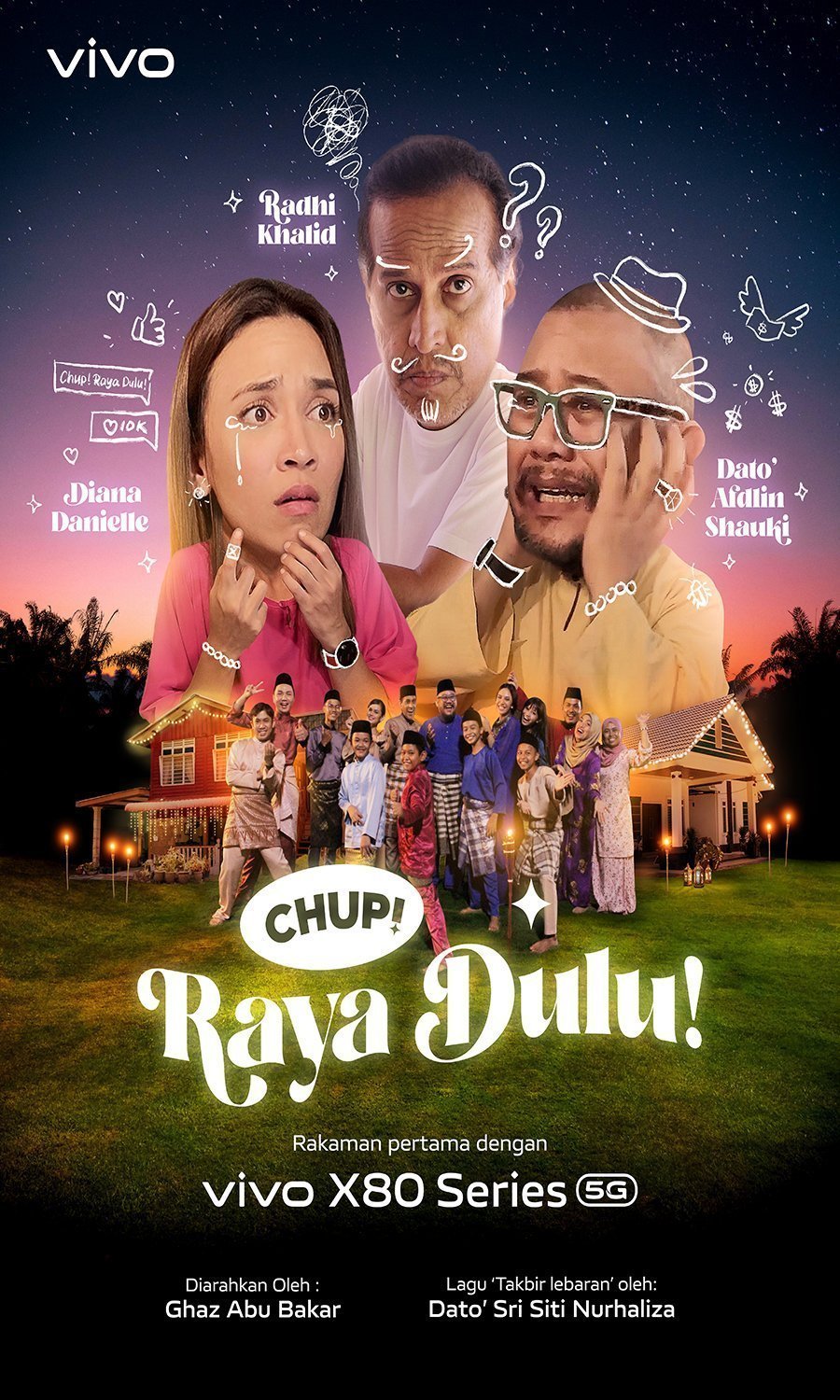 Shot with the vivo X80 Pro, the short film captures the meaning of community living and humility through humour
KUALA LUMPUR, 29 April 2022 – This Raya, vivo Malaysia collaborated with Multimedia Production Film to produce a short film titled 'Chup! Raya Dulu!', which tells the story of a rich family and their journey in being a part of the community during the Raya celebration. The 9 minutes 33 seconds film was shot entirely with the new vivo X80 Pro, the professional photography flagship smartphone with advanced mobile imaging technology co-engineered with ZEISS.
'Chup! Raya Dulu!' is a fictional story following the life of Kassim, a well-to-do businessman who lives with his family in a village. The film was set a few days before Raya, where Kassim and his family had to stay home and pretended to be on a family holiday after boasting of travelling to Switzerland during Hari Raya. The film aims to highlight the importance of positive community living and support in society.
Directed by Ghaz Abu Bakar, we saw Kassim (played by Dato' Afdlin Shauki), his wife Zaleha (played by Diana Danielle) and their son, Kamil (played by Irfan) showing off their Raya holiday travels in the days before the pandemic. Unfortunately, Kassim's business took a hit during the pandemic and rendered them unable to afford the trip to Switzerland but because he had boasted to the neighbours about the family's plan to travel during the Raya, Kassim and his family decided to fake their vacation while staying at home. This eventually took a toll on everyone and their lie was soon exposed.
Mike Xu, Chief Executive Officer of vivo Malaysia said: "At vivo, we believe in the strength of unity and humbleness. These very characteristics will take humanity to greater heights regardless of one's status or background, which is why we are excited to be a part of this short film project because it brings positive values to this year's meaningful Hari Raya celebration. The advanced imaging technology co-developed with ZEISS on the vivo X80 Pro brings to life our slogan of 'Cinematics, Redefined', and has enhanced the short film and helped highlight the filming capabilities of the smartphone. The filming process on the vivo X80 Pro has bridged the gap between a smartphone camera and professional filmography device."
"Directing 'Chup! Raya Dulu!' was a fun experience for me. Each time I direct a film, I always try to capture the cinematic synergy of light and shadows and find the balance between the two. This is my cinematic language and I must say it was exciting to film using the vivo X80 Pro as it has enabled me to aptly capture the light and shadows with great clarity. I hope that the film will bring joy, humour and a lesson of life to all Malaysians who watch it, and I sincerely wish for them enjoy the short film as I did directing it," said Ghaz Abu Bakar, Director of 'Chup! Raya Dulu!'.
The short film also features a theme song titled 'Takbir Lebaran', sang by renown Malaysian singer Dato' Sri Siti Nurhaliza. Based on Dato' Sri Siti's original, 'Nazam Lebaran', the song encapsulates the story of the short film, giving inspiration for Malaysians to embrace positive community living and the joy of celebrating Raya together.
The 'Chup! Raya Dulu!' short film will be released on vivo Malaysia's official YouTube channel beginning 1 May 2022. You may catch the trailer of the film here.