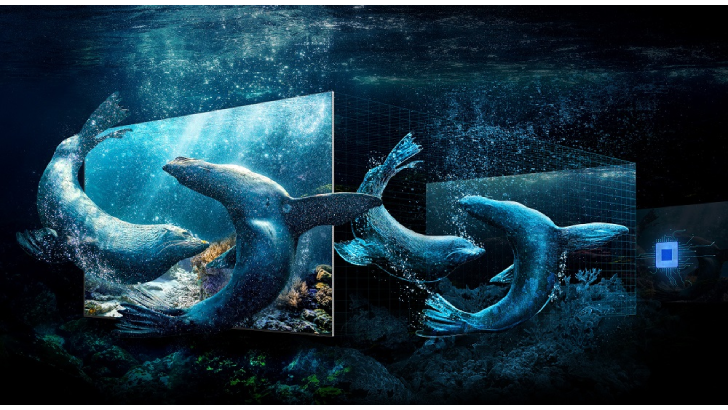 Samsung Electronics has been shaping the history of television through the development of its technological innovations, from FHD and 4K through to 8K, thanks to its far-sighted strategic vision and an endless passion to bring new technologies to the market.
In order to learn more about the achievements made so far in the field of TV technological innovation, as well as the future of display technologies in the age of UHD screens, Samsung Newsroom sat down with TV experts.
Pioneering the Future of TV Through Endless Innovation
These days, picture quality has become one of the most crucial factors consumers consider when choosing a TV. In 1977, Samsung succeeded in the development and mass production of a color TV, the Color Economy TV, for the first time in Korea, ushering in the era of color television for the country. Samsung earned the title of the first color TV manufacturer in Korea thanks to its steadfast dedication to innovation, and the company was never complacent about the colossal success of its black and white TV model, the Econo TV, which took the lion's share within the monthly TV market at the time.
Next to be developed was the LCD TV, and, in 2009, Samsung unveiled its breakthrough model — the Samsung LED TV. The LED TV was the culmination of all the innovative technologies available at the time, allowing for unrivalled picture quality brought about by light-emitting diodes. All components of Samsung's LED TV were designed anew, and the number of patents acquired for this model exceeded 3,000.
In 2017, Samsung then went on to introduce the world's first QLED TV based on cadmium-free quantum dot technology at the Consumer Electronics Show (CES). The company's innovative TV was at the center of attention that year, boasting superb picture quality and 100% color volume.
A year later, the company brought to the market a QLED 8K model that incorporated 8K resolution into Samsung's proprietary quantum dot technology. It featured Direct Full Array, a backlight technology able to precisely control the lighting balance across every part of the picture on-screen, as well as 8K AI Upscaling, an upscaling technology designed to intelligently upgrade lower-quality videos into vivid 8K resolution, for the first time in the industry. Samsung's innovative QLED 8K technologies are what launched the era of 8K.
"In 2020, Samsung unveiled the world's first bezel-less TV that completely removed the bezels from around the display," said Hyunchul Song from the Product Development Group. "A year later, we further solidified our position as an industry leader by introducing our Neo QLED technology based on Quantum Mini LED displays. From FHD through to 8K, we have undertaken ceaseless efforts to develop innovative products that offer differentiated experiences based on consumer needs."
Striving for Superior Picture Quality Through In-Depth Research Into Human Behavior
Samsung continues to strive to offer the best possible viewer experiences by delivering leading picture quality. However, what does "good picture quality" mean to someone who works on its development?
"Picture quality is considered good when it delivers a sense of reality to the viewer that feels as if you are witnessing the images on-screen first-hand," explained Youngseok Han, a developer from the H/W Lab. "To ensure good picture quality, display performance indicators such as high resolution, high luminance and excellent color expression are essential. What also matters is how well-balanced the other cutting-edge technologies of the display are, including the chip design, the picture quality algorithms and the sound."
Han went on to provide further insight into the importance of balance to the corresponding picture quality. "The factors that impact picture quality the most are how well you organize the various relevant technologies. These include those designed to reduce distortion and any image transmission noise, those that reproduce colors precisely and richly and create sharp contrast for more vivid, clear images and those motion technologies that ensure the movement of objects on-screen appears smooth and fluid."
It would be impossible to develop good picture quality with just one singular technology, no matter how great that technology is. This is why Samsung is committed to developing innovative technologies through all kinds of different approaches without resting on their laurels as a leader in the industry. Recently introduced on the 2023 Neo QLED TV, Real Depth Enhancer is one of the new features that has been developed to the end of further improving picture quality.
When human eyes are focused on an object, attention is directed onto the object by optimizing sharpness, clarity and texture, all while also maintaining the background scene. Samsung's Real Depth Enhancer technology was developed based on an understanding of this human behavior, and harnesses AI to automatically separate an object from its background to create a greater sense of depth and make the images truly pop.
Furthermore, Neo Quantum Matrix Pro technology improves the playback of fine details through precise control of the quantum mini LEDs across a total of 13,684 levels. This meticulous adjustment further adds dimension and a sense of reality to the images on-screen.
"Our Real Depth Enhancer technology is the result of an optimization of all the relevant technologies in a way that takes human psychology into account, instead of focusing only on improving resolution," noted Han.
From 8K Games to Artworks on Samsung TVs in the Age of 8K Technology
These days, users are being bombarded by new content. Tens of thousands of new pieces of media and content are being published every day across all manner of platforms — but does the same apply for those contents being made in 8K?
"Following the recent growth of 8K devices including smartphones, anyone is able to create 8K content and view it in ultra-high resolution," said Sangmin Lee, Head of the Picture Quality Solution Lab. "High-performance graphics cards also now make it possible for users to play 8K games, meaning that we are already living in the age of 8K UHD."
Song further detailed the growth of 8K content in today's viewing market. "There is a growing amount of 8K content available on social media channels, and artists are creating digital artworks in 8K," he explained. "We added in 'YouTube Videos in 8K' feature to the 2023 Neo QLED TV to allow users to peruse the 8K content available on YouTube and explore digital artworks, such as an image in NFT[1] form, at a single glance."
Samsung is also taking the lead in expanding the 8K content ecosystem by being at the helm of the 8K Association, a global non-profit organization established in 2019 with the aim of establishing 8K standards and expanding 8K content. As of February 2023, the association has 33 members, including Samsung, TV panel producers, SoC chip makers and leading content creators. Last year, Samsung released a teaser for The Lord of the Rings: The Rings of Power series in 8K developed in collaboration with Amazon Prime Video, another member of the 8K Association.
Developing Optimal Picture Quality That Takes Viewing Experiences to the Next Level
In order to learn more about the next steps for industry leader Samsung in terms of picture quality in the age of 8K technology, Samsung Newsroom asked the three TV professionals what their goals are.
"As a developer, I feel the most accomplished when I hear the feedback that viewers think the images on-screen seem real to them," said Han. "My goal is to further improve our algorithms by optimizing a range of components in order to deliver picture quality that is 'more real than real' to viewers."
For Song, creating technologies that bring real value to users is of the utmost importance. "While the development department works to create the best picture quality through technological innovation, I am more involved in optimizing products to bring high-quality experiences to as many viewers as possible," said Song. "I will continue to deliberate on what other kinds of user value we can bring to our viewers."
Finally, from Lee's perspective, the goal is and always has been to provide users with experiences that go beyond simply watching content. "The most important value that a display can provide is to present images that seem more real than reality itself," explained Lee. "Through the best picture quality algorithms and leading sound performance, the optimal picture quality that is delivered then allows users to enjoy their favorite content without having to worry about adjusting the settings. Our ultimate goal is to offer superb picture quality that enables users to thoroughly enjoy their viewing experiences that go beyond simply watching content."
Stay tuned to Samsung Newsroom for the second and final part in this series highlighting the role of the 8K TV and the innovative technologies Samsung has been developing to provide the best possible viewing experiences to its users.
[1] SAVAGE is a high quality NFT marketplace featuring 4K/8K video and photography. With over 50 titles at launch in March 2023, SAVAGE will expand throughout the year with more than 250 new pieces from top creators and brands.