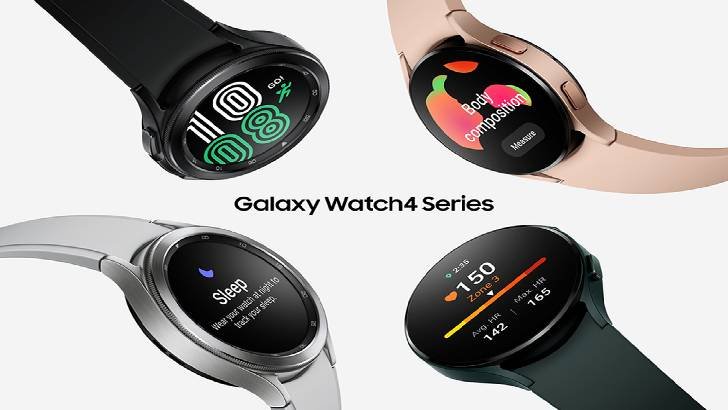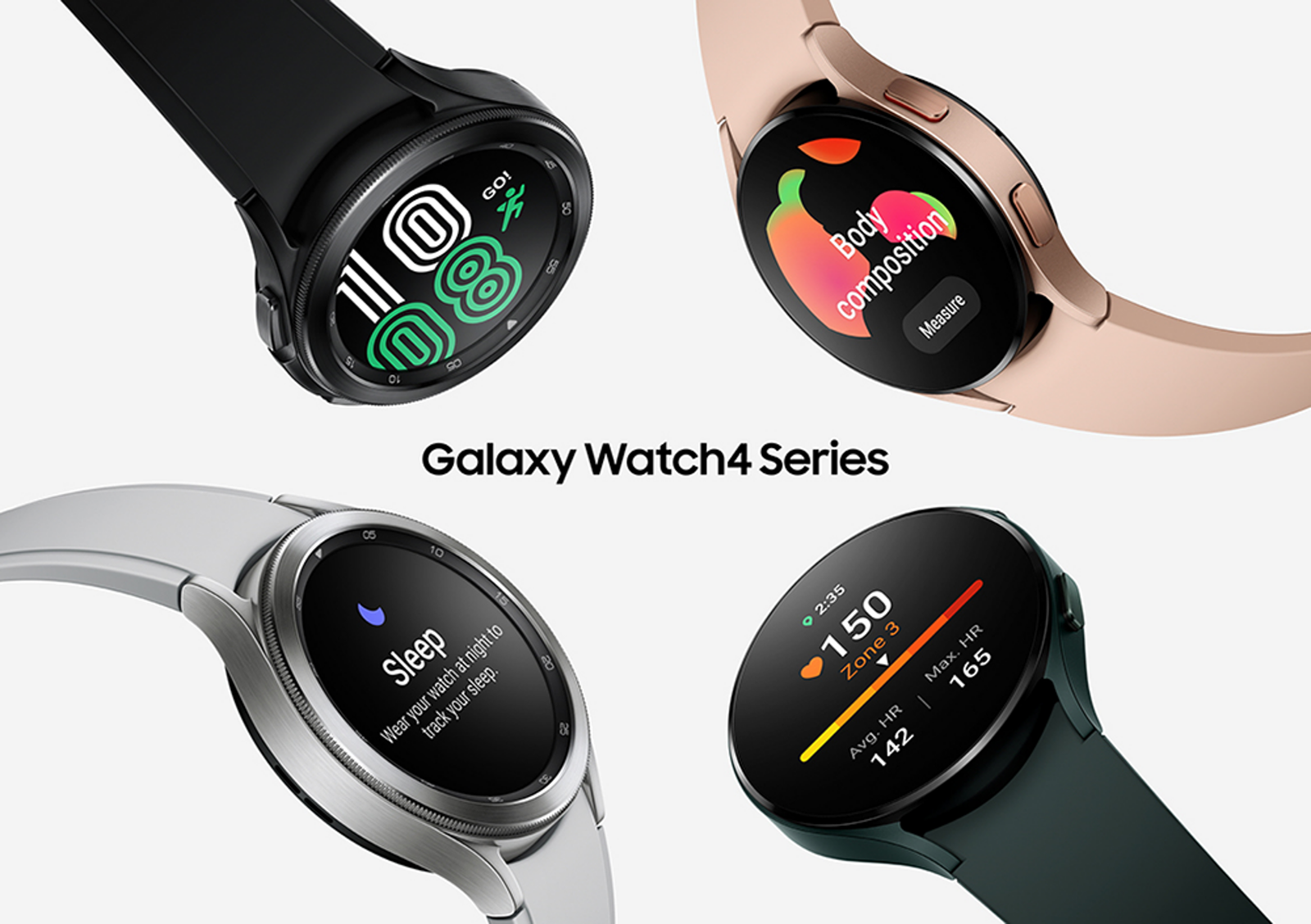 Samsung Malaysia Electronics today announced that the Galaxy Watch4 Classic and Galaxy Watch4 Bluetooth versions, along with Galaxy Buds2 will be available for purchase in Malaysia, starting from 22 September 2021 onwards. These new devices have been redesigned to provide us with the best tools to manage our wellness.
We all strive to be the best version of ourselves – fitter, happier and healthier. Small changes to our daily routines, including changes to diet, sleep habits and exercise, go a long way in helping us get the most out of work and play. While the path to wellness is different for everyone, there's nothing more important than to start focusing on our health from young.
Samsung's new Galaxy Watch4 series takes health and fitness data tracking to the next level, featuring a groundbreaking 3-in-1 BioActive Sensor, which uses a single chip to run powerful health sensors, including measuring blood oxygen levels[1], and for the first time – calculating body composition[2].
Read on to discover ways you can make the most out of the cutting-edge data presented by the Galaxy Watch4.
Get a good night's sleep, every day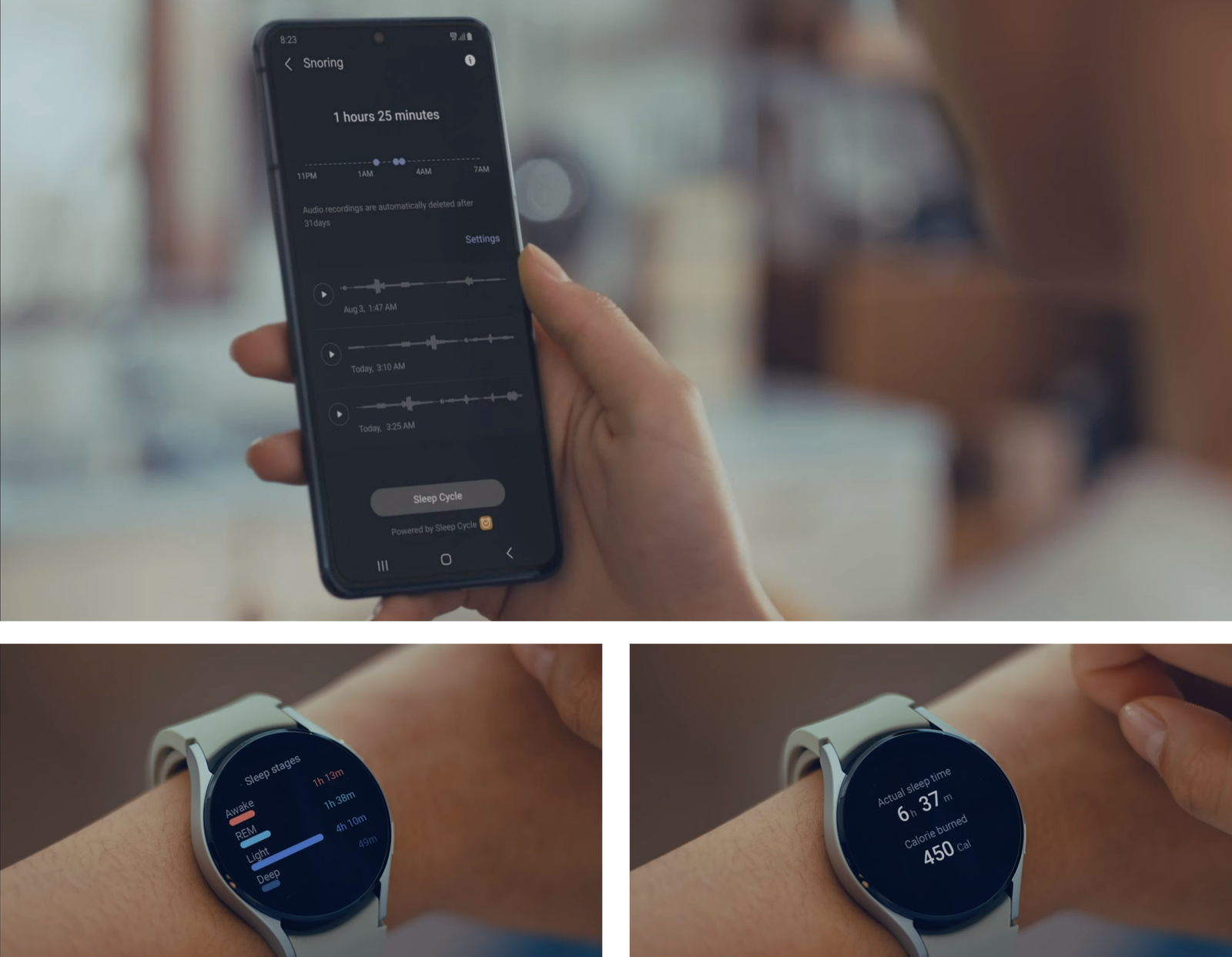 Are you guilty of revenge bedtime procrastination? If so, is there a nagging thought in your head that it might be affecting sleep quality? You can now find out with the Galaxy Watch4's sleep analysis function.
The sleep analysis function has been a fan favorite for users of the Galaxy Watch series, and rightly so – a good night's sleep is fundamental to our overall mental and physical health. In fact, in the past year, Galaxy Watch users have checked their sleep patterns more than 800 million times[3]!
To give you a more comprehensive understanding of your sleep quality, the Galaxy Watch4 tracks both your snoring and breathing patterns – so you can make informed decisions about your sleep to help you sleep longer and better.
The Samsung Health App[4] on your smartphone detects the sounds of your snores, while the Watch4 checks your blood oxygen levels once every second[5]. This data collectively informs your overall sleep score.
If you find yourself struggling to get a good night's sleep based on your Watch4's readings, you can consider following these steps[6] to improve your sleep score:
Establish a daily bedtime routine
You sleep best when your body is used to falling asleep and waking up at a fixed time every day — even on weekends or holidays.
Watch what you eat and drink before
Avoid big meals, alcohol, caffeine, heavy, spicy or sugary foods four to six hours before bedtime, as these foods stimulate the system, making sleeping difficult.
Create a good sleep environment for yourself
Block out all distracting noises and lights. A room that is too hot or too cold can keep you awake. A cool environment is often the most conducive setting for sleeping.
Accurately track fitness and health goals through body composition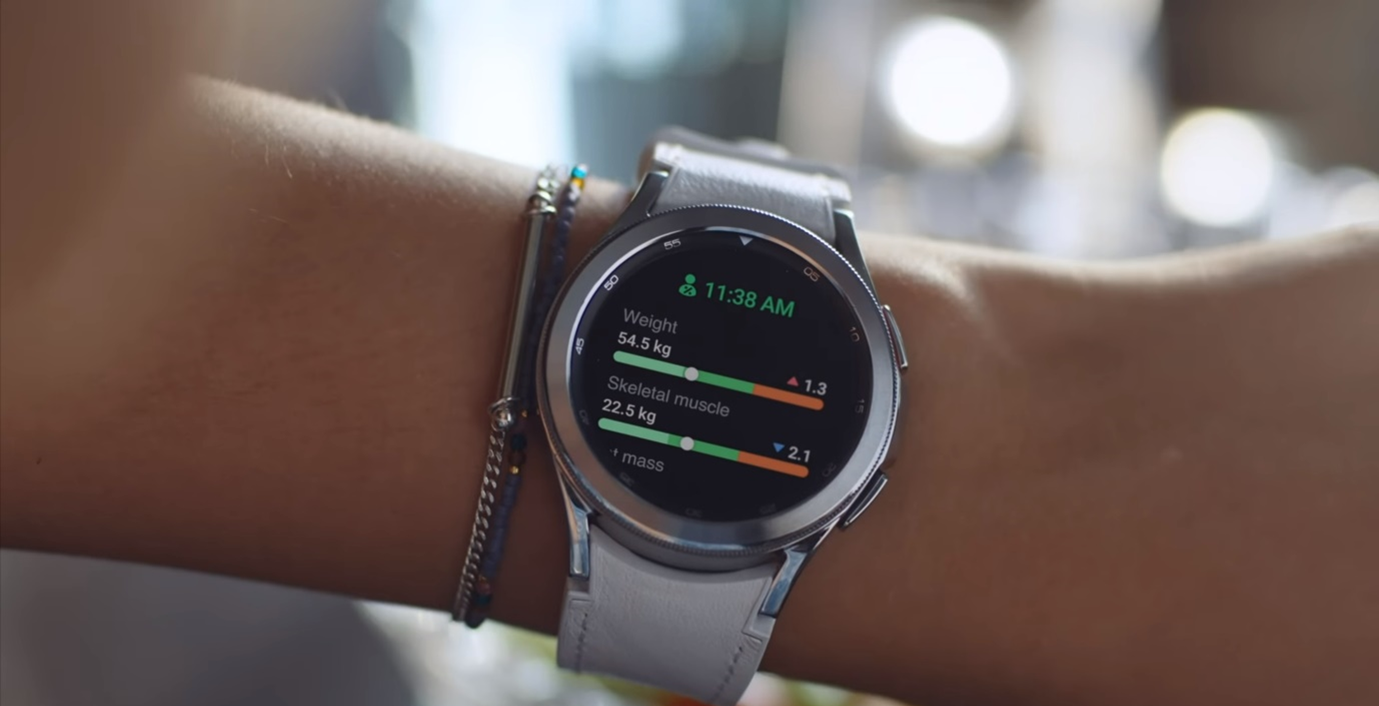 Many of us may be more familiar with relying on weighing scale readings as a general indicator of health – but there are limitations to this. Such readings do not consider the amount of muscle, fat and water in your body tissues[7], unlike a more comprehensive body composition analysis.
For the first time in a Galaxy Watch, the body composition measurement tool on the Galaxy Watch4 brings a technology more commonly available in smart scales at the gym or at the clinic to your wrists!
This is enabled by Bioelectrical Impedence Analysis (BIA), which captures 2,400 data points, delivering results in about 15 seconds. Quality isn't compromised either – with a correlation of 98%, the Galaxy Watch4's BIA measurements are as accurate as those from dual-energy x-ray absorptiometry (DXA) scans[8], the gold standard of body composition measurements trusted by industry experts.
With these insights, you can now adjust your diet and activity levels to get your body composition measurements to a healthier range.
Ease your day with multi-device experience
On top of advanced sleep and body composition tracking, we've made the smartwatch and Galaxy experience even more seamless. Pair the Galaxy Buds2 with your Galaxy devices, and using Auto Switch[9], go from listening to music on your tablet to picking up a call on your smartphone in an instant
as your earbuds switches audio between your devices, depending on usage. With Buds Controller, you can conveniently access and control your earbuds via the Galaxy Watch4 series, interchanging between Active Noise Cancellation and Ambient sound mode with just a tap on your Watch.
The new Wear OS Powered by Samsung platform allows you to tap into an expansive ecosystem right from your wrist – with popular Google apps like Google Maps, and Galaxy services, like Samsung Pay, SmartThings and Bixby. It also supports third-party apps[10], like Adidas Running, Calm, Strava, and Spotify that is available from Google Play. So that you can enjoy smooth and convenient unified experiences everyday with your Galaxy Watch4.
Ultimately, the simplest routines and habits can go a long way in helping us optimize our personal health and fitness. With the Galaxy Watch4 and Galaxy Buds2, Samsung brings years of R&D and cutting-edge technologies to you, providing advanced insights distilled into an easy-to-digest interface, guiding you towards making informed decisions that optimize your health, fitness and overall wellness.
Galaxy Watch4 Series and Galaxy Buds2 Availability
Showcasing a sleek, iconic silhouette with a variety of straps[11] and customizable watch faces – Malaysians can purchase the Galaxy Watch4 series nationwide starting from 22 September 2021 onwards. And from 22 September to 31 October 2021, purchase the Galaxy Buds2 to enjoy a free Galaxy Buds Water Resistant Cover worth RM99![12]
| | | |
| --- | --- | --- |
| Product | Colour | Recommended Retail Price (RRP) |
| Galaxy Watch4 Classic Bluetooth (46mm) | Black, Silver | RM1,399 |
| Galaxy Watch4 Classic Bluetooth (42mm) | Black, Silver | RM1,299 |
| Galaxy Watch4 Bluetooth (44mm) | Green, Black, Silver | RM999 |
| Galaxy Watch4 Bluetooth (40mm) | Pink Gold, Black, Silver | RM899 |
| Galaxy Buds2 | Lavender, Olive, Graphite, White | RM499 |
To learn more about the Galaxy Watch4 series, please visit:
Galaxy Watch4: www.samsung.com/my/watches/galaxy-watch/galaxy-watch4-black-bluetooth-sm-r870nzkaxme/
Galaxy Watch4 Classic: www.samsung.com/my/watches/galaxy-watch/galaxy-watch4-classic-black-bluetooth-sm-r880nzkaxme/
To learn more about the Galaxy Buds2, please visit:
https://www.samsung.com/my/audio-sound/galaxy-buds/galaxy-buds2-lavender-sm-r177nlvaxme/
[1]

The Blood Oxygen (SpO2) feature is not intended for use in the diagnosis of disease or other conditions, or in the cure, mitigation, treatment, or prevention of disease. Intended for general wellness and fitness purposes only. Availability of this feature may vary by market.
[2]

Intended for general wellness and fitness purposes only. Not intended for use in detection, diagnosis, or treatment of any medical condition or disease. The measurements are for the user's personal reference only. Please consult a medical professional for advice. Do not measure your body composition if you have an implanted pacemaker or other implanted medical devices. Do not measure your body composition if you are pregnant. Measurement results may not be accurate if you are under 20 years old.
[4]

Availability of Samsung Health app differs across markets
[7]

Steven B. Heymsfield, M.D., Professor, Metabolism & Body Composition, Pennington Biomedical Research Center – 0:44 onwards: https://www.youtube.com/watch?v=7sFa6HWkseU 
[9]

This feature is available on Galaxy Buds+ and later models, paired with Galaxy smartphones and tablets with One UI 3.1.1 or above. Certain applications may not support Auto Switch. Galaxy devices must be logged in to Samsung Account to enable Auto Switch.
[10]

Subscription fees may apply for third-party apps.
[11]

Select interchangeable watch straps sold separately.
[12]

While stocks last. Terms and Conditions apply.