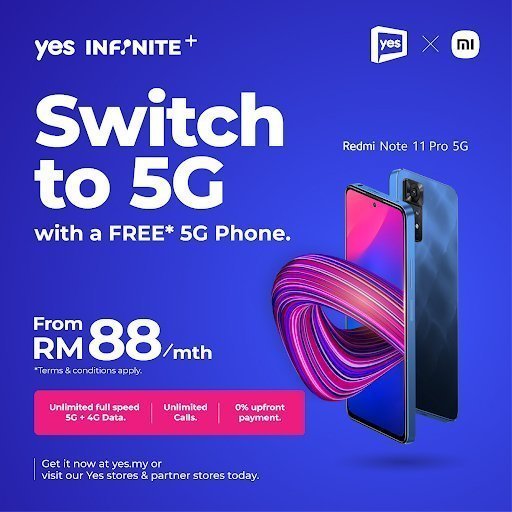 Xiaomi 5G technology is now accessible and affordable, with Yes 5G; 
Choose from two different latest Xiaomi 5G smartphones today.
Kuala Lumpur, MALAYSIA, June 9 2022 – Xiaomi has announced its participation in YTL Communications' 'Yes 5G for All' campaign. The first to bring 5G to Malaysia, YTL Communications' Yes paves the way for Malaysians to have access to 5G anytime, anywhere. Revealing a slew of new announcements including the cheapest new Infinite plans, 'Yes 5G for All' paves the way for a 5G enabled future for all Malaysians. More excitingly, YTL Communication has partnered with Xiaomi through a strategic device partnership that puts their 5G enabled phones into the hands of customers absolutely free when they sign up.
The new Yes mobile plans go beyond the unlimited plans currently available in the market by offering customers a truly 'beyond unlimited' experience without any throttling of speed once a certain data quota is reached – high-speed data for both 4G and 5G – from as low as RM 58 per month. For consumers who do not currently have a 5G-compatible smartphone, the Yes Infinite+ 36-month contract, allows customers to get a FREE 5G Smartphone. There will be no upfront payment, no hidden charges, and no bill shock. Just one price with capped costs. Consumers will be able to choose a FREE 5G smartphone depending on the tier of the Yes Infinite+ plan of their choice.
Xiaomi has currently included two devices from its latest releases to offer to the different needs of Malaysians through the Yes Infinite+ plan:
Xiaomi 12 is the brand's flagship smartphone that offers users a cutting-edge videography studio and entertainment powerhouse; and
Redmi Note 11 Pro 5G offers flagship-level camera setup to deliver outstanding photography with up to 120Hz refresh rate FHD+ AMOLED DotDisplay all in a trendy flat-edge body.
Yes Infinite+ with Xiaomi plan is available now on yes.my, and can be found across all Xiaomi Authorized Stores and YES outlets for customers to sign up.
Yes Infinite+
Basic
Standard
Premium
Ultra
Price
RM58/mth
RM88/mth
RM118/mth
RM178/mth
Unlimited 5G & 4G data
✓
✓
✓
✓
Unlimited Calls
✓
✓
✓
✓
Hotspot
10GB
40GB
70GB
100GB
Infinite+: (36-mth contract comes with aFREE 5G Smartphone)
TBA
Redmi Note 11 Pro 5G
TBA
Xiaomi 12
Benefits
NO Fair Usage Policy NO upfront paymentNO hidden chargesNO bill shock
Nicolas Shi, General Manager of Xiaomi, Malaysia and Singapore said, "Xiaomi has always been in the forefront of the latest in technological innovations, looking towards the future and consumer needs. Xiaomi started introducing 5G-ready devices since 2019, with the first being the Mi MIX 3 5G. Today, we offer the latest 5G offerings that feature the top of its class features and performance through the Xiaomi 12 series and Redmi Note 11 series smartphones. We are excited to see that the day has finally come for Fans and customers to be able to fully experience and indulge in the speed of 5G, and can't wait for everyone to take advantage of our devices with the latest generation of cellular technology – whether it's for content creation, gaming or just casual video or internet browsing."
Dato' Yeoh Seok Hong, Managing Director of YTL Communications Sdn Bhd. said, "Yes 5G for All' is our commitment to provide affordable 5G services and solutions for the benefit of every Malaysian. Our 5G offering will unlock high-speed experiences that will change the way we work, live, learn and play. We are inviting Malaysians to Switch to 5G with Yes and enjoy the most affordable plans, coupled with free phones on the best 5G network."
Switch to 5G with Yes, available starting today on yes.my, as well as, all Authorized Xiaomi stores and Yes partner stores in Malaysia. Those interested can visit our stores to purchase their preferred 5G plan with a choice of Xiaomi 12 and Redmi Note 11 Pro 5G.
For more updates and the latest news on Xiaomi, stay tuned to Xiaomi Malaysia Facebook page.