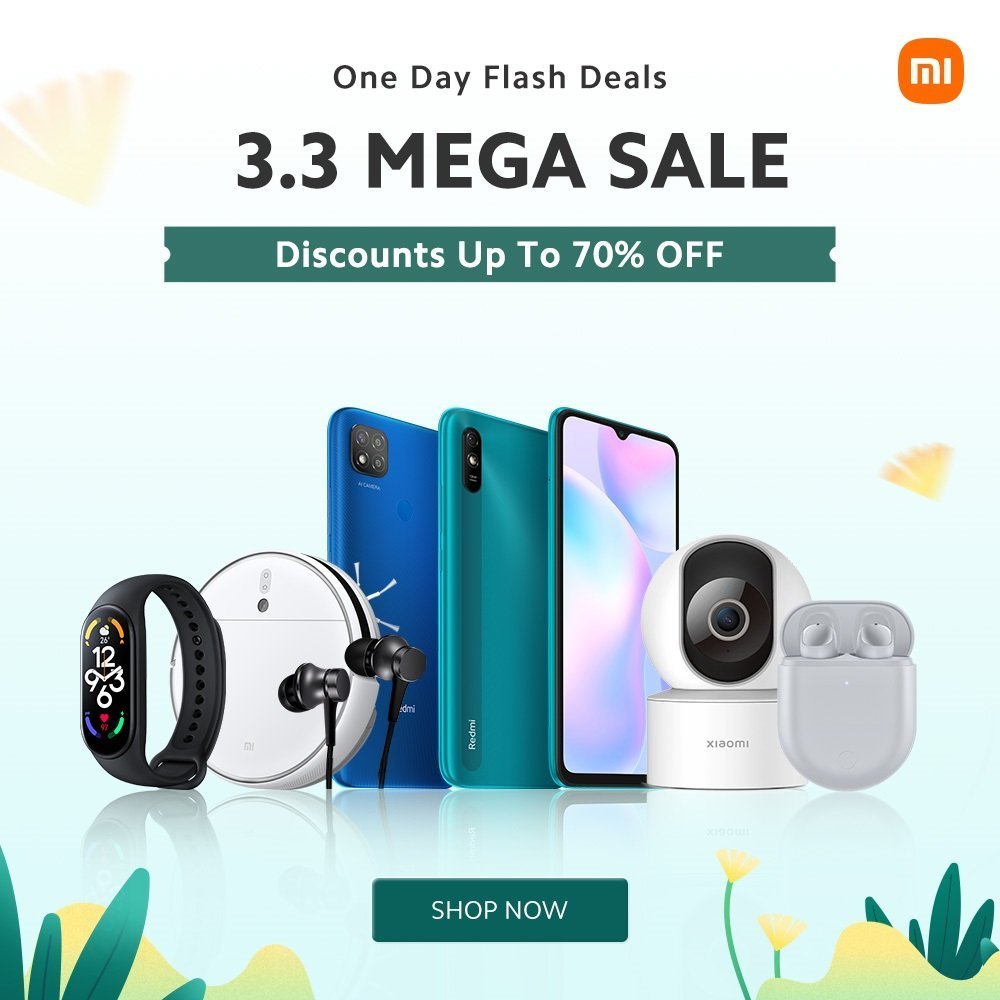 Exclusive one day only flash deals with discounts up to 70% OFF
Kuala Lumpur, MALAYSIA, March 2, 2023 – Xiaomi has announced its upcoming 3.3 Mega Sale1 campaign in Malaysia. Happening on March 3, for one day only, Malaysian shoppers and fans can enjoy amazing opening discounts of up to 70% OFF on selected Xiaomi smartphones and AIoT products, including wearables and smart home products. The exclusive deals will offer shoppers up to RM500 OFF, Extra RM80 Off Vouchers and Free Gifts2.
Xiaomi's 3.3 Mega Sale is exclusive and limited for one day only and available for purchase on official Xiaomi stores on Lazada and Shopee. Xiaomi will be having exclusive savings for popular products including Xiaomi's premium flagship smartphone series, Xiaomi 12 and Xiaomi 12 Pro; Xiaomi fitness wearables, including Xiaomi Smart Band 7 Pro and Xiaomi Watch S1 Active; and smart home products, including Xiaomi Robot Vacuum-Mop 2 and Xiaomi Smart Air Purifier 4.
Xiaomi 3.3 Mega Sale deals:
| | | |
| --- | --- | --- |
| Product | Normal Price | 3.3 Mega Sale deal |
| Xiaomi 12 (8GB+128GB) | RM 2,899 | RM 2,499 |
Xiaomi 12 (8GB+256GB) RM 2,999 Free Redmi Buds 3 Pro (worth RM 299)
| | | |
| --- | --- | --- |
| Product | Normal Price | 3.3 Mega Sale deal |
| Xiaomi 12 Pro (12GB+256GB) | RM 3,899 | RM 3,499 |
| Xiaomi 11T (8GB+128GB) | RM 1,699 | RM 1,079 (Lazada Exclusive) |
| Xiaomi 11T (8GB+256GB) | RM 1,899 | RM 1,349 (Lazada Exclusive) |
| Redmi Note 11 (4GB+128GB) | RM 799 | RM 659 Free Redmi Buds 3 (worth RM 139) |
| Redmi Note 11 (6GB+128GB) Redmi Note 11S (6GB+64GB) | RM 849 RM 899 | Free Redmi Buds 3 (worth RM 139) RM 749 Free Redmi Buds 3 (worth RM 139) |
| Redmi Note 11S (8GB+128GB) Redmi Note 11 Pro (6GB+128GB) Redmi Note 11 Pro (8GB+128GB) | RM 999 RM 1,049 RM 1,149 | RM 899 Free Redmi Buds 3 (worth RM 139) RM 899 Free Xiaomi WiFi Range Extender Pro (worth RM 59) Free Xiaomi WiFi Range Extender Pro (worth RM 59) |
| Redmi Note 11 Pro 5G (6GB+128GB) | RM 1,199 | RM 949 Free Xiaomi WiFi Range Extender Pro (worth RM 59) |
| Redmi Note 11 Pro 5G (8GB+128GB) | RM 1,299 | Free Xiaomi WiFi Range Extender Pro (worth RM 59) |
| Redmi 10A (3GB+64GB) | RM 479 | RM 379 |
| Redmi 9A (2GB+32GB) | RM 369 | RM 299 Free Xiaomi Casual Daypack |
| Redmi 9C (3GB+64GB) | RM 479 | RM 349 |
| | | |
| --- | --- | --- |
| Product | Normal Price | 3.3 Mega Sale deal |
| Xiaomi Smart Band 7 Pro | RM 299 | RM 279 |
| Xiaomi Smart Band 7 | RM 199 | RM 179 |
| Xiaomi Watch S1 Active | RM 649 | RM 499 |
| Xiaomi Watch S1 | RM 899 | RM 699 |
| Redmi Watch 2 Lite | RM 249 | RM 199 |
| Redmi Band 2 | RM 149 | RM 139 |
| Redmi Buds 3 Lite Redmi Buds 4 Lite | RM 99 RM 139 | RM 79 RM 114 |
| Redmi Buds 3 Mi TV A2 32″ Mi TV P1 32″ Mi TV P1 43″ | RM 139 RM 999 RM 999 RM 1,799 | RM 99 RM 749 (Shopee Exclusive) RM 649 (Shopee Exclusive) RM 1,229 (Shopee Exclusive) |
| Xiaomi Robot Vacuum-Mop 2 | RM 1,099 | RM 699 |
| Xiaomi Robot Vacuum-Mop 2 Lite | RM 799 | RM 599 |
| Xiaomi Smart Air Purifier 4 | RM 799 | RM 599 |
| Xiaomi Smart Air Purifier 4 Pro | RM 1,099 | RM 899 |
| Xiaomi Smart Air Purifier 4 Lite | RM 599 | RM 499 |
| Xiaomi Smart Air Purifier 4 Compact | RM 459 | RM 359 |
| Xiaomi Home Security Camera 360 1080P | RM 149 | RM 99 |
| Xiaomi Camera 2K (Magnetic Mount) | RM 119 | RM 89 |
Disclaimer:
1. Xiaomi 3.3 Mega Sale deals are exclusive on March 3, 2023 only. Only available on official Xiaomi Stores on Lazada and Shopee. Deals are limited, while stock