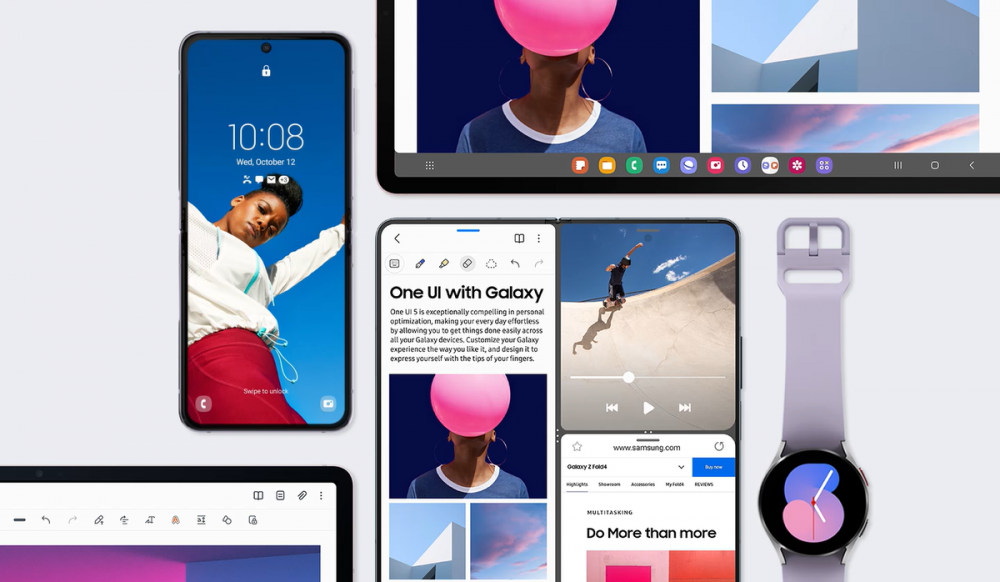 *Image for illustrative purposes. Actual UI may be different.
Customisation, optimisation, and a connected experience are the pursuit of discerning mobile phone users. Now the latest Android 13 and One UI 5 update[1] has descended on Samsung Galaxy devices, with powerful new features that make every day effortless, so you can get things done easily across your devices.
Be delighted with new colour palettes and wallpapers that will elevate the way you express your style. Discover preset routines and set modes for your activities for a whole new level of convenience. Optimise your multitasking game when you change views with a gesture, or quick open apps in split screens. Explore a bevy of camera and gallery features that will elevate your photos. These are just some of the multitude of the key features and enhancements that come with the upgrade.
Samsung successfully rolled out the Android 13 and One UI 5 upgrade to over 46 Samsung Galaxy device models[2] worldwide in less than two months – its fastest OS upgrade rollout yet. The release represents Samsung's most ambitious mobile software to date, as it requires high levels of customisation for different carriers and markets globally. Apart from delivering innovative mobile experiences to users in the quickest time possible, Samsung also aims to ensure a unique experience that meets the needs of users.
In the coming weeks, more Samsung users can expect to receive the OS upgrade as Samsung accelerates its deployment of One UI 5 updates to a wider range of models, including older flagship devices and tablets, with a goal to complete rollout for all eligible devices by the end of the year.
For more information about One UI 5, go to https://www.samsung.com/my/one-ui/features/
List of Galaxy devices that have received the Android 13 and One UI 5 update:
Galaxy S22 series
Galaxy S21 series
Galaxy S20 series
Galaxy Note 20/Note 20 Ultra
Galaxy A53 5G
Galaxy A33 5G
Galaxy Z Flip 4
Galaxy Z Fold 4
Galaxy A73 5G
Galaxy Tab S8 series
Galaxy Xcover 6 Pro
Galaxy M52 5G
Galaxy M32 5G
Galaxy Z Fold 3
Galaxy Z Flip 3
Galaxy A52
Galaxy S20 FE
Galaxy S21 FE
Galaxy Note 10 Lite
Galaxy Tab S7
Galaxy A71
Galaxy Z Fold 2
Galaxy Z Flip
Galaxy Z Flip 5G
Galaxy S10 Lite
Galaxy M53 5G
Galaxy A52s 5G
Galaxy M33 5G
Galaxy A52 5G
Galaxy M62
Galaxy A22 5G
Galaxy F42 5G
Galaxy A51 5G
Galaxy Xcover 5
Galaxy A51
Galaxy A13 5G
Galaxy M22
Galaxy A23 LTE/5G
Galaxy A22
Galaxy A32 LTE/5G
Galaxy A72
Galaxy M32
[1] Available functions may vary depending on the device, country, region, carrier, or the version of One UI.
[2] As of 9 December 2022