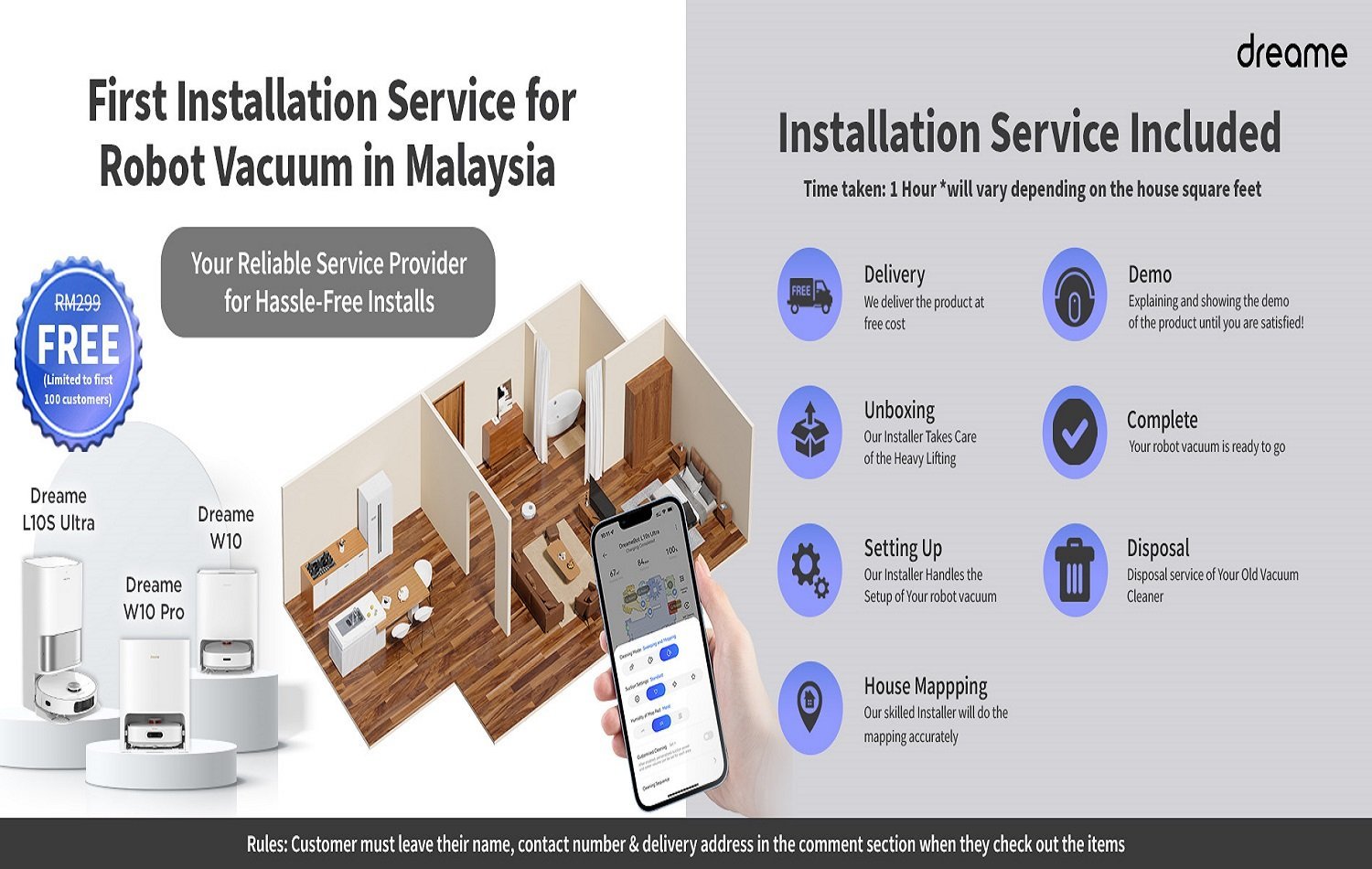 Kuala Lumpur, 11 May 2023 – Uniqbe, the authorised distributor of Dreame vacuum is excited to introduce the perfect gift for mothers who deserve a break – the DreameBot L10s Ultra, W10 Pro or W10, the self-cleaning robot vacuum and mop. With Mother's Day just around the corner, this thoughtful gift will make her life easier.
The DreameBot L10s Ultra can literally clean, self-clean and auto-empties trash all on its own. It provides a hands-free whole-home cleaning experience like never before. It features a combination of automatic dust collection, automatic water refilling and even automatic solution adding then cleans its mop pads with hot air drying once it is done cleaning the house. All this and more are driven by the cutting-edge technology of advanced AI + 3D navigation.
What's more, the 3D structured light detects the shapes and distances of objects that are captured by the RGB camera that allows the AI to identify different household obstacles such as power cords, toys, shoes and other things lying on the floor. It will then create an automatic cleaning strategy that will reduce the chance of missed spots, repeated cleaning, getting lost or even getting stuck. It is done by auto-generating paths and a 3D map according to the type of obstacle, flooring and room. It will automatically update household obstacles with 3D visuals seen in the app, labels the rooms in your home and clean based on the type of flooring.
For homes with carpets or rugs, the L10s Ultra is able to auto-detect the carpet and then automatically raise the mop pads so your carpets will not get wet. Additionally, it comes with a powerful 5,300Pa suction that can automatically detect between carpet and floor, adjusting its suction power accordingly and ensuring carpets are thoroughly deep cleaned. The vacuum is fitted with a bristleless rubber brush that is specifically optimised for carpet cleaning by stirring up the dust hidden inside and preventing hairs from getting tangled in the brush.
Meanwhile, cleaning is also made easy with the DreameBot W10 Pro and W10 Self-Cleaning Robot Vacuum and Mop. With its highly-intelligent self-cleaning feature, it not only cleans the floors but also cleans itself – one of the prominent highlights of this product. Featuring its mop cleaning and hot air-drying function, the mops are automatically washed without needing any manual intervention. Once it is washed, the hot air dries the mop to prevent mildew or bacteria growth.
The W10 Pro comes with 4,200Pa suction power while the W10 comes with 4,000Pa. Both models are equipped with a 19.2cm ultra-wide brush that has been designed to pick up dirt and debris. The D-shaped build also vacuums along walls and into corners. The mop spins at 180RPM with 10N of continuous downward pressure aimed at removing grime and dirt from the floors. For carpet cleaning, the mop pad has to be removed prior.
Both W10 Pro and W10 are advanced robot vacuum cleaners known for their powerful performance and innovative features. While they share many similarities, the W10 Pro is equipped with AI action feature and 3D ToF sensor to automatically detect obstacles more accurately and recognise the room type and adjusts cleaning automatically.
"Mothers are superheroes who juggle multiple responsibilities every day. Our goal is to provide them with a gift that not only saves time and effort but also brings joy to their lives," said Edward Tan, Chief Executive Officer of Uniqbe (M) Sdn Bhd.
He added that the L10s Ultra, W10 Pro and W10 self-cleaning robot vacuum and mop is an innovation that will literally lift the cleaning weight off your shoulders and it is highly convenient, easy to use and extremely intelligent. These are products that are set to change the way you live – towards a cleaner, healthier and more hygienic home.
All these dream-come-true features can be easily controlled and managed via the Dreamehome mobile app as well as the Mi Home app and can even be controlled with Siri, Alexa or Google Assistant. In the app, users will be able to tailor their cleaning needs and programme the robot accordingly based on their cleaning preferences. Users will be able to seamlessly adjust water and suction levels to optimise cleaning.
The Dreamehome app allows users to create multiple maps for multi-floor houses or rooms for a more thorough cleaning. Virtual walls and no-go zones can be created in the app to prevent the robot from entering certain areas of the house. Schedules and cleaning routines can be programmed via the app and users need not even have to lift a finger to clean the house. For those who would like to keep a closer watch on the cleaning process, there is remote video supervision in the app that allows users to view, remotely control the robot vacuum, send it to a specific spot in the house, send it back to the base station, take a screenshot and record a video clip. There is also a real-time voice-through feature too!
To make this gift even special, Dreame Authorised Copper Connect is offering complimentary installation and delivery worth RM299 for the first 100 customers. From unboxing to setting up and then syncing the robot vacuum to Dreamehome App, ensuring your mum can enjoy the benefits of a clean home without any hassle.
Purchase is made available on Dreame Authorised Copper Connect Official Stores on Website, Lazada and Shopee with interest-free instalment plans up to 36 months. Customers will also get a free gift of Dreame Food Jar worth RM199 (while stocks last)
For more details on Dreame vacuum cleaners, visit https://copper2u.com/dreame to learn more about its incredible features.