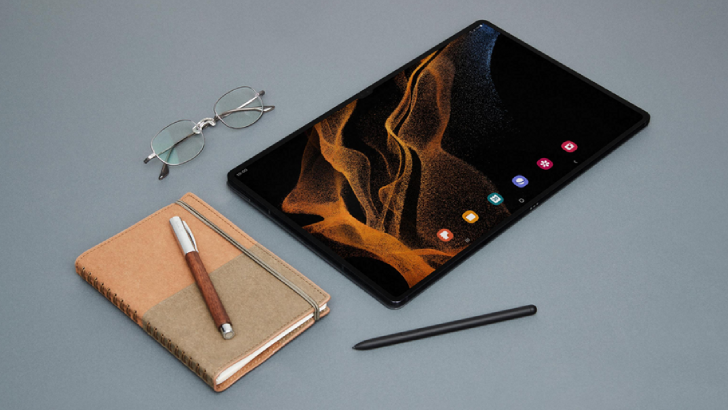 Keeping your thoughts and notes organised, taking the time to self-reflect and even exercising creative self-expression are just some of the joys of journaling.
The versatile and portable tablet is no stranger to mobile productivity or entertainment on-the-go. What makes the new Samsung Galaxy Tab S8 — available in Tab S8, Tab S8+ and Tab S8 Ultra models — so special is how digital journaling is elevated to a new level.
Journaling with Samsung Notes and Noteshelf[1], two free apps that are pre-loaded on the Tab S8 series, allows for great journaling experiences without the clutter of keeping physical notebooks. Seamless integration across Samsung devices and easy access to other modes of digital media with the Tab S8 also give you greater flexibility in how you write, draw, imagine and share.
Read on to find out how the Tab S8 series brings to life the ideal journaling experience.
Pen-on-paper precision with the S Pen
Pen and paper are the quintessential tools when it comes to journaling and journaling with the Tab S8 brings that seamlessly natural experience to the digital realm with the S Pen.
The new and improved S Pen that accompanies the Tab S8 uses a prediction algorithm for ultra-low latency[2], which means there's near-instant feedback as you write, mimicking the glide of a pen across paper. The nifty handwriting-to-text function on both apps is also great for times when you're jotting in a rush (goodbye illegible handwriting!), while the landscape scrolling function in Samsung Notes ensures you won't run out of space for your scribbles. Aspiring calligraphers will also enjoy the dedicated S Pen calligraphy effects on Samsung Notes, while the tablet's large display[3] gives you the space to watch tutorials while you practice on the same device.
Create a bespoke journaling experience with Noteshelf
Whether you use a journal to stay organised or as a creative outlet, you can choose from a variety of digital planner and journal templates on Noteshelf Club to suit your preferences. Unleash your creativity by customising the layouts with stickers, drawings and more! Noteshelf lets you create multiple notebooks within the app too, giving you the ability to organise work, play and every day with ease.
Scribbled down a quick and easy spaghetti bolognese recipe and having a hard time remembering where it is? The built-in search function on Noteshelf combs through both typed and handwritten notes saved, so you can quickly find what you need. The app also supports handwriting recognition if you prefer to jot down your thoughts by writing with an S Pen.
Amp up your logs with multimedia options
Taking down notes from school or work discussions, or capturing a fun moment with friends? The Tab S8 is equipped with a 6MP Ultra-Wide and 13MP AF rear camera, as well as three microphones, so that both visuals and audio from important meetings and cherished gatherings are saved in crystal clear detail. The best part is that these photos and voice recordings can be inserted directly into your Samsung Notes or Noteshelf entry for instant and convenient recall. You can also include a link to your favorite TED Talk video or Pinterest mood board as you pen your thoughts, so a quick dose of inspiration is always just a tap away.
And if you feel up for a vlog instead, the 12MP Ultra Wide front camera and an additional 12MP wide front camera on the Tab S8 Ultra have you covered on days when words are simply not enough.
Built for effortless multitasking and expansive connectivity
Taking multitasking to the next level, the Tab S8 comes with the enhanced Multi-Active Window[4] functions, such as opening and resizing multiple apps at the same time, while Samsung DeX offers PC-like capabilities and supports transparent app windows and screen mirroring on an external display – perfect for organising your to-do list or working on complicated projects while looking through your emails and calendar at the same time.
The Tab S8 series also supports seamless syncing across Galaxy devices via Samsung Cloud for easy access to your content on Samsung Notes, allowing you to pick up exactly where you last left off even when you're switching between laptop, phone, and tablet.
Built for a new era of connectivity, the Tab S8 enables you to explore creative and productive ways of journaling that are limited only by your imagination!
Launch Promotion
Until 31 March 2022, customers who purchase the Tab S8 Ultra can redeem free gifts worth up to RM1,887. This includes one S Pen and one Book Cover Keyboard[5]  in the box worth up to RM1,738, one Neoprene Pouch[6] worth RM149 and 30% off a one (1) year Samsung Care+ Protection Plan[7].
See below for promo breakdown:
Models
RRP
Memory & Storage
Free Gifts
30% Off Samsung Care+ 1-Year Protection Plan RRP
Samsung Galaxy Tab S8 Ultra
RM5,899
12GB + 256GB
One (1) S Pen and one (1) Book Cover Keyboard in the box worth up to RM1,738

One (1) Neoprene Pouch worth RM149

RM231

(actual RRP RM330)

Samsung Galaxy Tab S8+
RM4,599
8GB + 256GB
One (1) S Pen and one (1) Book Cover Keyboard in the box worth up to RM1,738

One (1) Neoprene Pouch worth RM149

RM231

(actual RRP RM330)

Samsung Galaxy Tab S8
RM3,299
8GB + 128GB
One (1) S Pen and one (1) Book Cover Keyboard in the box worth up to RM1,738

One (1) Neoprene Pouch worth RM149

RM154

(actual RRP RM220)
For details on the promotion, do see: https://www.samsung.com/my/offer/mobile/galaxy-tab-s8-launch/
[1]

Galaxy Tab S8 users eligible for free use. Noteshelf app will be preloaded on Galaxy Tab S8 devices. Feature supports 9 languages: English, Korean, Japanese, Traditional Chinese, Simplified Chinese German, Italian, French, and Spanish.
[2]

Compared to Galaxy Tab S7. Latency speed of 2.8ms measured for Tab S8 Ultra (14.6'') and Tab S8+ (12.4'') models when using Samsung Notes.
[3]

Galaxy Tab S8's screen size is 11-inch, Tab S8+'s screen size is 12.4-inch, and Tab S8 Ultra's screen size is 14.6-inch. Measured diagonally as a full rectangle without accounting for the rounded corners. Actual viewable area is less due to the rounded corners and camera hole.
[4]

Certain applications may not support Multi-Active Windows.
[5]

One S Pen and one Book Cover Keyboard available in the box for Galaxy Tab S8 Ultra, Galaxy Tab S8+ and Galaxy Tab S8.
[6]

One Neoprene Pouch comes together with purchase and is on a first come, first served basis and subject to stock availability.
[7]

Customer will be required to activate Samsung Members and shall be able to check on their Samsung Care+ subscription details on Samsung Members within 30 days upon successful registration. Additional fee maybe payable for repair requests. Terms and conditions apply, please see link for further details: https://www.samsung.com/my/offer/samsung-care-plus/