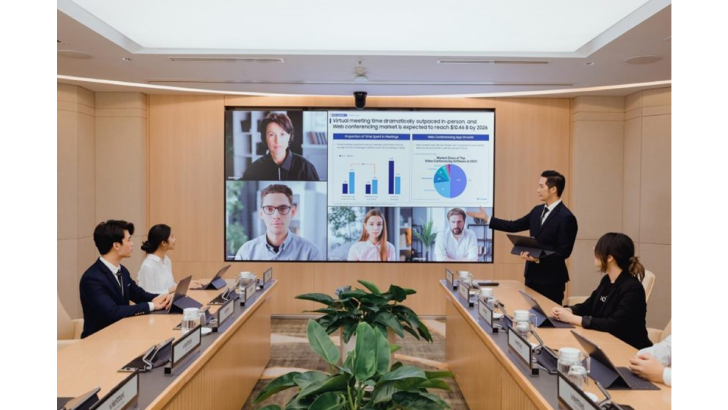 Whether a person is in transit at an airport, shopping at a retail store or working from home, today's expectations of customer experience have changed drastically in the past few years.
The growth of e-commerce and digital interactions has made retailers rethink how best to deliver value-added consumer experiences in stores beyond the accessibility of online shopping. At work, organizations are seeking to make the office a more productive and collaborative experience than working from their homes.
Both scenarios highlight a common thread – the growing expectation from consumers, external or internal, for a fresh experience that is rewarding and sustainable over time. People want to be engaged by, instead of being weary of, the interactions they have to encounter.
"Display is a big part of transformation today where organizations are redefining customer experiences in a new digital world," said Leslie Goh, Regional Head of Display for Samsung Electronics in Southeast Asia & Oceania. "At the center of new customer experiences lie compelling content and services presented on high-quality and connected visual displays. At a self-service bubble tea kiosk, a menu on digital signage offers engaging and real-time information to inspire a purchase. At work, an interactive and immersive display provides a parity of experiences for those present both physically and virtually. This is why the Pro AV market in this region continues to be an exciting one where organizations have the urgency to transform their display strategies."
Our Display Ecosystems
In Southeast Asia and Oceania (SEAO), Samsung has been working with a wide range of partners to imagine and build the next generation of premium display experiences for the office, at home, in retail outlets, in large outdoor settings, in hospitalities and many other locations. Our deep and vibrant partner ecosystem consists of technology and solution providers, as well as IT and audio-visual system integrators that work closely to develop quality display experiences for organizations.
Across the region, Samsung has invested in six Executive Briefing Centers (EBCs), located in Australia, Indonesia, Malaysia, Singapore, Thailand, and Vietnam to showcase our wide range of display solutions. Prospective customers can view our digital signage in person, meet with our subject matter experts and gain insights into how display solutions can elevate customer experiences.
Visual Feats at InfoComm Asia 2023
At the recent InfoComm Asia 2023 show, Samsung came together with partners in the region to showcase the latest professional audio-visual experiences catering to back-to-office needs, as well as consumers seeking more rewarding interactions with businesses.
In Bangkok, Thailand, the annual regional tradeshow offered a unique opportunity for professionals to experience the latest professional audio-visual technologies.
Audio-Technica showcased examples of how immersive meeting experiences in office spaces can be realized with Samsung's visual solutions with screen sizes from 40 to 49- inches while paired with the Japanese AV company's video conference solutions.
Creston, a global leader in control systems to manage audio-visual environments from offices to meeting spaces, hotel rooms and homes, demonstrated how corporations can have versatile meetings anywhere, whether in small huddles, meeting rooms or open office spaces.
Samsung provided a VH55R-R video wall with four displays featuring razor-thin bezels to offer a sleek, seamless visual for open office spaces. Its wide viewing angles also enable clear presentation for more viewers in large spaces.
For the huddle and meeting rooms, Creston utilized Samsung's QMB and QMR series of digital signage displays. These screens come with Quantum Processor 4K and offer slim and symmetrical design as well as dynamic color to deliver true-to-life variations that let users see every subtlety and deliver productive meetings and presentations.
Aside from workplace settings, immersive customer experiences were also a key focus at the InfoComm Asia 2023 event. HARMAN, a subsidiary brand of Samsung, connected multiple Samsung visual displays to their audio solutions, showcasing seamless integration and impactful customer experiences.
The centerpiece was a Samsung The Wall All-In-One (AIO), which played the brand video for HARMAN's JBL-branded products, demonstrating how awe-inspiring visuals are made possible on the 146-inch display's deep black background and Ultra Chroma technology.
It is also much easier to install, taking only two hours to set up[1], with preset modules. The Wall AIO's Auto configuration setup also reduced the time needed to get the display up and running, ensuring HARMAN could concentrate on impressing visitors with its video content.
Together with its ecosystem of partners and EBCs, Samsung is committed to creating innovative display solutions to meet the new expectations and demands of our digital-native lives. Be it work or play, Samsung Display Solutions are already positively impacting the valuable interactions between people every day.
Discover Samsung's range of digital signage, delivering next-generation visual experiences to your customers today: https://www.samsung.com/my/business/displays/
[1] The Wall-in One drastically simplifies installation by docking the background plates and hanging just three preset modules, depending on the display size. Installation now takes only two hours for two people to complete the screen. The Wall All-in-One 110-inch model requires three preset modules. The 146-inch model requires four preset modules. Install time estimate based on internal testing.